Deck:
How to prepare for killer capital costs on future power-plant builds.
Author Bio:
Richard Stavros is executive editor of Public Utilities Fortnightly.
Mark Twain once wrote: "A banker is a fellow who lends you his umbrella when the sun is shining and wants it back when it starts to rain." If utility finance executives aren't careful, they might find themselves caught in the rain without an umbrella.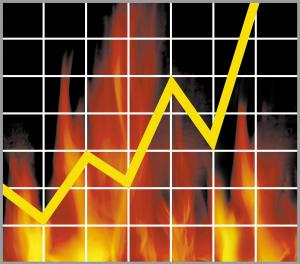 In the recent past, utilities had been enjoying a sunny outlook. They experienced record equity valuations and unprecedented access to low-cost capital. In fact, companies comprising Standard and Poor's electric utility index generated $2.8 billion in free cash flow during the last 12 months—despite record levels of capital expenditure and dividends—while returning 34.6 percent.
But a cloudy outlook is beginning to emerge, as the cost of capital for utilities heads skyward.
History teaches us that higher interest rates lead to a dip in utility equity valuations, as investors flee to higher-earning, fixed-income investments.
Utility stocks are highly correlated and historically have moved inversely to 10-year Treasury yields (see Figure 1). Since the end of September, the Philadelphia Utility Index has depreciated by 9.2 percent versus a decline of 4.1 percent for the S&P 500.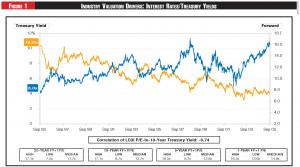 Meanwhile, the Federal Reserve raised interest rates for the 12th time in succession on Nov. 1.
In a move widely expected by analysts, the U.S. central bank increased the base rate by 0.25 percent to 4 percent.
Many experts predict that the Fed will raise rates again. The gloomy outlook for 2006 has many industry analysts concerned, particularly as the industry will have significant capital needs in the future, even as consolidated total debt/total capitalization among the top 40 utility bond issuers has declined from 64 percent in 2002 to 59 percent in 2004. According to Morgan Stanley, in 2005 the projected capitalization for the entire group will decline further to 57.9 percent.
Nonetheless, ICF Consulting projects substantial increases in the need for capacity in the 2008-2012 time frame (the industry is just coming out of a trough). The consultants note that the amount varies widely by region, of course, both on the basis of megawatts (MWs) and the percentage of installed capacity.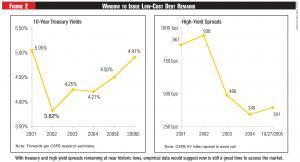 ICF also predicts that by 2016, more than 100 GW of new capacity will be required. Most of this will be gas-fired, combined-cycle capacity, but there will be increasing amounts of coal/IGCC capacity added, particularly toward the latter part of that period (see "Battle Royal: Pulverized - Coal vs IGCC"). Also, ICF says renewable portfolio standards (RPS) and the cost of alternatives will add substantial amounts of renewables in specific states, depending on the resources available, and the buildout of transmission to move those resources to market.
Projected cost of the buildout is roughly $100 billion through 2016. Factoring in the weighted average cost of gas-fired, combined-cycle generation, coal capacity with substantial environmental controls and renewables yields a projection of approximately $1,000/kW.
Rodney Lacey, primary analyst covering utilities in Morgan Stanley's fixed-income research department, predicts, "Free cash flow for the sector is expected to dip negative again next year with the [capital expenditures] on the rise for environmental spend, and also for emissions credits." Anyone tracking SO2 prices would note that they continue to be off the charts, as one environmental analyst recently put it.
Furthermore, Lacey also is concerned with high-growth targets "being baked into the [2006 earnings per share]."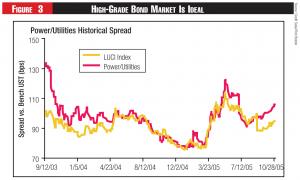 "With [price-to-earning] P/E multiples so high on a relative basis, we have to believe share buybacks and dividend increases will continue to be pervasive next year," Lacey says.
Naturally, other fixed-income analysts have concluded that new issuance on the debt side should be "very, very big." One fixed-income analyst predicts post-merger utilities will issue debt (even as many deals are financed with equity).
What is a utility executive to do?
Before Your Back is Against the Wall
Two bankers offer their view on strategies that utility executives can undertake now to preserve their low cost of capital in anticipation of the industry's higher capital spending needs.
"Utilities, of course, hedge power prices. They are also experienced at hedging their fuel prices. Why wouldn't utilities take advantage of low long-term interest rates and hedge themselves that way," says an investment banker at a top-tier firm who preferred to remain anonymous. He believes utilities could lock in low rates now "by swapping into fixed-rate debt." It accomplishes the same goal as refinancing by moving out the company's maturity, he says. He adds that such financial instruments are widely traded.
"So, you would go to J.P. Morgan or Citibank's swaps desk and you'd say, 'We want to synthetically extend our maturity profile out for a few years.' A possible downside in the short run is that because you still have a slightly upward sloping yield curve, pushing out your maturities or pushing out the average life of your debt is going to have the effect of making your cash interest costs a little greater than they would be for the first couple of years," he says.
"Maybe you are making them a little higher than they would be for a couple of years and then they are going to be a lot lower because you will have all this fixed-rate debt that is so much cheaper than all the rest of the market, assuming you believe long-term rates won't stay this low forever," the banker says.
Jonathan Baliff, managing director - global energy group, Credit Suisse First Boston, says the type of interest-rate risk management a utility chooses will depend on its certainty that a power-plant project will get built.
"There is a cost to hedging—think of it as insurance—but there are a lot of products that can hedge the underlying Treasury rate, and most have a cost. However, today, the interest rate hedging market has never been better because the yield curve is very flat. You can lock Treasury rates in at a much lower cost than we have historically seen. But there is a cost to it," he says (see Figures 2 and 3).
Baliff explains that a forward contract that is costless upfront puts companies at risk if the project doesn't get done.
"You have to have some surety that the plant is going to be built. If you don't have that kind of surety, you wouldn't really buy the insurance. Certain hedges really get expensive if they are not used. And you have big time accounting issues if you never issue the underlying financing in the first place."
Baliff says some derivatives options the bank offers are cheaper on a risk-adjusted basis than just buying a forward contract.
"'Swaptions' are a way that you can buy protection with less surety, but you have to pay for it today," he says.
Utility executives can buy protection. If the project doesn't happen, they don't have to exercise the option or buy the underlying Treasury.
Baliff says swaptions still don't protect against underlying credit-spread risk. "The best way to lock in an all-in coupon (Treasury plus credit spread) is to issue long-term bonds today. This would be the dream situation, but some experts say utilities, which know they will have to build power plants to meet demand in the coming years, have not received the proper support from regulators.
Meanwhile, as regulators and utilities debate the need for a particular plant, the cost of capital continues to rise. How do utilities avoid getting caught in the interest-rate vice? Baliff has one phrase for utilities: "Talk to your regulator."
"The regulator needs to understand this risk. There are some regulators and some jurisdictions out there that do understand that and are allowing plants into ratebase or other interest-rate protection measures. Some regulators have started thinking about signing contracts today that have the ability to pass through interest rate costs."
A Not So Palatable Strategy
It might be a mistake for utilities to continue to keep buying back their stock at what many agree could be the highest point in their valuations, says the anonymous investment banker. Instead of buying their own stock at steep valuations, they should sell at the top (or at least not buy back) to raise capital for "cap-ex," or capital expenditures.
"Would you be aggressively buying back equity now—for earnings management—if you were a CFO? I think you would answer 'no' just because of where valuations are," the investment banker says. He admits such a strategy may not fit well with the current culture at utilities, where stock buybacks are used as an earnings-management tool.
The best strategy, in addition to locking in low long-term interest rates, might be to sell equity and use the proceeds to pay down short-term debt, he says. "Say you are 50 percent debt and 50 percent equity in an ideal world. Why not go down to 45 percent debt and 55 percent equity for the next couple of years? When equity gets cheap again, then start buying it back."
With analysts convinced utility valuations will come down in the next couple of years, many believe it will be cheaper to buy back stock in the future and more expensive to raise debt. But Credit Suisse First Boston's Baliff doesn't agree with the strategy of selling equity.
"That is a hard thing to ask utility executives to do, for two reasons. One, it is a very dilutive deal from an earnings standpoint. Even with very high valuations, you are still above after-tax cost of debt. Immediately you are asking everyone to do a dilutive deal. If you are a public company, it just wouldn't be feasible," Baliff says.
Furthermore, the strategy is an expensive way to raise capital in today's market. "Many companies are creating a tremendous amount of cash from now until 2008. So, the operating cash that they create provides a lot of the equity that could go into these plants," he says.
Baliff believes there are many lower-cost options than selling equity to raise capital, such as convertible bonds, convertible equity, or convertible preferred. "Even though the underlying interest rate is going up and stocks have come off, there is still a lot of cash waiting to be invested by pension funds, insurance companies, and hedge funds," he says.
Utility executives: Take note. It sounds like this banker just might be offering his umbrella.