Deck:
How to prepare for killer capital costs on future power-plant builds.
Author Bio:
Richard Stavros is executive editor of Public Utilities Fortnightly .
How to prepare for killer capital costs on future power-plant builds.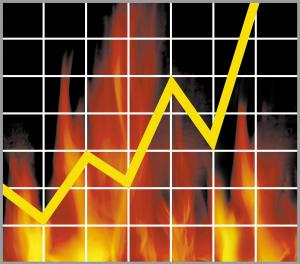 Mark Twain once wrote: "A banker is a fellow who lends you his umbrella when the sun is shining and wants it back when it starts to rain." If utility finance executives aren't careful, they might find themselves caught in the rain without an umbrella.
In the recent past, utilities had been enjoying a sunny outlook. They experienced record equity valuations and unprecedented access to low-cost capital. In fact, companies comprising Standard and Poor's electric utility index generated $2.8 billion in free cash flow during the last 12 months—despite record levels of capital expenditure and dividends—while returning 34.6 percent.
But a cloudy outlook is beginning to emerge, as the cost of capital for utilities heads skyward.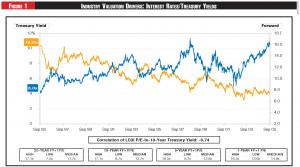 History teaches us that higher interest rates lead to a dip in utility equity valuations, as investors flee to higher-earning, fixed-income investments.
Utility stocks are highly correlated and historically have moved inversely to 10-year Treasury yields (see Figure 1) . Since the end of September, the Philadelphia Utility Index has depreciated by 9.2 percent versus a decline of 4.1 percent for the S&P 500.
Meanwhile, the Federal Reserve raised interest rates for the 12th time in succession on Nov. 1.
In a move widely expected by analysts, the U.S. central bank increased the base rate by 0.25 percent to 4 percent.
Many experts predict that the Fed will raise rates again. The gloomy outlook for 2006 has many industry analysts concerned, particularly as the industry will have significant capital needs in the future, even as consolidated total debt/total capitalization among the top 40 utility bond issuers has declined from 64 percent in 2002 to 59 percent in 2004. According to Morgan Stanley, in 2005 the projected capitalization for the entire group will decline further to 57.9 percent.
Nonetheless, ICF Consulting projects substantial increases in the need for capacity in the 2008-2012 time frame (the industry is just coming out of a trough). The consultants note that the amount varies widely by region, of course, both on the basis of megawatts (MWs) and the percentage of installed capacity.
ICF also predicts that by 2016, more than 100 GW of new capacity will be required. Most of this will be gas-fired, combined-cycle capacity, but there will be increasing amounts of coal/IGCC capacity added, particularly toward the latter part of that period (see " Battle Royal: Pulverized - Coal vs IGCC "). Also, ICF says renewable portfolio standards (RPS) and the cost of alternatives will add substantial amounts of renewables in specific states, depending on the resources available, and the buildout of transmission to move those resources to market.
Projected cost of the buildout is roughly $100 billion through 2016. Factoring in the weighted average cost of gas-fired, combined-cycle generation, coal capacity with substantial environmental controls and renewables yields a projection of approximately $1,000/kW.
Rodney Lacey, primary analyst covering utilities in Morgan Stanley's fixed-income research department, predicts, "Free cash flow for the sector is expected to