Deck:
If transmission can substitute for gen-plant capacity, why not clear both products in the same auction?
Author Bio:
Bruce W. Radford is editor in chief for Public Utilities Fortnightly .
If transmission can substitute for gen-plant capacity, why not clear both products in the same auction?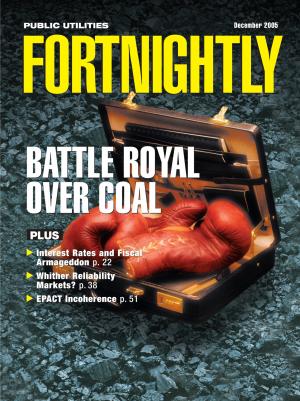 Back in January 2004, when AEP subsidiary Appalachian Power (AP) asked Virginia utility regulators for permission to transfer grid functions to the PJM regional transmission organization (RTO), AP claimed that RTO membership would not force it to carry a larger reserve of generating capacity than already was required under rules imposed by ECAR, the East Central Area Reliability Council.
In fact, AP had promised Virginia that PJM membership might well produce a modest amount of net benefits.
For that assumption, the utility had relied on testimony from PJM itself that integration of AEP into the RTO likely would reduce AP's reserve requirement, owing to overall expansion of the PJM footprint (with Commonwealth Edison also joining). Also, it would improve regional load diversity and spread risk over a larger collection of generating units.
Of course, ECAR's required 12 percent reserve fell short of PJM's 15 percent parallel standard for installed reserve margin (IRM). However, in response to interrogatories, PJM's manager of capacity adequacy planning, Thomas Falin, had provided data showing that the time of AEP's peak demand diverged somewhat from PJM's system peak, creating a 2.5 percent diversity factor between the two peaks. This adjustment for diversity ([1.0 – 0.025] x 115–100) would allow AEP (and AP) to hold a smaller margin of 12.125 percent.
The story was much the same for Dominion Virginia Power (DVP), where witnesses testified that diversity between system demand peaks would allow DVP to meet reliability rules with a 12.5 percent reserve capacity, again despite PJM's nominal 15 percent benchmark. (See Testimony and Exhibits, Va.S.C.C. Case Nos. PUE-2000-00550 [AP] and PUE-2000-00551 [DVP]; and Comments of Div. of Consumer Counsel of Atty. Gen. of Va., FERC Dkt. No. ER05-1410, filed Oct. 19, 2005.)
Nevertheless, all this has now changed.
On Aug. 31, PJM pulled the plug on AEP, Dominion, and the Virginia state regulators. After a long and widely watched gestation period, plus a tumultuous stakeholder process that failed to produce anything resembling a vote of confidence, PJM applied to the Federal Energy Regulatory Commission (FERC) for authority to impose a new regime of requirements for reserves of electric generating capacity. This new construct, known as the reliability pricing model (RPM), would replace PJM's current capacity market, known as UCAP (the same basic structure as an ICAP market for installed capacity, but with an adjustment for unforced outages, which can affect availability). PJM's current UCAP market features what many call a "vertical" demand curve, set by administrative fiat, which stands as a proxy for market demand for reserve generating capacity. It does not involve auctions or bidding, but by matching the total available quantity of capacity with the artificial demand curve, it sets a deficiency charge to be assessed to utilities and load-serving entities (LSEs) that might lack the required reserves.
The RPM plan has rocked the electric utility industry. It has spurred new interest in reliability and