Deck:
Opportunities and limitations of five top strategies.
Author Bio:
David Fornari is national managing director – energy consulting for Deloitte Consulting LLP. Branko Terzic is global regulatory policies leader of Deloitte Services LLP and a former FERC and Wisconsin PSC commissioner. Contact Fornari at dfornari@deloitte.com and Terzic at bterzic@deloitte.com. Adapted from a series of articles that first ran in New Power Executive, a publication of the Scudder Publishing Group LLC. Reprinted with permission of the publisher.
Opportunities and limitations of five top strategies.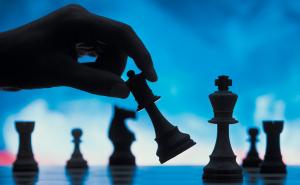 Among the many fine books on strategy and value creation for the business enterprise, most are less than adequate for application to a regulated utility. Five classic approaches to value-creation and how U.S.-style regulation of public utilities (electric and gas distribution companies) provide both limitations and opportunities when managements try to apply these approaches.
Of course, management at investor-owned utilities faces the same pressures in demonstrating creation of shareholder value as that of any other listed company. Management goals frequently are set in terms of higher-than-peer performance.
Boards reward managers based on such factors as superior share price appreciation (see Figure 1) and a track record of increasing reported returns on equity (see Figure 2). The graphs on both of these performance parameters show a wide range of achievements. Thus, the stage is set for management to review strategic options periodically. So what are the best strategies available to corporate America?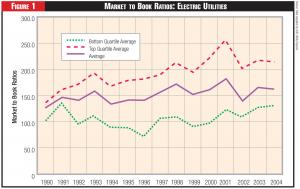 Dr. Aneel G. Karnani, a professor of corporate strategy and international business at the University of Michigan, in a now famous Financial Times newspaper article, offered a brief but excellent synopsis of the best thinking about approaches available for value creation in strategy's intellectual circles, 1 discussing the advantages, disadvantages and difficulties surrounding each approach.
From a public utility point of view, the article was written for the "unregulated" company. The starting point of our discussion is the current position of a company predominately characterized as a "public utility." However, we recognize that almost no public utility company is restricted by law from entering another line of business. In addition, we accept Michael E. Porter's statement: "Competitive strategy is about being different. It is about choosing a different set of activities to deliver a unique mix of value." 2
Thus, the real issue facing management is what set of activities should be undertaken to create value. Professor Karnani discusses five "possible growth directions" or methods of creating shareholder value. These can be described in five recognizable terms:
Conglomerate – Unrelated Diversification;
Vertical Integration;
Synergy – Related Diversification;
Globalization; and
Market Penetration.
Managements may decide to pursue more than one "approach" at the same time.
What happens when these methods are applied to the regulated public utility?
Conglomerates: GE as the Ideal?
The Concise Dictionary of Business defines "conglomerate" as "a group of companies merged into one entity, although they are active in totally different fields." According to Karnani, the primary benefit of investment in totally different or "unrelated" businesses is the reduction of risk.
A conglomerate strategy assumes that investors would prefer management makes diversification decisions for the investor. The alternative