Deck:
FERC this year must select a reliability czar. But the obvious choice could prove less than ideal.
Author Bio:
Richard Stavros is  Fortnightly's Executive Editor.
FERC this year must select a reliability czar. But the obvious choice could prove less than ideal.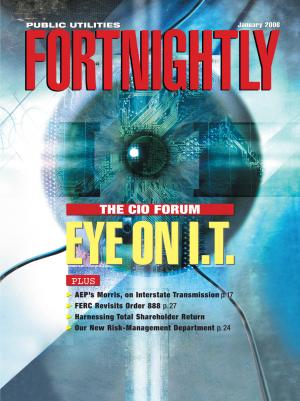 "If you want us to be a dictator, we can be a dictator."
That was Richard P. Sergel, president and CEO of the North American Electric Reliability Council (NERC), speaking late last year at a conference on the Energy Policy Act of 2005 (EPACT), hosted by the Edison Electric Institute (EEI) and Energy Daily.
Sergel's words followed upon this editor's question: "Do you think NERC's corporate culture is ideal to fill the position of Electric Reliability Organization (ERO), the new national enforcer of 'mandatory' reliability standards, that Congress has ordered under EPACT?"
It is not clear—to me at least—that NERC is the right candidate for the job of ERO. The Federal Energy Regulatory Commission (FERC) should consider many more applicants (we hope they will come forward) before making what many see as the key decision for the electric utility industry.
Tough Love
NERC up until now has been, in its own words, "a self regulatory organization, relying on reciprocity, peer pressure, and the mutual self-interest of all those involved in the electric system."
Nevertheless, can this tradition of kind, gentle, and voluntary consensus-building stand NERC in good stead as it seeks to transform itself in to a steel-fisted czar that would enforce mandatory standards?
Sergel, who came to his post last year from National Grid, says NERC can be ruthless if need be. He defended his organization against the charge that it's much too cozy with the utilities industry to enforce reliability properly.
Sergel said his newly minted "independent" board was meant to silence critics on that score. But it may not be enough simply to appoint a new board.
Critics charge that bowing to industry peer pressure is in NERC's DNA; that no legislation will change that. NERC, however, is not just any applicant. For years it's been lobbying Congress, the industry, and just about anybody willing to listen that we need a new reliability enforcer with teeth, and that NERC would fit the bill. Even last December, a presentation by Gerry Cauley, director, Standards, ERO Project Manager at NERC, could be found on the NERC Web site outlining how NERC would transition to ERO status.
All this seems just a bit presumptuous. Congress, for example, opted in the language of the statute not to identify NERC by name. This reticence, moreover, raises a serious question: Did Congress think NERC was up to the task? Our representatives in Washington pragmatically ordered FERC to "certify an applicant meeting the requirements, including independence and due process, as the electric reliability organization."
NERC is not the only institution capable of managing the technical aspects of reliability. Several independent system operators (ISOs) and regional transmission organizations (RTOs) have the technical skills and market-monitoring capabilities to accommodate greater enforcement duties. PJM, for example, suffered much less than did the Midwest during the great blackout of Aug. 11, 2003, by some measures the largest in U.S. history.
FERC Chairman Joseph