Deck:
The way senior tech executives and business managers define success has changed.
Author Bio:
Gary Curtis is a partner in Accenture's Strategy practice and the global lead for the Strategic Effectiveness domain. Contact him at gary.a.curtis@accenture. Robert Laurens is managing partner, North American Utilities M&A, at Accenture. Contact him at Robert.L.Laurens@Accenture.com
Alignment of the business and the information technology (IT) functions within a company is critical to the effectiveness of any strategic initiative. This alignment is particularly crucial in the realm of mergers and acquisitions (M&A). We estimate that IT enables 60 percent of post-merger transactions.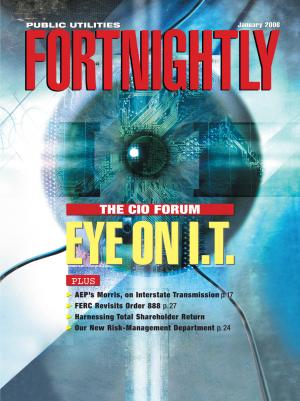 Three years ago, our research identified a number of best practices in IT integration, as they affected M&A execution.1 These practices included involving IT in early business discussions about the prospective deal, performing pre-deal IT due diligence, and driving IT integration from a vision of future capabilities. These best practices have not changed (see Figure 1).
What has changed, according to our new survey, is the way senior IT executives and senior business managers define success in a merger transaction. With so much at stake in any merger, the distinctions between these two important management constituencies are critical. They point to what might be called an "alignment gap" in M&A execution.
We define "alignment" between IT and business as agreement in four key areas:
Definition of business objectives;
Definitions and performance metrics for those objectives;
Articulation of the vision of the role of IT, and;
The goal of IT investment.
In reviewing strategic IT initiatives, we analyzed organizations with a high degree of agreement in these four areas; those with major disagreements we refer to as "weakly aligned." Given the need to continuously verify working hypotheses with formal field research, our new survey was designed to illuminate the extent and contours of the alignment gap.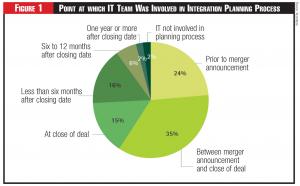 In February 2005, we conducted 334 interviews, equally divided between major companies in the United States and Europe. For each company, we interviewed both senior business executives (54 percent of the total survey base) and IT executives (46 percent). Those who identified themselves as "IT executives" held titles including vice president, director, and CIO. Those in the category of business executive held titles such as vice president, executive vice president, or other senior management equivalents.
Cultural Integration
IT always has been a highly "cultural" profession, with the specific enterprise culture developing around specific business practices, just as it does in other functions. This might initially appear counterintuitive. In business, culture is typically classified as a "soft" factor, often grouped alongside equally difficult to quantify attributes such as morale or corporate reputation, while cultural traits tend to be associated with corporate functions having a high quotient of intangible value, such as R&D, or in functions where significant face-to-face interaction is integral, such as investment banking. IT, on the other hand, seems the archetypal quantifiable discipline, measured by established "hard" key performance indices.
Our survey, in fact, shows that IT "cultural integration" is an important success factor in post-merger integration, although an unevenly acknowledged factor. When our total survey audience (business and IT executives) was asked to choose the "most critical factor for the success of IT integration" from among eight items, only 9 percent named culture, which tied for sixth (see Figure 2). In other words, as a factor to be anticipated, IT cultural integration does not appear significant.
According to the same survey respondents, however, their actual M&A experience suggests something different. When asked to choose the "greatest impediment to successful integration" from the same list of eight items, the executives ranked "cultural integration" second (after "infrastructure compatibility"); it was named by 21 percent of the executives.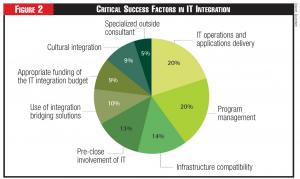 This corresponds to our own experience working on post-merger integration efforts for major companies and strongly suggests that learning how to plan and execute IT cultural integration is becoming a best practice that is too important to ignore.
Differing Worldviews, Differing Expectations
In general, where there were notable differences in survey responses, business executives were nearly always less optimistic than their IT peers, with more modest initial expectations. For example, roughly twice as many IT executives as business executives—31 percent versus 15 percent in the United States, and 12 percent versus 5 percent in Europe—characterized their most recent merger experience as "extremely successful."
Similarly, nearly a quarter of U.S. IT executives stated that recent post merger integration efforts were stable within a month of close; only 9 percent of their U.S. business executive counterparts felt the same. Twenty-nine percent of U.S. IT executives state that all of the projected value from IT synergies either "were realized" or "were expected to be realized;" just 8 percent of their U.S. business executive counterparts felt similarly.
It is not entirely surprising, given both field observations and previous research conducted on the subject, that there would be significantly different views about post-merger integration challenges and outcomes between IT and business executives. In our experience, for example, many IT executives define "post-merger integration success" in terms of "IT integration," using, for example, connectivity or operational-continuity metrics—"Did we get the help desk up and running quickly?" or "How quickly was email consolidated?"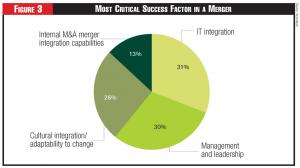 Business executives, on the other hand, define post-merger integration success in terms of the business integration and synergies that IT has enabled, such as the support of merged sales forces and an integrated view of the customer (see Figure 3). This observation bears out in our survey data on use of performance metrics for IT integration. When those who said "yes" to the use of IT integration-performance metrics were asked which measures they used, some important differences emerged. "Cost savings" metrics were used by 91 percent of U.S. IT executives, but only by 50 percent of their European counterparts. On the business side, the U.S.-Europe gap was even greater—79 percent (U.S.) versus 31 percent (Europe).
Given our belief that framing IT issues primarily in terms of cost misses the full meaning of "value creation," we think the regional and functional discrepancies in the priority assigned to cost savings are noteworthy.
A Moving M&A Success Standard
One possible explanation for the variance in optimism comes from a moving definition of M&A success. Tactics which used to provide differentiating value (e.g., target selection) have become commoditized. Bellwether acquirers have turned to other, increasingly fine-grained methods of extracting value in their M&A transactions, often focused on post-merger integration. Previously, for example, the standard for IT involvement in merger planning was "before close." Now the standard is "before announcement." We consistently find that, with notable exceptions (usually in high performing industries), IT and business executives have different worldviews. Why wouldn't these different worldviews apply to definitions and means of "value creation"? Alignment is difficult to uncommon, and is hard to achieve.
The Business Case for IT Alignment
Other research we have conducted into IT and business productivity—regionally focused on the United Kingdom/Ireland, the Nordic region, and the Americas—continues to verify the importance of strong IT-business alignment. Companies that are "strongly aligned" reported overall productivity improvement rates 38 percent to 44 percent higher than those that are "weakly aligned"; IT productivity-improvement rates were similarly 33 percent to 38 percent higher. And IT delivered 34 percent to 38 percent more value in the strongly aligned companies than in weakly aligned companies.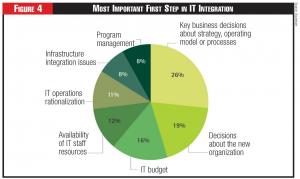 At the end of the day, IT and business executives agree on the value of involving IT as early as possibly in M&A transactions (see Figure 4). Once involved, both IT and business executives have opportunities to create great-er value in these transactions by recognizing the value of integrating cultures in the immediate post-merger period, and by working to ensure the strongest possible alignment of the IT and business functions as a steady-state reality. Winning those battles positions the post-merger company for better business performance and as a stronger competitor.
Endnote:
1. Accenture, "Keys to the Kingdom: How an Integrated IT Capability Can Increase Your Odds of M&A Success," 2002.