Deck:
Better designs are needed to realize the goal of lower-cost gas.
Author Bio:
Ken Costello is a senior institute economist at the National Regulatory Research Institute, Ohio State University. Contact him at costello.1@osu.edu. James F. Wilson is a principal with LECG LLC. Contact him at jwilson@lecg.com. The views expressed in this article are those of the authors, and do not necessarily represent views or positions of NRRI, LECG, or the authors' clients. This article is based on a longer paper on the topic, which is available on request from either author.
Better designs are needed to realize the goal of lower-cost gas.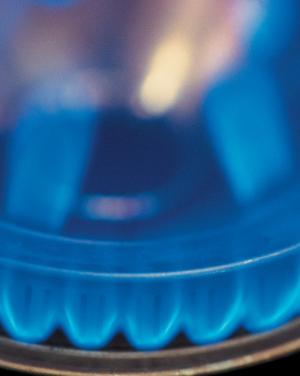 As customers receive substantially higher bills than they received last winter from local natural-gas distribution companies (LDCs), questions arise as to what more the utilities could be doing to contain their gas-supply costs, and what regulatory changes could contribute to lower gas costs for the future.
The gas-procurement choices LDCs make, how they manage assets that are held for this function, and the extent to which costs are hedged far in advance determine the cost of gas their customers ultimately pay. For most LDCs, these costs have been fully recovered from customers, subject to prudence review, under a purchased gas adjustment (PGA) tariff clause. Consequently, utilities have had no direct incentive to purchase supply and manage the associated assets most economically. Furthermore, the threat of a prudence review and possible disallowance can discourage utilities from actions (such as hedging) that might be in the customers' long-term interest, but lead to higher gas costs in some years.
With the unbundling and increasing competitiveness of the natural-gas industry during the past two decades, LDCs have faced a much broader array of choices for acquiring gas supply for customers. This has made gas procurement more complex, and effective regulatory oversight less feasible and more costly.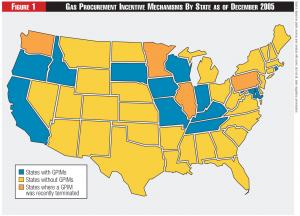 Recognizing that stronger incentives for the gas procurement function could lead to improved utility performance while reducing the need for detailed prudence reviews, state regulators in more than a dozen states, including California, Oregon, Wisconsin, Indiana, Missouri, and Rhode Island, have approved gas procurement incentive mechanisms (GPIMs) for one or more jurisdictional utilities ( see Figure 1 ).
Gas cost to consumers should decline as a result of an incentive mechanism if the incentive leads to a reduction in the utility's actual cost of purchased gas (compared with what it would have been without the incentives) that exceeds the incentive payment earned by the utility under the mechanism. With stronger incentives, LDCs could lower gas cost by applying more resources to the function (employing more highly qualified staff, acquiring the best market intelligence, etc.); taking greater advantage of the considerable buying power that LDCs have in the marketplace by virtue of the large, stable, firm loads they represent; managing the substantial flexibility LDCs typically have within their portfolios to maximum advantage; harvesting the full value of the transportation and storage assets they control; and taking calculated risks that, lacking incentives, they might be unwilling to take.
While the objectives and broad structures of the various GPIMs implemented around the country have many similarities,