Deck:
More consolidation could trim costs, but some CEOs fear a backlash from regulators.
Author Bio:
Richard Stavros is  Fortnightly's Executive Editor.
More consolidation could trim costs, but some CEOs fear a backlash from regulators.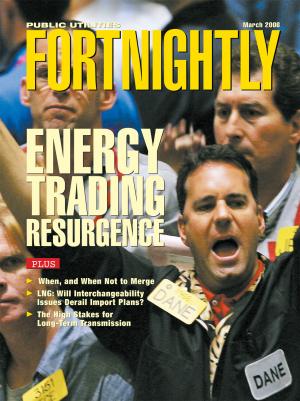 With the possible exception of keeping the lights on, the merger game dwarfs just about every other question facing today's electric utilities. The last big wave of consolidation hit in the late 1990s. Now the forecast calls for a repeat performance, but don't bet the farm.
There's a hitch, you see. It's today's high commodity costs. Compare the prices of natural gas, crude oil, and other fuels and commodities, compared to what we saw five to 10 years ago, back during the last M&A boom.
And why is that a problem? Well, for one thing, high commodity prices push utility operating costs higher, putting pressure on rates. And it's that threat—more rate case reviews—that leads many executives to conclude that the M&A wave everyone had predicted, following repeal of the Public Utility Holding Company Act (PUHCA), may not actually happen.
Speaking at EXNET's 19th Annual Utility M&A Symposium, held in late January in New York, Richard C. Kelly, chairman, president, and CEO of Xcel Energy, outlined the utility position succinctly: "Rate cases and mergers usually don't mix. Not that you can't get them, but states will grasp something from you."
Kelly added that a merger also could throw a monkey wrench into efforts by utilities to seek rate relief, producing a sort of reverse feedback effect that could derail even more deals. He concluded: "It has to be a very good merger before it's worth us giving up some of the rate relief. … We don't think that is something we want to do, but we are open to [mergers]."
Of course, Congress repealed PUHCA for a reason. It intended for utilities to take advantage and pursue more rational corporate structures—bigger companies, with greater econ-omies of scale, like banks and other industries that have consolidated following deregulation.
At the same meeting, Wesley W. von Schack, chairman, president, and CEO of Energy East, lamented that regulators are too focused on near-term rates and not on the economies of scale that could be achieved through mergers. Such consolidation, he added, would allow utilities to better weather future cost increases.
And regulators take note: Recent evidence does suggest, in fact, that utility mergers can produce value.
McKinsey & Company's Dr. Thomas Seitz and his colleagues on p. 46 find that companies that relied heavily on M&A generated more than half of the value in the power industry during the 10 years ending in September 2005. And in the last year, Navigant's Dean C. Maschoff and his colleagues find on p. 16 that merger strategies drove in part shareholder performance.
Ironically, while von Schack outlined a number of issues that could derail merger deals, he predicted that the same forces making mergers difficult today—high commodity prices versus political pressure to keep rates low—might actually expedite merger deals in the future.
"This will force the state regulators to open their minds," he said, "about the benefits of scale and efficiency."
The Rate-Making Climate