Deck:
More consolidation could trim costs, but some CEOs fear a backlash from regulators.
Author Bio:
Richard Stavros is Fortnightly's Executive Editor.
With the possible exception of keeping the lights on, the merger game dwarfs just about every other question facing today's electric utilities. The last big wave of consolidation hit in the late 1990s. Now the forecast calls for a repeat performance, but don't bet the farm.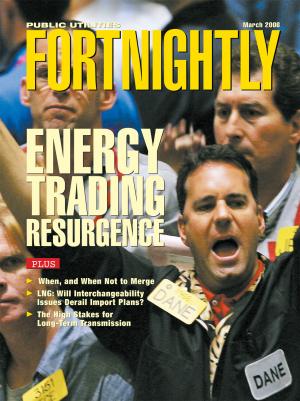 There's a hitch, you see. It's today's high commodity costs. Compare the prices of natural gas, crude oil, and other fuels and commodities, compared to what we saw five to 10 years ago, back during the last M&A boom.
And why is that a problem? Well, for one thing, high commodity prices push utility operating costs higher, putting pressure on rates. And it's that threat—more rate case reviews—that leads many executives to conclude that the M&A wave everyone had predicted, following repeal of the Public Utility Holding Company Act (PUHCA), may not actually happen.
Speaking at EXNET's 19th Annual Utility M&A Symposium, held in late January in New York, Richard C. Kelly, chairman, president, and CEO of Xcel Energy, outlined the utility position succinctly: "Rate cases and mergers usually don't mix. Not that you can't get them, but states will grasp something from you."
Kelly added that a merger also could throw a monkey wrench into efforts by utilities to seek rate relief, producing a sort of reverse feedback effect that could derail even more deals. He concluded: "It has to be a very good merger before it's worth us giving up some of the rate relief. … We don't think that is something we want to do, but we are open to [mergers]."
Of course, Congress repealed PUHCA for a reason. It intended for utilities to take advantage and pursue more rational corporate structures—bigger companies, with greater econ-omies of scale, like banks and other industries that have consolidated following deregulation.
At the same meeting, Wesley W. von Schack, chairman, president, and CEO of Energy East, lamented that regulators are too focused on near-term rates and not on the economies of scale that could be achieved through mergers. Such consolidation, he added, would allow utilities to better weather future cost increases.
And regulators take note: Recent evidence does suggest, in fact, that utility mergers can produce value.
McKinsey & Company's Dr. Thomas Seitz and his colleagues on p. 46 find that companies that relied heavily on M&A generated more than half of the value in the power industry during the 10 years ending in September 2005. And in the last year, Navigant's Dean C. Maschoff and his colleagues find on p. 16 that merger strategies drove in part shareholder performance.
Ironically, while von Schack outlined a number of issues that could derail merger deals, he predicted that the same forces making mergers difficult today—high commodity prices versus political pressure to keep rates low—might actually expedite merger deals in the future.
"This will force the state regulators to open their minds," he said, "about the benefits of scale and efficiency."
The Rate-Making Climate
Steven H. Davis, chairman of LeBoeuf, Lamb, Greene & MacRae LLP, also speaking at the EXNET conference, painted a very bleak picture of the regulatory climate—at least for utilities.
"To the extent the sector is experiencing substantial price pressures," he explained, "we are likely to see much more hands-on activity from the state regulators."
In fact, Davis believes that if prices keep pushing higher, inevitably we will see even more intrusive state regulation. In particular, the battle between utilities and regulators will likely begin the moment when the rate freezes end, allowing utilities to file applications for significant rate increases. And the rate freezes are ending, Davis advises, in a number of states.
"The most extreme example of the kind of controversy," he adds, has occurred in Illinois, "where there has been tremendous brinkmanship going on between Ameren and Exelon on the one hand, and the governor of Illinois on the other hand, over what happens when that rate freeze ends."
Davis was struck also by a recent case filed by Arizona Public Service with that state's utility commission, seeking a $299 million rate hike to offset a dramatic deterioration of financial condition. Also, in January, he noted, Wisconsin Energy won approval for a $200 million rate hike.
The pressure is rising even in Pennsylvania—the poster child for electric competition. Last year, for example, when Pike County (a Con Ed subsidiary) went out and solicited power supply and wound up looking north of a 70 percent increase in prices—the state regulators balked.
The increase in rates "exceeds any electric rate increase allowed by this commission, even when a new nuclear generation station was added to the rate base," said Pennsylvania Commissioner Bill Shane, in his motion to start an investigation.
LeBoeuf, Lamb's Davis said that in one of the meetings, a Pennsylvania PUC commissioner was heard saying, "Competitive markets are a useful tool, but not an object of worship."
The Price of Stability
Beyond cost pressures, there seems to be one last disturbing trend on mergers: an extraordinary absence in vision on what the ideal design and structure of the future utility company and industry should look like. Naturally, this is probably due to the balkanized, hodge-podge nature of the North American utility industry that has so many inherent conflicts and clashing constituencies it's a wonder that we can find any agreement at all.
But this editor is concerned that even at the federal level the view that hybrid (regulated and unregulated) markets will continue to co-exist has calcified, albeit as a result of the Energy Policy Act of 2005, which essentially preserved the status quo.
Furthermore, if the federal government has backed off from a unified and rational structure (or finding one) for the industry, then we may never hope to see the benefits that other industries have enjoyed from consolidation. The reason is that without a coherent structure, we are likely to see distorted merger proposals that seek to appease regulators but fail to make economic sense.
FERC Chairman Joseph Kelliher, while he may have been called a reformer, indicates in speeches that he will go no further than the letter of what Congress intended—which, as previously stated, is in effect the status quo.
Kelliher's FERC no longer conditions merger approval on RTO membership. In fact, some companies like LG&E Energy are asking to get out. Many are concerned that his position represents a step backward, although he was adamant that was not the case, explaining the industry would not return to its pre-1990s structure.
However, in February, in a speech at CERA Week 2006, he said he was agnostic as to the business structures in the Southeast (vertically integrated) or Northeast (electric competition) as long as the customer is served just and reasonably. In addition, he said he was agnostic as to how the megawatts were generated.
At a dinner the evening before Kelliher's speech at the CERA conference, a debate broke out at our table between a Russian energy fund manager and a British energy consultant. The focus of debate was whether China valued political order over economic prosperity, and whether it would impose one at the cost of the other. The Brit was sure that China valued political order; the fund manager took the opposite position. Of course, we could have been debating the stance of regulators in respect to the North American utility industry.