Deck:
High power bills, with the lifting of rate freezes, give pause to politicians.
The Baltimore Sun recently carried a very poignant letter from one of its local readers— a letter that utility executives might well take to heart. Appearing under the title, "Energy Advice Cruel to Poorer Readers," the letter took offense at an article that trivialized the effect of the huge increase in local electric bills (35 to 72 percent) expected this July with the lifting of a long-standing retail rate freeze. The Sun article had suggested that Marylanders could cut their $300-per-month dining expenses, or drive to Virginia Beach for vacation, rather than fly to Florida.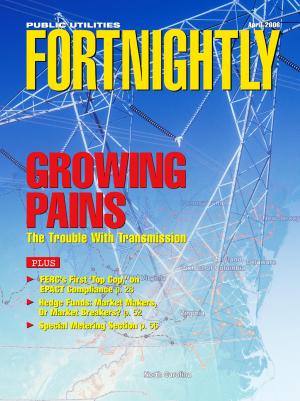 The reader, however, was not amused: "A single mother with two children earning, say, $30,000 a year would not find humor in that advice."
While government programs do offer assistance (one in particular would target families of four earning a maximum of $2,419 a month), this type of human-interest scenario has moved politicians and regulators in various states to take action. These public servants are hoping to moderate the political and economic impact from rising power prices in states that have adopted retail competition, or that are preparing for the end of rate freezes.
In Delaware, Maryland, Illinois, Virginia, Montana, and Connecticut, politicians either have passed laws extending the rate freezes, are trying to pass such laws, or are trying to pass laws capping rates. Some of these states are trying to repeal deregulation outright. Even in competitive states like Texas, regulators have grumbled over skyrocketing commodity prices.
A recent article from the Washington Post summed up the prevailing mood. In that piece, a critic of deregulation, commenting on the rate increases in Maryland, conceded that electric rates are going up all over the country, but insisted that the largest increases were coming from the deregulated states.
Statements like these are fighting words for consultants at Global Energy Decisions, Cambridge Energy Research Associates (CERA), and several of the independent system operators that have put out studies over the last six months concluding that we're better off under a competitive regime in power markets.
For example, Global Energy Decisions last year claimed wholesale electric competition had produced $15 billion in savings for customers in Eastern power markets. The savings resulted from competitive pressures associated with wholesale market operations that minimized fuel expenses, operating and maintenance costs, and depreciation and taxes.
Furthermore, CERA claims that the majority of U.S. consumers have paid less for electricity since the onset of power-system deregulation in 1997, achieving total savings of about $34 billion over costs that would have been incurred under traditional regulation.
But despite these numbers, it seems the country is becoming even more polarized.
Utilities defending the rate increases say that rate freezes were set way too low to begin with. They believe that the overall increases in ratepayer bills, as measured from the date of the rate freezes set several years ago, to the going prices observed today, are generally consistent with increases in power-production costs experienced over that time interval. In fact, some say the ones to blame for the rate shock are the regulators for not allowing gradual increases in rates, but forcing the entire cost increase on ratepayers all at one time.
This is all spilled milk. Whatever the reasons for the rate shock in various states, or the benefits of electric competition, it just won't matter in a charged political atmosphere if ratepayers (the voters) are feeling gouged. What politician can forget the lesson of Gov. Gray Davis and the California crisis? A power crisis can get you voted out of office.
Regulatory "Clawback"
Can regulators succeed in turning back the clock? Some say utilities might try to escape attempts at re-regulation by shedding regulatory assets. And this strategy gains credence with reports from some equity research analysts, who are projecting lower financial performance for utilities that operate in a fully regulated environment.
Morgan Stanley's Kit Konolige and Philson Yim write in one report that utilities might form more stand-alone generation companies if regulators attempt to "clawback" their unregulated earnings.
They write, "Companies as different and at different stages, such as Exelon and PPL, are clearly recognizing that as their unregulated (or pending unregulated) gencos earn strong cash margins in a FERC-protected open market, well above 50 percent and as much as 80 percent of the entity's equity value is unregulated."
In particular, Konolige and Yim question whether the regulated wires business, the part left over after generation is privatized, will prove "big enough to 'stabilize' cash flows and the balance sheet."
If not, they say, there would be nothing left but a clawback strategy for those hapless state politicians "who still can't believe that they passed a law, years ago, that allowed market pricing for the genco—and took the genco out of the politicians' control."
Konolige and Yim believe regulators in New Jersey and Illinois (and Connecticut) may use their authority over the state-regulated wires in an attempt to make up for earnings lost from generating units that have fled to greener pastures under federal jurisdiction.
Meanwhile, Lehman Brothers equity research analyst Dan Ford believes the increase in rates will lead to demand destruction, and to flattening or negative top-line growth.
Ford says the historical evidence suggests that a 1 percent increase in retail rates leads to an approximate 0.25 percent decrease in usage rates. "Though this relationship would likely break down over the course of a 50 percent plus rate hike profile, we believe a considerable slackening of demand is possible as the decade progresses."
Ford expects customers' bills to increase about 10 percent annually through 2010. On a cumulative basis relative to 2005 rate levels, customers could see a 65 percent rise in their electricity costs. Ford believes that, as a result of these increases, utilities may well face cash deferrals, harsh rate treatment, and the specter of re-regulation.
In its annual ranking of state PUCs from an investor perspective, the bank found that the top five PUCs are Georgia, Indiana, Iowa, Kentucky, and Wyoming. The bottom tier consisted of Arizona, Hawaii, Montana, New Hampshire, and New Mexico. Interestingly, none in the top tier are states with active competitive markets.
Time will tell if the political winds turn in electric competition's favor. The next challenge for competition is how to have it along with steadily increasing commodity prices.
* * *
On another note, FPL declined to respond to my February 2006 critique in this column of their merger proposal. But Howard Spinner, director of the division of economics and finance at the Virginia State Corporation Commission, offers another view on the proposed merger.