Deck:
High power bills, with the lifting of rate freezes, give pause to politicians.
High power bills, with the lifting of rate freezes, give pause to politicians.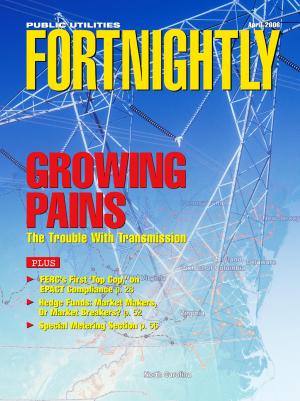 The Baltimore Sun recently carried a very poignant letter from one of its local readers— a letter that utility executives might well take to heart. Appearing under the title, "Energy Advice Cruel to Poorer Readers," the letter took offense at an article that trivialized the effect of the huge increase in local electric bills (35 to 72 percent) expected this July with the lifting of a long-standing retail rate freeze. The Sun article had suggested that Marylanders could cut their $300-per-month dining expenses, or drive to Virginia Beach for vacation, rather than fly to Florida.
The reader, however, was not amused: "A single mother with two children earning, say, $30,000 a year would not find humor in that advice."
While government programs do offer assistance (one in particular would target families of four earning a maximum of $2,419 a month), this type of human-interest scenario has moved politicians and regulators in various states to take action. These public servants are hoping to moderate the political and economic impact from rising power prices in states that have adopted retail competition, or that are preparing for the end of rate freezes.
In Delaware, Maryland, Illinois, Virginia, Montana, and Connecticut, politicians either have passed laws extending the rate freezes, are trying to pass such laws, or are trying to pass laws capping rates. Some of these states are trying to repeal deregulation outright. Even in competitive states like Texas, regulators have grumbled over skyrocketing commodity prices.
A recent article from the Washington Post summed up the prevailing mood. In that piece, a critic of deregulation, commenting on the rate increases in Maryland, conceded that electric rates are going up all over the country, but insisted that the largest increases were coming from the deregulated states.
Statements like these are fighting words for consultants at Global Energy Decisions, Cambridge Energy Research Associates (CERA), and several of the independent system operators that have put out studies over the last six months concluding that we're better off under a competitive regime in power markets.
For example, Global Energy Decisions last year claimed wholesale electric competition had produced $15 billion in savings for customers in Eastern power markets. The savings resulted from competitive pressures associated with wholesale market operations that minimized fuel expenses, operating and maintenance costs, and depreciation and taxes.
Furthermore, CERA claims that the majority of U.S. consumers have paid less for electricity since the onset of power-system deregulation in 1997, achieving total savings of about $34 billion over costs that would have been incurred under traditional regulation.
But despite these numbers, it seems the country is becoming even more polarized.
Utilities defending the rate increases say that rate freezes were set way too low to begin with. They believe that the overall increases in ratepayer bills, as measured from the date of the rate freezes set several years ago, to the going prices observed today, are generally consistent with increases in power-production costs experienced over that time interval.