Deck:
A behind-the-scenes look at what industry influencers are saying.
Author Bio:
Richard Charles is a senior vice president at Alliance Data.
Natural disasters and political events in 2005 pushed the discussion of outsourcing into the pages of many mainstream business and financial publications. Why the sudden interest?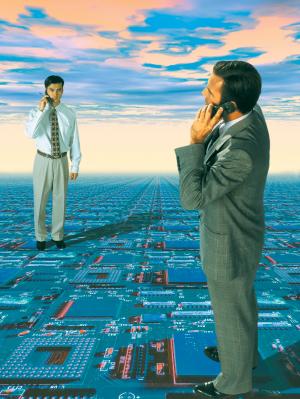 Last year was pivotal for the utility outsourcing community. Outsourcing evolved from intimate discussions in utility boardrooms to front-page news for many mainstream business and financial publications. Why the sudden interest?
Start with the industry's headline-making contracts. NiSource and IBM proved that the TXU/CapGemini outsourcing deal of 2004 was not a fluke event. The lone major industry that until recently had ignored broad-scale outsourcing suddenly was forced to confront the issues of outsourcing and even offshoring to India and elsewhere.
In addition, Hurricanes Katrina and Rita raised another pressing set of questions. What happens when infrastructure is at risk or barely functional in times of natural disasters? What are a utility's options for backup and redundancy?
Last, there was the Energy Policy Act of 2005. With it came increased relevance of smart metering. As this legislation takes hold, utilities will need to better manage, monitor, and bill their customers. The practice of simply deferring technology upgrades may no longer be tenable.
Understanding the downstream effects of reading and billing from a customer's meter in a near real-time scenario will increase significantly the data throughput into current customer information systems (CIS). The question is, Can current systems handle the volume increase? Will call centers have the capacity to handle increased call volumes once customers have access to smart meters and all that they imply? In this case, would outsourcing certain information technology (IT) processes be the answer to reducing a utility's risk and costs?
Unquestionably, the net effect of 2005's tumultuous year was to spur a major change in the way utilities think about outsourcing.
Two Parallel Options?
The NiSources and TXUs of the industry have charted one course—a more all encompassing enterprise resource planning (ERP-based) approach to outsourcing. But more selective outsourcing options often can make for a better business decision. How will these two options play out in the coming years?
On the topic of selective outsourcing, Robert McNeill of Forrester Research says, "It's easier to see you're getting a better price, easier to get a benchmark when you're selective for better process manageability." McNeill also states, "Organizations don't want the risk of handing over all of the services to one provider. … Smaller companies are better at handling smaller, discrete bundles of business." By farming out only bits of business, U.S. organizations more easily can grasp the risks they take as well as the efficiencies they gain, he writes.1
He continues, "Such focused, flexible service providers have a greater success ratio in retaining and pleasing their clients, in part because they can clearly show the value clients get for their money without having to untwist the multiple processes managed in infrastructure deals."
In its report, Forecast: Business Process Outsourcing, North America, 2004-2009,2 the Gartner Group finds that companies continue to express interest in offloading non-core functions so they can concentrate on core business functions. "Most companies will favor lower-cost, discrete outsourcing options (such as transaction processing) rather than strategic, comprehensive outsourcing, thus reducing the overall size of the total available BPO market."3
As for vendors, Gartner recommends, "Be selective about targeting process domains. Don't try and be all things to all people." They further urge vendors to hone a vertical niche. The Gartner viewpoint appears to support the premise that selective outsourcing is the dominant trend now and will continue for at least the next several years.
To obtain a better understanding of the current situation, and in search of some insight into what the industry might see in the coming years, we approached leading industry analysts to get their take on the future of outsourcing—or equally important, the future of the utility industry in light of outsourcing. Below is a summary of the analysts' conclusions.
Multi-Tower or Selective Outsourcing
Dennis Smith, chief industry analyst for Chartwell, states, "Utilities continue to look to outsourcers to supplement their services." Smith goes on to cite outsourcing functions, such as credit and collections, or overflow in times of high-volume calling, as prime targets for outsourcing. Outsourcing discrete functions frees the utility's CSRs to handle calls for priorities, such as billing inquiries, outages, and storm situations.4
Smith sees the outsourcing trend continuing: "More utilities than ever outsource, and they will continue to do so." But whether utilities will turn their entire customer care function over to an outsourcer is up for debate. "The industry faces special issues, such as regulatory review, that other industries don't encounter," says Smith. "We have seen examples of successful BPO arrangements, but these are most often in deregulated markets where retail choice is the driver."
In 2005, UtiliPoint conducted a survey on outsourcing that netted responses from 308 North American utilities. The collective results showed that "over 77 percent of respondents indicated that they have either outsourced a customer service function, or that they were planning to outsource one in the next two years."5
A Future of Slow, Cautious Outsourcing Growth?
Warren Causey, an EnergyCentral analyst, differs from his colleagues in his view of the outsourcing trend. Causey states, "We think there will continue to be some opportunities for outsourcers, but no major surge in activity in the next few years." Causey also sees investor-owned utilities as "very resistant" to outsourcing "just CIS or customer care." However, according to Causey, "In cases where circumstances favor outsourcing an entire IT operation, they will include customer care. But these situations are relatively rare."
Among smaller utilities, Causey states, "We think there will continue to be some gradual growth in outsourcing, but probably not a pace that will encourage more vendors to enter the market."6
UtiliPoint analyst Ethan Cohen cites the steep increase in natural-gas prices as a key driver that is making BPO more attractive to utilities. "Natural-gas utilities are entertaining BPO more readily in 2006. High natural-gas prices are causing natural-gas utilities to look at BPO to reduce costs and possibly get a balance sheet hit for the sale of assets."
Adding It All Up
Several themes are woven throughout the comments of these analysts. First, current economics and internal industry issues are forcing management to evaluate how, not if, outsourcing can offer a solution. Second, utilities are best served by selecting vendors with deep expertise in their specific outsourcing needs. And last, the high-profile outsourcing deals by NiSource and TXU have caused utility management to sit up and take notice. While more comprehensive outsourcing agreements may lie ahead, activity to date indicates selective outsourcing is the more readily adopted and appropriate model. Today, outsourcers must demonstrate both deep expertise and a track record of positive outcomes if they hope to increase their market presence. As a whole, the industry is more receptive to outsourcing discrete functions where control and results are more transparent, and the perception of risk is lower.
Endnotes:
1. Kelly Shermach, "Selective Outsourcing," CRM Buyer, March 14, 2005. Available at http://www.crmbuyer.com/story/Selective-Outsourcing-41083.html.
2. Robert H. Brown, "Forecast: Business Process Outsourcing, North America, 2004-2009," Gartner Group, Aug. 11, 2005.
3. Ibid.
4. Dennis Smith, Chartwell Inc., Response to Alliance Data Survey, e-mail dated Feb. 3, 2006.
5. Jon T. Brock and Matt Smith, "The Power of Business Transformation," Daily IssueAlert, UtiliPoint International Inc., Jan. 30, 2006.
6. Warren B. Causey, EnergyCentral, "Response to Alliance Data Survey," e-mail dated Feb. 6, 2006.