CRM and Outsourcing: Outsourcing Growth?
A behind-the-scenes look at what industry influencers are saying.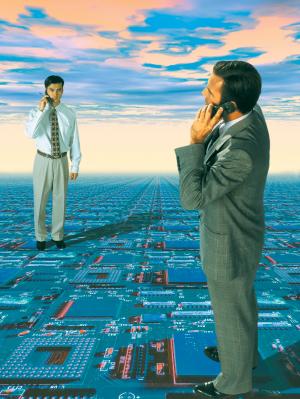 Natural disasters and political events in 2005 pushed the discussion of outsourcing into the pages of many mainstream business and financial publications. Why the sudden interest?
Last year was pivotal for the utility outsourcing community. Outsourcing evolved from intimate discussions in utility boardrooms to front-page news for many mainstream business and financial publications. Why the sudden interest?
Start with the industry's headline-making contracts. NiSource and IBM proved that the TXU/CapGemini outsourcing deal of 2004 was not a fluke event. The lone major industry that until recently had ignored broad-scale outsourcing suddenly was forced to confront the issues of outsourcing and even offshoring to India and elsewhere.
In addition, Hurricanes Katrina and Rita raised another pressing set of questions. What happens when infrastructure is at risk or barely functional in times of natural disasters? What are a utility's options for backup and redundancy?
Last, there was the Energy Policy Act of 2005. With it came increased relevance of smart metering. As this legislation takes hold, utilities will need to better manage, monitor, and bill their customers. The practice of simply deferring technology upgrades may no longer be tenable.
Understanding the downstream effects of reading and billing from a customer's meter in a near real-time scenario will increase significantly the data throughput into current customer information systems (CIS). The question is, Can current systems handle the volume increase? Will call centers have the capacity to handle increased call volumes once customers have access to smart meters and all that they imply? In this case, would outsourcing certain information technology (IT) processes be the answer to reducing a utility's risk and costs?
Unquestionably, the net effect of 2005's tumultuous year was to spur a major change in the way utilities think about outsourcing.
Two Parallel Options?
The NiSources and TXUs of the industry have charted one course—a more all encompassing enterprise resource planning (ERP-based) approach to outsourcing. But more selective outsourcing options often can make for a better business decision. How will these two options play out in the coming years?
On the topic of selective outsourcing, Robert McNeill of Forrester Research says, "It's easier to see you're getting a better price, easier to get a benchmark when you're selective for better process manageability." McNeill also states, "Organizations don't want the risk of handing over all of the services to one provider. … Smaller companies are better at handling smaller, discrete bundles of business." By farming out only bits of business, U.S. organizations more easily can grasp the risks they take as well as the efficiencies they gain, he writes. 1
He continues, "Such focused, flexible service providers have a greater success ratio in retaining and pleasing their clients, in part because they can clearly show the value clients get for their money without having to untwist the multiple processes managed in infrastructure deals."
In its report, Forecast: Business Process Outsourcing, North America, 2004-2009, 2 the Gartner Group finds that companies continue to express