Deck:
How the maturation of location tracking can increase efficiency.
Author Bio:
Greg Kneuer is principal consultant at Enspiria Solutions Inc. Contact him at 303-641-2589.
To realize the enterprise benefits of field-force management, utility executives and managers should pay keen attention to: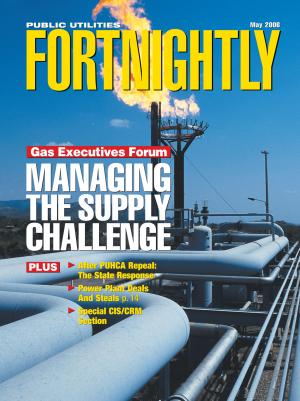 • Advancements in real-time location tracking;
• Fully extending mobile workforce management (MWM) in the enterprise;
• Back-end connectivity with enterprise-wide systems; and
• Security of mobile applications.
Advancements in Real-Time Location Tracking
A key area for corporate enterprise growth is real-time management of field-force resources and assets, enabling better response to customers. Since the U.S. Department of Defense made its Global Positioning System (GPS) standard positioning service available and free of direct charges for civil users worldwide in 1995, real-time/location-aware applications have exploded in the mainstream marketplace. Market research data predicts that the location-based services market—including GPS, General Packet Radio Service, Universal Mobile Telecommunication System, Automatic Vehicle Location, Street Level Routing, and Mobile Mapping—will hit close to $5 billion by 2010 (see sidebar). Tracking, navigation, and mobile hardware, designed to increase the efficiency of field-force operations, are a growing trend and are fast maturing.
Electric, gas, and water utility distribution companies can find as much as 90 minutes of additional time each day per field-force employee, and increase their productivity by 15 to 25 percent, by taking advantage of real-time location tracking technology. Such savings for a utility with 250 to 500 field workers would yield an additional $5 million to $10 million to the bottom line. The magnitude of savings decreases as the number of field-force employees is lowered; however, the overall percent of productivity savings remains very similar.
Fully Extending MWM in The Enterprise
Mobile technology is used predominately for service-type work, and often for emergency response. Reaping the full benefits of mobilizing the workforce involves extending MWM to all field-related activities that can include maintenance, inspections, design, and construction, as well as the service order and emergency work. An enterprise-wide mobile system automatically will acquire work orders from all work request generation sources, including enterprise resource planning (ERP), customer information systems/ customer relationship management (CIS/CRM), outage management/ trouble ticketing, work management and enterprise asset management, and other work request generation systems.
Many utilities still are using various forms of paper in conjunction with their mobile systems. This increases labor effort and decreases data integrity. Fully extending MWM across the enterprise means automating all paper forms with simple pull-down menus that cover all field-related work. Today's "smart systems" anticipate the type of work and resources required, and provide the user with the corresponding mobile interface and tools.
Back-End Connectivity With Enterprise-Wide Systems
To fully extend MWM in the enterprise, the mobile applications must be tied to the utility's various enterprise systems. Mobile system applications include messaging, dispatch and scheduling, and work-order status and reporting. The mobile system is accessed by wired and wireless devices through a presentation interface that ensures ease of viewing and access. The mobile system is integrated with the utility's key enterprise systems, providing a real-time flow of information both to the mobile workforce and from the mobile workforce.
Security of Mobile Applications
Security is a top priority anytime sensitive information is being exchanged over networks. Wireless networks have their own data-encryption facilities, but only over the individual networks. Internet-based services do not facilitate security functions. To provide secure and reliable services requires an end-to-end integration. Wireless Transport Layer Security (WTLS) for Wireless Application Protocol (WAP) provides client and server authentication, and allows for encryption between a handheld device and the WAP gateway.
For mobile workforce management systems to add value for both management and field personnel, they must be convenient and easy to use. A user friendly application allows the utility to take maximum advantage of the unique features of mobile devices so users can access any type of information needed to perform and close-out assigned work.
Companies that take advantage of mobile technology advancements and extend these mobile systems across their enterprise will achieve efficiencies and flexibilities that enable them to better compete in their markets.