Deck:
Kyoto countries miss their targets, but scientists say climate change was already unstoppable.
Hollywood and the media are way ahead of the politicians when it comes to the greenhouse effect and global warming. An exposé in a recent issue of Time magazine (April 3, 2006) cited warnings from scientists of a "tipping point"—that we may be approaching "the point of no return" if we do nothing on climate change.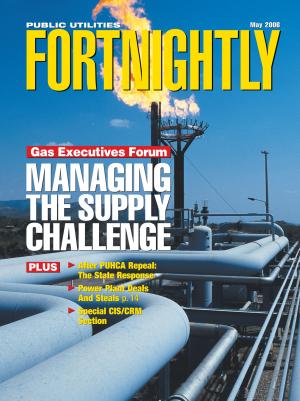 Maybe, in fact, we're already there. That might explain why utilities dared to challenge Congress and the "wait-and-see" crowd on whether to continue to defer on various proposals to restrict emissions of carbon dioxide, at a conference before the Senate Energy & Natural Resources Committee, held in early April.
In fact, Exelon Corp. and Duke Energy Corp., PNM Resources Inc., and Sempra Energy urged Congress to impose mandatory restrictions on emissions of carbon dioxide. Southern Co. and American Electric Power urged a voluntary program, as did the Edison Electric Institute.
But even as utilities try to be good corporate citizens and help devise a federal or national plan, the question remains as to whether the domestic economy can achieve even a modest reduction in CO2 releases—enough to put even a small dent in current predictions of global climate change.
A Faustian Deal
New scientific evidence suggests that global warming is inevitable: that our only choice is how much and how soon.
One economist states the tradeoff succinctly: "Basically, [global warming] is a choice as to the degree that we want to reduce CO2 emissions and pay up now, and the degree we are willing to live with higher temperatures at a later date."
Yet the main problem in this so-called tradeoff is the assumption that governments can adhere to their promises. If the failure of European Union members to meet early targets is any guide, then Kyoto's more significant cuts may never be achieved.
Does this mean that the U.S. utilities are setting themselves up for failure? California may think so. Backing off of an initiative to set firm limits on greenhouse-gas emissions, California Gov. Arnold Schwarzenegger said recently that setting a firm cap on greenhouse-gas emissions could drive businesses away and hurt the state's economy.
In an interview with the Contra Costa Times, Schwarzenegger called a report on climate change by the California Environmental Protection Agency "a great blueprint to take us where we need to go." Yet he added that rushing to set firm limits on greenhouse-gas emissions could lead to the same kinds of mistakes that occurred during California's disastrous attempt to restructure the electricity industry.
If California's "greens" are talking this way, perhaps the time has come for all Americans to take a more realistic view of the climate change issue.
At the Senate conference, Michael G. Morris, CEO of American Electric Power, emphasized the need to attack climate change with what Peter Huber would call "hard" answers, rather than "soft" responses, such as simply cutting consumption or fuel use to get by with less:
"Technology is the key," he advised. He advocated strategies to develop, fund, and implement "zero- and lesser-emitting generation technologies," in tandem with "voluntary" measures to reduce the size and intensity of carbon emissions. (Yet even Morris would appear to favor a slow, long-term effort, as he noted that such moves should take into account the "economic turnover" of capital stock.)
Perhaps technology, not trading schemes, is where the country should focus its efforts. Certainly, many of the world's top greenhouse-gas emitters have chosen a more technology-focused path.
The expansion of green technologies to meet an increasing demand for energy is the principal focus of the Asia Pacific Partnership for Clean Development and Climate, involving the United States, Australia, China, India, Japan, and South Korea. The Asia-Pacific Partnership is a voluntary, technology-based multinational agreement. Of course, there is debate whether the program will undermine or complement the Kyoto Protocol.
In the meantime, a British government report published in late March said the United Kingdom was unlikely to meet its target of reducing carbon dioxide emissions by 20 percent by 2010. In acknowledging this setback, British Prime Minister Tony Blair called for a "technological revolution comparable to the Internet to slow global warming."
Why Kyoto Has Failed
European Union members are far behind on meeting their initial targets for greenhouse-gas emissions. However, even if they do eventually make their goals, it's debatable whether that would be enough to mitigate global warming. The United Nation's Intergovernmental Panel on Climate Change (IPCC) has predicted an average global rise in temperature of 1.4° to 5.8° centigrade (2.5° to 10.4°F) between 1990 and 2100. Current estimates indicate that even if successfully and completely implemented, the Kyoto Protocol will not provide any substantial reduction in temperature. Because of this, many critics and environmentalists view the Kyoto Protocol as only a first step, with subsequent measures following in the future to mandate deeper cuts in carbon-based emissions.
Whether China, India, and the United States would sign on to an agreement with more severe emissions cuts after the 2012 expiration of Kyoto—as British Prime Minister Tony Blair has called for—is unknown.
What is more, because the Kyoto signatories have not been able to meet their original targets, many wonder whether more significant cuts can be accomplished.
The European Environment Agency reported in April that the 15 longest-standing members of the EU are likely to cut emissions to just 2.5 percent below 1990 levels. That would fall well short of their cumulative target of 8 percent.
Blame growth in European air travel for the poor performance. In addition, according to a new report on Europe's environmental health, emissions have been rising since the year 2000. European Environment Agency data shows that the "EU 15" was expected to exceed its 2010 emissions target by 4 percent; compare that to Kyoto's mandate for an 8-percent reduction below 1990 levels.
Moreover, even if European efforts could achieve Kyoto targets for 2010, research from the National Center for Atmospheric Research (NCAR), published in March in the journal Science, finds that global climate change would still occur.
NCAR found that even if the world had been able to hold atmospheric concentrations of greenhouse gases steady since 2000, global average temperatures would rise by about 1 degree Fahrenheit by the end of the 21st century. In addition, sea levels would rise by another 4 inches, just from thermal expansion. The NCAR team also found that rising sea levels would continue well beyond 2100, even without adding water from glaciers and ice sheets.
These results indicate that "adaptation" will play a larger role in the future; "prevention," as such, is really no longer viable.
And that's precisely why the utilities might well bring a little realism to the table in the debate over global climate change: Accept the limits imposed by science, physics, and the laws of thermodynamics, and then move accordingly.
The country and the industry are doomed to fail in this effort if they do not learn from other efforts that have failed. The world needs a new solution—a new plan to deal with global warming that has not yet been envisioned.