Deck:
Superior asset management, exceptional cost discipline, and magnificent growth opportunities define the winners of our second annual financial ranking.
Author Bio:
Richard Stavros is the executive editor of Public Utilities Fortnightly.
In 2005, the inaugural year of the Fortnightly 40 (F40) financial rankings of electric and gas utilities, pipelines, and distribution companies, the industry wanted to know who the best energy companies were, and we told them. Given the increasing diversification of electric utilities into exploration and production (E&P), and E&P companies into local gas distribution and pipelines, operational benchmarking analysis (and other measures) no longer offer meaningful answers to the questions senior executives have about how best to measure their companies.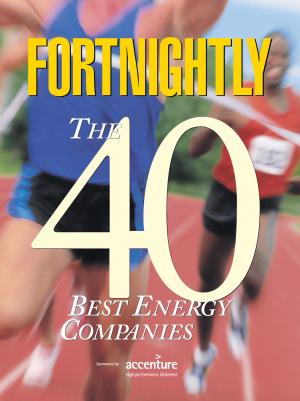 In fact, the industry and our readers demand a type of analysis that more truly communicates value to future investors, future owners, energy asset operators, regulators, and consumers (see sidebar; "The Performance Standard").
The F40 was unveiled in 2005 to critical acclaim. Several top energy companies like MDU Resources and UGI reported their standing in the F40 in their quarterly earnings, in annual reports, and at shareholder meetings. Furthermore, according to anonymous sources, Kinder Morgan—which topped the list last year as well as this year—presented its F40 standing as a means to communicate its management value to Canadian regulators as part of the company's high-profile, $5.6 billion acquisition of Terasen in 2005.
In addition, the F40 is bolstered further this year by the realization that two of the top companies, Kinder Morgan and Duquesne, are entertaining offers by management and private-equity firm consortiums to take their companies private. Kinder Morgan's $13.5 billion deal would be the largest management-led buyout in history and one of the largest leveraged buyouts ever.
"At Kinder Morgan Energy Partners, we believe that that offer is a tremendous vote of confidence in the growth opportunities for [us]" says C. Park Shaper, president of Kinder Morgan Inc. (KMI), and Kinder Morgan Energy Partners LP (KMP). "Management and the other sponsors would not be willing to make that offer, to offer the KMI shareholders an 18.5 percent premium, unless they believed that KMP would continue to have great growth opportunities going forward," he says.
And in respect to this year's number 1 ranking, Shaper graciously accepts it: "We are honored that Kinder Morgan Energy Partners would earn that spot."
Even as we have begun to identify the best energy companies via the F40, discussions about the ranking are developing into a long-term intellectual debate in financial circles. What is management doing to achieve the F40 level of performance? What is it about the management of Edison International that returns the company to the list for a second year in row? What is the secret of TXU's success, as it rockets to the middle of the list? And how do LDCs like WGL Resources (parent of Washington Gas) manage to hold their own with super-growth companies like Energen, an E&P company and LDC?
Standing in the Pantheon
What does it mean to be on the F40 in 2006? Jim Hendrickson, lead partner for the North American Utilities Strategy practice at Accenture, says that placement in the F40 indicates a well-run, solid, asset-intensive business. "If you have year-over-year good predictable operating earnings, you will show up on the F40," he says.
Of course, consistent performance over time is the Holy Grail of corporate management, and a focus of many of the executives that made the list. Hendrickson notes that his research and considerable business literature on the subject shows that very few companies achieve sustainable performance over a 10-year period. For utilities, in particular, earnings volatility earns a market discount.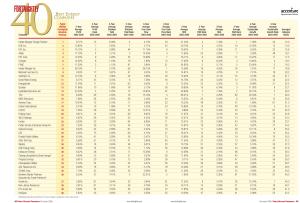 But clearly, being on the F40 means a company has been consistent on many different measures over a three-year period, says Jean Reaves Rollins, managing partner at the C Three Group LLC.
The F40 is not forgiving if you fail to maintain sustainable performance.
"If you have one bad year, it's going to take you down in any measure of the key measures that the DuPont Hybrid looks at," Rollins says. (Rollins analyzes the F40 model [the Dupont Hybrid] and its predictability of shareholder value.)
For example, she explains, Duquesne earns high honors this year because in the previous years management sold off many of the disparate businesses. "What the current management did wasn't sexy. They got in there and cleaned the balance sheet up and got it down to a basic business that could be evaluated pretty easily," she says.
Hendrickson and Rollins found mixed results when trying to correlate total return to shareholders (TRS) (a popular performance method) with the F40 (DuPont Hybrid), but they agree that using the F40 and TRS models is an effective way to identify corporate performance.
Meanwhile, WGL Holdings Chairman and CEO James H. DeGraffenreidt Jr. found this year's F40 results were consistent with some of the long-term internal benchmarks that his company has used to chart its performance.
"We also put out five years of financial objectives three years ago, where we said we were going to generate free cash flows. … We said we were going to grow earnings on average 5 percent per year over that five-year period. We said we were going to maintain a strong credit rating, and we are one of the strongest credits in our sector. … And [we will] maintain our ability to maintain the dividend.
"So, you are seeing the culmination of all of that in the 2003 through 2005 three-year increment that the F40 measures," DeGraffenreidt Jr., says.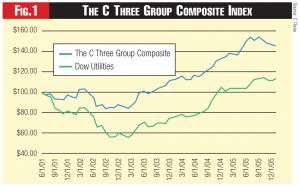 John E. Bryson, chairman, president, and CEO of Edison International, also shows exceptional consistency in the management of his company. He says all the F40 measures became negative during the California crises, which began in the 2000-2001 timeframe. Bryson, in less than five years, not only was able to save his company from the brink of bankruptcy, but exceed the company's performance measures that existed before the crisis. It also didn't hurt that Edison International, which has a large, low-cost coal fleet, is in one of the country's highest-growing service territories: Southern California.
"I think looking at a three-year time horizon is a good way to think about performance," he says of the F40's time frame. "We tend to look at three-, five- and 10-year periods. Ours is a capital-intensive business where there will be times when commodity values are up and commodity values are down. Since we have to operate a company and we have to make long-term capital investments and with long-term returns, we like those kind of time horizons."
Taking a long-term view hasn't hurt Edison International's shareholders. "Edison International returned to shareholders over 300 percent over the three years covered by the F40," he explains. In the aggregate over five years through the power crises, Edison International returned 200 percent.
Finally, Mike Childers, CEO of generation development, TXU, tells how the management of his company's generation fleet has changed over the last three years and contributed to the company success and placement on the F40.
"We really embarked on being a top-tier industrial company operating generation assets as opposed to a utility operating generation assets. I draw the differentiation there in that, historically, our coal-fired assets operated in the low 80 percent availability capacity factor range. Today, they are operating at 92, 93, and 95 [percent]. Our nuclear plant operated down at the same range; year-to-date in 2006, it is operating at 99 percent. We have done that through a couple of operational changes in a new system that we dubbed the TXU operating system," he says.
Childers attributes the improvement in the company's assets management to a series of lean manufacturing approaches that TXU learned from other industries and imported. "We spent a lot of time with Toyota, with Georgia Pacific, with Boeing, with a lot of major manufacturers who work in commodity-type businesses. We learned and studied from them the lean operating practices of best-of-class and world-class manufacturing capability, and we brought that to our operating system. And our operating statistics have moved from middle of the pack to top tier."
Debating the Dividend
There is one measure on the F40 that energy industry executives still agree to disagree on: payment of the dividend. Many executives believe that payment of dividends reflects a strong balance sheet and optimism about a company's financial performance and its future growth prospects. For some regulated and diversified utilities, it is a source of pride to pay a dividend. But as some companies increasingly earn higher and higher unregulated earnings through high-growth investments, they want to reinvest those earnings to further grow the business.
The contrast between these two views on dividend can be illustrated through the divergent comments of the CEOs from Energen and WGL Holdings. Take the view of WGL's DeGraffenreidt Jr. on the dividend.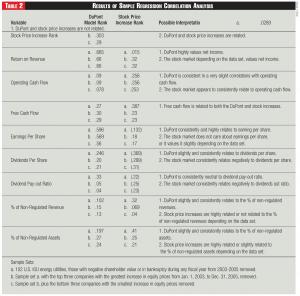 "We have paid the dividend for 155 consecutive years, and we have raised the dividend for 30 years in a row. I like to point out that we have paid dividends through the Civil War, the Depression, World Wars I and II, all through the Vietnam conflict, all through the hyper inflation of the 1970s. That is our commitment to financial strength," he says.
But, as stated earlier, not everyone is enamored with paying the dividend. William Michael Warren Jr., chairman of the board and CEO at Energen, has a much different view. He likes everything about the F40 except the dividend metric.
"Of the list of six that you've given, profitability is a focal point for us. Of your six metrics, five of those six I really pay attention to," he says.
However, "the dividend yield is totally meaningless to me, and … near meaningless to an MDU Resources or Questar. It should be to any of the companies that have significant non-regulated assets," he says.
Some analysts believe the dividend is the great equalizer between super growth E&P companies on the F40 and regulated and diversified utilities with lower growth levels. Other analysts believe Energen's view of the dividend may prevail in the end, as more and more utilities earn more from their unregulated operations.
In fact, Energen started as a sleepy Alabama LDC and turned itself in to an E&P powerhouse.
"Ten years ago, 80 percent of our company earnings came from Alabama gas, the utility. Twenty percent came from our diversified—primarily oil and gas—exploration and production business. Today, it is the exact opposite of that," Warren says.
Warren notes the transformation began to occur eight to 10 years ago, when several utilities became somewhat discouraged with the slow pace of utility growth and began exploring ways to diversify away from the regulated utility into related energy businesses to which they could transfer corporate skills. Many of this year's F40 companies diversified and found new opportunities in unregulated businesses.
But even as many of these chiefs of diversified companies are happy managing unregulated energy businesses, they have no intentions of leaving their regulated utility roots.
"For us, the utility is a foundational business," Warren says. "Overall, one of the things the utility has done is that it has kept us in touch with the fundamentals of the natural-gas market. On one side of your business you are interfacing with industrial, commercial, and residential customers. You know a lot about supply and demand from that side. And that knowledge is helpful as we think about the future on the oil and gas side as well."
Edison International's Bryson likes the hybrid model, echoing Warren's view on the gas side. "We like that. We think it is a considerable strength that we encompass in the company—strong regulated and strong competitive business lines in electricity. That gives us an understanding of the total electricity business and the total electricity market that is deep and valuable."
The King of Energy
Some may be surprised that one company has held the top spot on the F40 for two years in a row. But a close look at Kinder Morgan shows a company aggressive (some say driven) in rooting out all forms of inefficient allocation of resources.
Kinder Morgan's Shaper, in explaining his company's ethos, makes it sound like a motto: "We are not interested in spending any money that does not further our effort to increase cash flows out of our assets."
He and his company have been quite serious about extending this ethos to corporate management. "This has been discussed about us before. Rich Kinder earns $1 per year. He takes no bonus, no options, no restricted stock, and no other form of compensation. Our management salaries have a cap of $200,000 per year. We do not advertise. We don't name stadiums. We don't fly first class or own corporate air craft." Furthermore, this tight discipline on expenses not only is observed in the C-suite, but even in the development of new projects.
Shaper says that the master limited partenership (MLP) structure imposes a stricter discipline on Kinder Morgan Energy Partners (KMP) than on other companies.
KMP is obligated to return its cash that it generates to its partners. Shaper says that this obligation puts management's focus on generating cash and earning a return on that cash for investors. But because the MLP distributes all of its available cash to investors, when KMP want to make an investment, the company must go back to those investors and make a convincing case.
"We have to go back to investors, and say essentially, 'Hey, we want to make another investment. This is what the investment is. This is how much it will cost. This is the return that we expect it to generate. Won't you please give us the capital to do it?'" says Shaper. He believes this requires a much different discipline than management teams that retain cash for new investment.
"I think that that discipline, that requirement to go and raise capital for your investments leads to better investments, because you only do it when you are convinced that you are actually going to earn a reasonable return," he says.
The company does have a few attractive projects in the pipeline that may keep it in the upper ranks of the F40 for some years to come. Even if the management buyout of Kinder Morgan Inc. would occur, which had not been decided by the company's board of directors at press time, KMP still would remain a public company and be traded on the New York Stock Exchange.
"Looking forward, we are going to get some tremendous growth from some of these natural-gas pipeline expansions. Rockies Express being the largest, it's over $4.4 billion dollars in total investment, and we will be owning about half of that. It is a fully subscribed project (1.8 bcf per day) running from Colorado ultimately all the way to the Eastern edge of Ohio. That will drive tremendous growth," he says.
Then there is the Louisiana pipeline, which will connect to some LNG facilities in Texas and Louisiana, and which the company believes will grow earnings significantly.
But will the earnings be enough to retain the top spot in 2007? We won't bet against Kinder Morgan. But C Three's Rollins points out that many companies that endured heavy losses from the merchant meltdown will have worked off all of their losses by 2007.
Just look at TXU, Rollins says. It rocketed to the top tier of the list because it rolled off its last bad year in the three-year time frame. Companies like AEP also may make strong showings in next year's F40, she says.
Who might be the winner next year? Accenture's Hendrickson and C Three's Rollins won't hazard a guess. But they agree that possessing sufficient, flexible, and low-cost source supply will be a powerful predictor of leadership. Watch these pages to see who makes next year's Fortnightly 40.