Deck:
As rate disallowances become more commonplace and capital requirements expand, infrastructure development will come with a higher price tag.
"Simply shocked."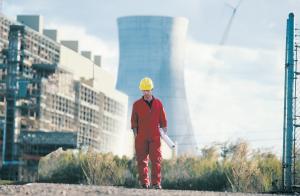 That's how Exelon CEO John Rowe described his reaction when Illinois regulators disallowed nearly all of Commonwealth Edison's (ComEd) requested $316 million delivery-service rate hike. In a unanimous vote, the Illinois Corporation Commission (ICC) in late July 2006 approved just $8 million in rate increases to cover delivery costs at the Exelon subsidiary. ICC Chairman Charles Box called it "a fair order" in advance of ComEd's electricity supply auction in September, which at press time was expected to increase ComEd's electricity rates by 25 percent.
ComEd promised to appeal the ICC's order, and suggested that if it stands, it might trigger a material adverse-change clause in ComEd's offer to defer and phase-in anticipated electricity cost increases over the next several years. In less polite words, if Illinois regulators want a fight, ComEd will give them a fight.
Such fights, moreover, are becoming disturbingly common in the U.S. utility industry:
• After approving a plan to phase-in a 59 percent increase in residential standard-offer prices, the Delaware Public Service Commission voted in June to reduce Delmarva's distribution rates by $11.1 million. The PEPCO Holdings subsidiary had gone to the commission seeking a $5 million increase.
• After a tumultuous three years of rate negotiations and settlements, the Arizona Corporation Commission in August 2006 said it would allow $208 million in rate increases to pay for what APS said were more than $450 million in costs—$299 million for fuel plus about $150 million for infrastructure.
• In Maryland, an anticipated 70 percent increase in electricity rates prompted legislators to fire the entire PUC (pending appeal) and launch an effort to re-regulate utilities in the state. Constellation Energy's proposed merger with FPL hangs in the balance, as lawmakers wrangle with Constellation subsidiary Baltimore Gas & Electric.
• Similarly, Exelon and PSEG scuttled their planned merger in mid-September, reportedly after reaching an impasse with state regulators. The New Jersey Board of Public Utilities wanted bigger concessions on rate caps and power plant divestitures than the utilities were prepared to accept.
Similar conflicts are brewing in other states, including Ohio, Virginia, and Pennsylvania. A chief cause: Rate caps instituted during unbundling proceedings in the late 1990s are expiring just as utilities face soaring energy commodity prices and massive capital expenditure needs. These costs, combined with ballooning pension-fund liabilities, health-insurance premiums and reliability management costs, are adding up to a serious case of sticker shock at state regulatory commissions.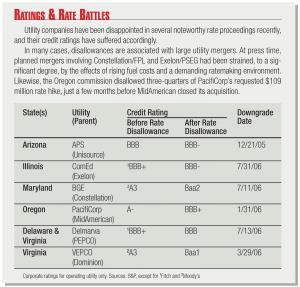 "Regulators are seeing their worst fear, which is a significant spike in prices because the market has moved up," says Andy Patterson, a director with Mercer Management Consulting in Atlanta, and formerly a senior vice president at AEP. "Commissions are acting out against the utility as a whole, and denying cost recovery for many growing expenses."
It's not happening in all states, of course. But financial pressures seem to be building, brewing anxiety on Wall Street. If the trend spreads, it could complicate investment plans and perhaps even operational strategies in some cases.
"This could become a very common situation," says Richard Cortright, managing director with Standard & Poor's in New York. "We are concerned, from a credit-quality point of view, about the timely recovery of costs. Deferring cost recovery makes it even tougher. The costs keep rising, and it just snowballs" (see sidebar "Ratings & Rate Battles.")
So far, utilities still are finding an ample supply of financing available in the debt and equity markets. But as the industry's regulatory risks and capital requirements expand, that financing will come with a higher price tag—and another cost pressure in the ratemaking process.
Paying the Piper
Since the Enron crisis precipitated a sector-wide downgrade in 2002, the credit ratings of U.S. utilities have regained strength as these companies retooled themselves for a back-to-basics strategy. By exiting non-core businesses, writing off bad investments, and restructuring high-cost debt, utilities have improved their balance sheets significantly. This puts them on strong footing to finance new investments in utility infrastructure.
"In general, capital markets are rarely closed to regulated industries, given the bond-like characteristics of their businesses," says Ian Connor, managing director with Goldman Sachs in New York. "Utilities generally will be able to issue the equity and debt they need to finance those investments, and over time, given the proper regulatory structure, such financing should not be dilutive."
However, as the dust settles on this industry-wide renovation project, utilities' credit positions seem to have degraded a bit, compared with pre-Enron levels. In its recent annual report for the industry, the Edison Electric Institute commented on the state of credit quality: "Although some companies are still on the mend, most analysts expect the industry's benchmark rating going forward to be between BBB and BBB+, about one to two notches below the historical benchmark rating."
The reasons for this ratings slump vary from issuer to issuer, and as a general matter the reasons for the industry's overall lower creditworthiness aren't entirely clear. One reason might be simply that financing costs have remained relatively affordable despite lower credit ratings.
"Utility ratings definitely have taken a step down from where they were 10 years ago," says Walter Hulse, managing director at UBS Investment Bank in New York. "But 10 years ago, the below-investment grade market wasn't well defined, and capital markets in general weren't as liquid as they are today. On a multiple basis, utility valuations are at an all-time high, and companies question whether it's worth trying to maintain higher credit ratings."
In other words, if utilities are allowing their ratings to slip, it's because they can afford it. "There's a willingness to finance paper that is rated weak 'triple-B' and even lower," notes Peter Kind, head of the power investment banking group at Banc of America Securities in New York. "The costs of being less than 'A'-rated are more palatable than they previously were. This is the new reality."
Another aspect of that reality, however, is that utilities are operating in a riskier business environment than they were 10 years ago, when competitive forces just were starting to affect the power industry. In this environment, higher credit ratings are more difficult to maintain because utilities face more uncertainties than they did a decade ago. "Investors require a commensurate return," Kind says. "Even with greater regulatory certainty than we currently have today, you won't get 100 percent assurance of cost recovery. And to the degree there is more risk, capital costs go up, at least on a relative basis."
Today, while interest rates still are relatively low and utility valuations are strong, capital costs will remain manageable. But trends in other areas—fuel costs, capacity margins, and rate-regulation practices—are putting pressure on financing discussions. And competition for capital is intensifying as infrastructure development moves forward in many sectors—including utilities, oil and gas, and transportation.
"For most utilities, a major challenge will be that everyone is trying to finance planned investments at the same time," says Robert Petrosino, a director with Barclays Capital in New York. "Competition for capital will be great over the next couple of years, and utilities will need to tell a strong economic story to get access to low-cost capital."
In practical terms, this means utilities need to work hard at addressing as many significant risks as possible in contract terms and regulatory pre-approvals when seeking financing for major infrastructure investments. "It's important to structure a deal that is financially sound on its own," says Amin Bishara, a vice president at CapGemini in Dallas. "Additionally, the project should address regional or national issues so you can capture tax benefits and regulators can reward you."
Companies should weigh all their investment and expense needs together, and consider financing priorities in the context of energy policy, ratemaking, and capital-market trends.
"A huge buildout is coming, but we will see capacity shortfalls before the logjam on who pays for this stuff is broken," Patterson says. "Each sector of the industry—distribution, transmission, and generation—needs to make hard decisions about how to move ahead, and utilities also need to sharpen their understanding of resource allocations across lines of business."
For some companies, this might translate into new operational strategies, such as business-process outsourcing, to improve efficiencies and investment returns. "Utilities won't be able to get rate relief as easily, and that means they will be required to do a better job of managing their assets," says Nana Baffour, managing principal with private-equity firm Knox Lawrence International in New York. "Utilities can't skimp on capital expenditures or maintenance, so there is nowhere else to go except to change their operating structure, and find ways to do it better and more cost-effectively."
Regulatory Logjam
Many recent cases of sticker shock involve states that unbundled generation assets from power-delivery businesses and imposed rate caps to demonstrate an immediate benefit to ratepayers. The most dramatic cases, in Maryland and Illinois, were precipitated by the expiration of rate caps installed during deregulation proceedings in the late 1990s. In exchange for the ability to spin off generating assets, utilities agreed to freeze customers' electricity rates during the transition to a fully competitive power-supply market.
Since those agreements were struck, however, many changes have occurred in the industry. The wheels came off the retail-competition bandwagon when California's power industry collapsed in 2000 and 2001. The merchant-power business soon followed. Enron imploded, the economy deflated and the natural-gas bubble burst. FERC scrapped its standard-market design, and while independent transmission operators (RTOs and ISOs) have emerged in some regions, credit constraints effectively have limited competition to only the largest players. In short, the transition to a "fully competitive" power market never really happened.
Even if it had, however—or if deregulation had not occurred in the first place—rising fuel prices still would be squeezing utility rates because environmental factors drove power generators to build clean-burning gas-fired plants. "The economics of coal or nuclear plants weren't as attractive as gas-fired plants," Petrosino says. "But being wedded to one fuel source is a risky proposition."
As a result, a trend toward regulatory disallowances and subsequent impairment of utility credits would have serious consequences—for unbundled and integrated utilities, and ultimately the country as a whole. Not only have fuel prices increased the cost of electricity in the United States, economic growth has squeezed capacity margins in terms of power supply, transmission, and distribution. Investment requirements over the next decade, for new capacity and upgrades, total in the hundreds of billions of dollars.
"Clearly there is a lot of capital spending going on, and [a lot] on the drawing board," says Edward Sondey, director of Merrill Lynch's global energy and power group, and formerly vice president of finance at PSEG. "We are seeing it in the areas of traditional coal construction and electric transmission. The key to getting it financed is laying the groundwork with regulators to allow rate recovery."
In general, utilities have anticipated—and in many cases received—favorable treatment from regulators as the companies move forward with critical investment plans. In Wisconsin, for example, WPS Resources is building a 500-MW coal-fired power plant near Wausau with more than $700 million in up-front rate recovery approved by the Wisconsin Public Service Commission.
In an environment where commissions are holding utilities' feet to the fire—even for reliability-oriented distribution expenses—such rate-recovery commitments are a basic requirement for infrastructure investments. "Utilities get into trouble when they spend billions of dollars prior to having regulatory approvals," Sondey says. "But based on the pre-approval concept, utilities will have a high degree of confidence they will maintain a healthy balance sheet and raise capital in a thoughtful way."
Financing the Buildout
As a general principle, the prospect of building new infrastructure represents a growth opportunity for electric power companies. Realizing that opportunity, however, will depend on how utilities manage their investment and operational strategies.
Ratepayers understandably are reluctant to pay higher utility bills, and regulatory commissions likely will treat budget excursions and operating inefficiencies with extreme prejudice. Case in point: In addition to slashing APS's rate increase, the Arizona Corporation Commission disallowed more than $17 million in cost recovery for several in a series of 2005 outages at the Palo Verde nuclear plant near Phoenix.
"Any commission hates surprises," Bishara says. "If you are forthcoming and predictive with regulators, they will be more friendly to you than if you come in seeking recovery after you have spent the money."
With the ghosts of much bigger nuclear disallowances still haunting the industry, utilities wisely are exercising caution in pursuing any big capital expenditures. "Any large investment will put stress on your credit rating," says Kind of Banc of America Securities. "Large projects have a long lead time, and they can't start bringing cash in the door until they are completed. Don't assume the regulators are behind you until you have figured out, preferably upfront, how the deal works and [that] you've addressed accountability for risk."