Deck:
As rate disallowances become more commonplace and capital requirements expand, infrastructure development will come with a higher price tag.
As rate disallowances become more commonplace and capital requirements expand, infrastructure development will come with a higher price tag.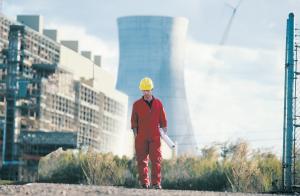 "Simply shocked."
That's how Exelon CEO John Rowe described his reaction when Illinois regulators disallowed nearly all of Commonwealth Edison's (ComEd) requested $316 million delivery-service rate hike. In a unanimous vote, the Illinois Corporation Commission (ICC) in late July 2006 approved just $8 million in rate increases to cover delivery costs at the Exelon subsidiary. ICC Chairman Charles Box called it "a fair order" in advance of ComEd's electricity supply auction in September, which at press time was expected to increase ComEd's electricity rates by 25 percent.
ComEd promised to appeal the ICC's order, and suggested that if it stands, it might trigger a material adverse-change clause in ComEd's offer to defer and phase-in anticipated electricity cost increases over the next several years. In less polite words, if Illinois regulators want a fight, ComEd will give them a fight.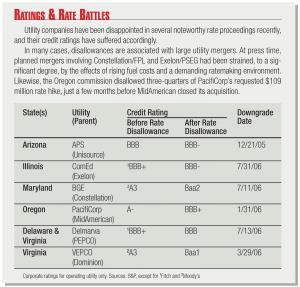 Such fights, moreover, are becoming disturbingly common in the U.S. utility industry:
• After approving a plan to phase-in a 59 percent increase in residential standard-offer prices, the Delaware Public Service Commission voted in June to reduce Delmarva's distribution rates by $11.1 million. The PEPCO Holdings subsidiary had gone to the commission seeking a $5 million increase.
• After a tumultuous three years of rate negotiations and settlements, the Arizona Corporation Commission in August 2006 said it would allow $208 million in rate increases to pay for what APS said were more than $450 million in costs—$299 million for fuel plus about $150 million for infrastructure.
• In Maryland, an anticipated 70 percent increase in electricity rates prompted legislators to fire the entire PUC (pending appeal) and launch an effort to re-regulate utilities in the state. Constellation Energy's proposed merger with FPL hangs in the balance, as lawmakers wrangle with Constellation subsidiary Baltimore Gas & Electric.
• Similarly, Exelon and PSEG scuttled their planned merger in mid-September, reportedly after reaching an impasse with state regulators. The New Jersey Board of Public Utilities wanted bigger concessions on rate caps and power plant divestitures than the utilities were prepared to accept.
Similar conflicts are brewing in other states, including Ohio, Virginia, and Pennsylvania. A chief cause: Rate caps instituted during unbundling proceedings in the late 1990s are expiring just as utilities face soaring energy commodity prices and massive capital expenditure needs. These costs, combined with ballooning pension-fund liabilities, health-insurance premiums and reliability management costs, are adding up to a serious case of sticker shock at state regulatory commissions.
"Regulators are seeing their worst fear, which is a significant spike in prices because the market has moved up," says Andy Patterson, a director with Mercer Management Consulting in Atlanta, and formerly a senior vice president at AEP. "Commissions are acting out against the utility as a whole, and denying cost recovery for many growing expenses."
It's not happening in all states, of course. But financial pressures seem to be building, brewing anxiety on