Deck:
And its impact on power generation.
And its impact on power generation.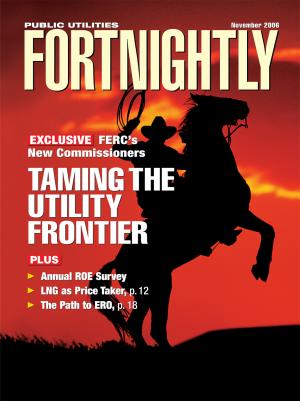 While oil and gas prices now are falling after the latest experience with fuel-price volatility, the Global Energy Decision fuels team is focused on modeling an integrated world-wide system of fuel relationships encompassing crude oil, natural gas, coal, and increasingly, synfuels to help our clients assess the implications of fuel-price swings on their businesses. Let's look at the potential impacts and implications of this growing reliance on liquefied natural gas (LNG) for North America's power-generation demand.
Though adequate supplies of the fuel commodities are not in doubt, deliverability constraints on gas pipelines generally, railroads from coal basins, and pipelines from oil production facilities are increasingly troublesome, adding to market-price volatility of fuel commodities. With imported Canadian pipeline gas supplies (the United States' traditional source of incremental supply) projected to decrease to provide for development of Alberta's tar sands, LNG assumes a prominent role in planning for gas-demand growth.
New supplies of imported LNG are among the positive developments on the near-term horizon, offering the prospect of "floating pipelines" to boost gas-supply sufficiency. But these floating pipelines, depending on their level of contractual commitment, can change course to seek more attractive markets, and, as price chasers, uncommitted supplies of LNG introduce a whole new dynamic to fuel-price analysis.
Several factors determine the role and impact of LNG in the North American power market:
• Allocation and commitment of liquefaction and shipping capacity by the LNG producing world;
• Location and building of new regasification capacity in North America;
• Interchangeability of LNG treatment in FERC and state regulatory venues;
• Competition by LNG with conventional gas storage fields;
• Growth of an OPEC-like cartel for LNG; and
• Impact of LNG as a price taker, not a price maker, among fuels for power generation.
LNG Liquefaction and Shipping Capacity
By 2029, our modeling suggests that North America may be importing more than 44 Bcf/d of LNG—a significant increase from the 2 Bcf/d of projected LNG imports during 2005. This rise in U.S. demand for LNG will require a corresponding increase in global liquefaction capacity. This capacity expansion will be spread out across various countries, including some that are already players in LNG exporting, like Trinidad and Tobago, Iran, and Russia.
The costs of both liquefaction and regasification facilities have declined significantly over the last decade. Costs of liquefaction have decreased by 35 to 50 percent and plant capital costs have declined from $500 per ton of annual liquefaction capacity to under $200 per ton. 1 Despite the reduction to costs, meeting the demand needs of the North American market will require a considerable investment.
Based on current costs, the total necessary investment in new liquefaction capacity from now until 2020 to meet import demand into the North American market may reach $90 billion. Liquefaction investment between now and 2010 for North American deliveries is estimated at $20 billion. Post-2010 investment could be as high as $17 billion to