Deck:
Utilities must embrace supply chains that include planning, inventory optimization, and logistics.
Author Bio:
Laura Powell is principal, Global Solutions Team, Business Process Outsourcing, at consulting firm CapGemini. Contact her at Laura.Powell@capgemini.com.
The advent of the Internet in the early 1990s introduced the concept of e-procurement—online catalogs, centralized supplier hubs, and auctions of all shapes and sizes—and the utility industry embraced these cost-saving measures wholeheartedly. At the time, utilities equated supply-chain management with online e-procurement. As a result, they focused on strong strategic sourcing initiatives combined with e-procurement to "lock-in" contract compliance and negotiated savings.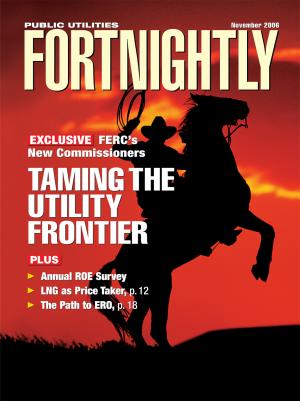 Sadly though, that's pretty much where they stopped. By and large, utilities failed to implement the more complete and transformational integrated supply chains that have been adopted widely by other industries.
Supply chains in most industries extend beyond sourcing and e-procurement to include planning, inventory optimization, and logistics. When linked together with technology, this creates an "integrated supply chain" that provides visibility from customer to utility to vendors/strategic alliances, generating great value for the company.
On a scale from 1 to 10, the utility sector is at about a "2" in terms of taking e-procurement to the next logical step and achieving the full promise of the integrated supply chain. The good news is that the era of mergers and acquisitions likely will force utilities to improve their e-procurement functions and realize the need to embrace an integrated supply-chain model.
Getting No Respect
The procurement and supply-chain functions of today's utility are the Rodney Dangerfield of the utility cost-cutting paradigm: They don't get any respect. Once companies employ e-procurement systems, their executives often believe they've done all that's possible to control costs. Taking on any extra pain is unconscionable to many of them.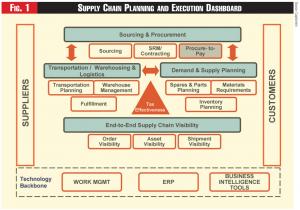 But today's utility has to start positioning itself to be tomorrow's utility. And tomorrow's utility is one that is part of a mega-corporation forged through the mergers and acquisitions expected to continue in the industry over the next 5 to 10 years. "Business as usual" will be an oxymoron, especially as the business of a utility will be to consolidate and rationalize so that its sole focus is on its core mission of generating and delivering energy.
Out of this rationalization, the new mega-utilities will be given the green light by the new owners to embark upon the challenging path of corporate-wide changes needed to compete in today's world. The new owners often know that the utility they've purchased doesn't have the technology or the personnel needed to create the anticipated value before their purchase. They know that a new business model is required to focus the utility on its core competencies. For those "non-core-competencies," the new owners must identify partners and alliances that focus solely on those functions. The new owners know that the expertise needed to reduce the cost of running call centers, administering human resources, and performing finance and accounting functions almost certainly will come from outside the utility. The allure of savings generated from offshoring services offers new owners a sound insurance policy for their purchase.
The same rationalization will occur in the supply chain processes:
• Utilities will reduce their need for warehouses and inventory by partnering with integrated suppliers such as Hughes Supply and WESCO. Integrated suppliers provide multiple organizations with managed warehousing facilities, at which the supplier plans and optimizes inventory. Inventory is not committed until it is used by the utility. Frequently, the integrated supplier will "kit" inventory for usage at the service centers. The supplier also can provide just-in-time replenishment for maintenance, repairs, and operations inventory items.
• Utilities will create partnerships or joint ventures with construction, maintenance, and engineering firms to bring expertise and efficiency to the utility. More important, they will transfer risks to the partner organization. For example, TXU Electric Delivery, a subsidiary of TXU Corp., recently signed a 10-year, $8.7 billion agreement with InfrastruX Energy Group for utility infrastructure and management services. Under terms of the agreement, TXU Electric Delivery will contract for design, construction, and maintenance services from InfrstruX Energy Services.
• Utilities will employ third-party logistic providers to separate their purchase prices from their logistics/transportation costs and utilize their entire logistics network to optimize logistics and network costs.
• Utilities will outsource their supply-chain processes to service providers with core supply-chain expertise. These firms can manage integrated supply chains and provide the required technology. Back-office supply chain processes such as purchase-order transaction processing, order releases, inventory set-up, catalog load and maintenance, auction events, and market analysis likely will be sent offshore by the provider to generate labor savings for the utility. The utility will receive standardized, repeatable best-practice processes from the service provider. For activities like strategic sourcing, the utility also benefits from a sourcing methodology, timely industry/market trends, and real-time category knowledge that produces a rigorous process with sustainable results.
Service providers can provide supply-chain technology for spend analytics, event management (auctions/ eRFx), procurement, inventory management, logistics, and planning.
These technologies can be owned by the utility or provided as an ASP model by the provider.
The bottom line? The utility industry will be encouraged to embrace the sorts of integrated supply chains common in other industries by linking core competencies with other strategic partners to targeted core competencies.
Toward the Virtual Utility
The integrated supply chain of tomorrow will be vastly different from today's utility operations. The virtual utility of tomorrow is one that is managed by small teams of people from just about anywhere in the world. In the virtual utility, managers focus solely on the generating and delivery functions because their company's non-core business functions are being performed outside their walls. And in the virtual utility, management wants it that way.
Once a utility makes the correct decision that it cannot be the best at managing its construction needs, its warehouse functions, its supply chain, its finance and accounting, its human resources and even its engineering, it will create the strategic partnerships with third-party companies that can provide those functions. The utility is no longer burdened with managing everything it needs or building its own when it senses it needs something new. Instead it can draw on the technology, the experience and the personnel of outside agencies to perform those non-core business functions more effectively and efficiently.
The virtual utility is radically and positively changing the way the utility industry currently views supply chains and is moving the industry far beyond its fundamental e-procurement roots. Companies are no longer required to hold their own inventories all the time. They don't need warehouses for all of their plants. And they no longer need backup parts on site all the time.
Instead the utility is seeking, through technology, to connect demand patterns from work management solution into the supply chain system and out to partners' systems. The technology enables visibility and planning and understanding of capacity, logistics, and performance across all systems.
And the best news is that the technology that enables this transformation is not out of reach for most utilities' investment programs. It's typically provided by other agencies (the third party) and paid for by the savings that result from the arrangement. The technology also is Web-based, enabling widespread cooperation among vendors, customers, and management.
The integrated supply chain is far from a pipe dream. Indeed, the increased pace at which it is implemented and the faster speed at which savings flow from it are just around the corner.