Deck:
Investments in energy efficiency can be a growing revenue source. Strong programs, in conjunction with effective monitoring and verification, are the keys to success.
Author Bio:
Luisa M. Freeman is a managing consultant at PA Consulting Group. Contact her at luisa.freeman@paconsulting.com. Jeremy Works of PA Consulting Group served as a contributor to this article.
Conditions are conspiring to make investments in energy efficiency a major strategic move on the part of utilities in the United States. It's no longer just "the right thing to do." There is a strong and growing business case for significant investment in energy efficiency on the part of utilities and their customers. For those utilities that can demonstrate effective measurement of this resource, investments in this area can be a growing revenue source. The key to success will be to develop strong programs, in conjunction with effective, serious monitoring and verification. Like the old industry mantra "meter – bill – collect," energy efficiency impacts require the same quantification.
Furthermore, the resurgence in utility-implemented energy efficiency has been strengthened suddenly by five drivers: 1) public-benefits programs; 2) environmental markets; 3) capacity markets; 4) energy prices; and 5) corporate sustainability programs. In this article, we analyze each of these new trends.
Public-Benefits Programs
The Federal Energy Management Program (FEMP) notes that as of 2006, 22 states operate public-benefits funds (see the map in Figure 1). In some states, like New York, where the fund is called a systems-benefits charge, or SBC, the money goes to a state agency to design, implement, and evaluate the programs, with virtually no involvement on the part of utilities.1 In other states, like California, the state collects the money, but then gives it back to the electric utilities to implement the programs following approved statewide program designs that have been collectively developed by various stakeholders, including the utilities. New Jersey uses a similar model. In only two states—Maine and Wisconsin—does the regulatory agency itself implement the programs.
Regardless of which entity is responsible for implementing programs, utilities still have to play a role as they maintain the most direct and constant link to the energy users—their customers. In addition, they remain the keepers of the information necessary for proving success or failure.
Some states are starting to incorporate mechanisms to improve upon the cost-recovery formulas that made utilities at least "no worse off" for implementing programs in the 1980s and '90s. As the American Council for an Energy Efficient Environment notes:
One key obstacle to expansion of utility [energy efficiency] programs is the inherent economic disincentive utilities face when customers reduce their energy use. As a result, a number of states have implemented policies to reduce or eliminate that disincentive (i.e., "decoupling") and/or create positive economic incentives for shareholders when utilities meet energy efficiency objectives.2
Environmental Markets
The second factor supporting the business case for energy efficiency is a growing concern about environmental issues. Energy efficiency contributes to environmental improvements by reducing the need for electricity, and thus the need for fuel consumption in power plants. Public and political interest in global climate change and greenhouse-gas (GHG) emissions is increasing every month. While the market mechanisms for "carbon trading" (referring to carbon monoxide and other GHGs) still are being developed, energy efficiency undoubtedly will play a large role in helping to produce the tons of GHG emissions units that will be traded. Carbon credits or tons of CO2 that have been reduced on the part of a company now have a value that can be traded between those who have the asset and those who need it. That means that both utilities and their major industrial customers will be seeking ways to demonstrate GHG reductions, and energy efficiency will be one of those ways.
An increasing number of opinion leaders and media outlets agree with the majority of scientists that climate change is linked to GHG emissions and that whatever the strength of that link or the ability of societies to have an effect on climate change, energy efficiency is worth pursuing. Energy use causes the bulk of GHG emissions, making energy efficiency a natural and cost-effective first step for any GHG emissions-reduction strategy.
In a growing number of states, politicians are responding to public and scientific concern about climate change and global warming by developing policies specifically relating to reduction of greenhouse gases. The move to reduce greenhouse gases is dominated by targeting carbon emissions, with a new market for carbon credits associated with units of GHG reductions (expressed in tons of CO2 equivalent). Utilities are operating in more and more states that have such legislation or regulations in place to address environmental policy goals. In New England, the Regional Greenhouse Gas Initiative (RGGI, or "Reggie") is leading the way toward setting up a coordinated system for its member states (see Figure 1).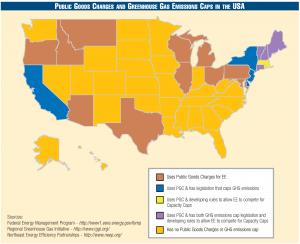 Foremost among them is the landmark Assembly Bill 32 in California, passed in September 2006, which follows on an agreement between Gov. Arnold Schwarzenegger and Britain's Prime Minister, Tony Blair, to advance the development and introduction of environmentally friendly technologies and mechanisms. The objective is to address the increasing evidence of the negative effects of climate change. The bill attempts to bring California up to speed with the Kyoto Protocol countries by putting a cap on GHG emissions. The power sector and major industries will be required to reduce emissions to 1990 levels by 2010, meaning a reduction in current GHG emissions by 25 percent. Consequently, there is a scramble to identify all cost-effective short- and long-term energy efficiency in the state.3
Capacity Markets
As if the advent of public-benefits funds and carbon cap-and-trade systems was not enough, the screaming need for new capacity in high-demand regions of the United States is adding a third driver: the development of capacity credits for non-traditional energy sources. Electricity capacity constraints and an aging transmission and distribution infrastructure are the result of decades of industry inaction regarding new generation. Some industry leaders are beginning to warn of an imminent energy crisis, and experiences in New York and California this past year underscore the urgency of the problem (California surpassed a system peak of 50,000 MW this summer—an all-time high that raised concerns about system reliability—and New York experienced brownouts in Queens due to capacity constraints).
It is inevitable that new construction programs to add generation capacity will be part of the next decade. Because of the energy price/cost and environmental concerns, any entity facing capacity constraints and wishing to pursue, postpone, or avoid an aggressive construction program would do well to engage fully and seriously in energy efficiency initiatives as a first matter of course.
Good will and the hope of regulatory favor toward construction plans at the state or federal level are not the only reasons to pursue aggressive energy efficiency strategies today. In New England, a forward capacity market (FCM) mechanism recently was approved by the Federal Energy Regulatory Commission (in March of 2006). Mechanisms already are being set up to establish a level playing field for all types of resources that can help meet the need for increased demand in the near future. As noted by the Northeast Energy Efficiency Partnership (NEEP) in its October 2006 electronic newsletter:4
"A major provision of the FCM settlement is that Demand Resources—including energy efficiency, distributed generation, real-time demand response, and load management—can qualify as capacity along with supply-side resources."
The rules for what entities can participate in the FCM, and how demand resources will be documented and verified, are just now being established, with the interim market to start in January 2007 and last through 2009. Utilities would do well do stay abreast of how these rules develop for counting energy efficiency as part of the mix of resources being sought.
Rising Energy Costs
Consumers and industry alike are resigned to the continuation of increasing energy costs and are beginning to think more seriously about energy efficiency as a way to combat the higher costs. Natural-gas prices experienced high volatility these last two heating seasons, with price increases of more than 50 percent in some states, and even though recent predictions point toward some relief (in weather and prices) in some regions this winter, the trend is increasing. Energy prices for natural gas and electricity shot up in other states because of the removal of price caps that postponed the effects of deregulation (e.g., Maryland and the District of Columbia). An ongoing and potentially long-term conflict in the Middle East, and more short-term disruptions (like pipeline corrosion in the Alaskan Slope this fall), are both issues that promise to keep fuel prices on an upward trend, adding further negative press to consumer perceptions of energy costs. Smart utilities will offer services that help customers identify the latest technologies and techniques for controlling their energy costs. That leads to the final factor.
Corporate Sustainability Programs
The entities that are now jockeying for position along the starting gate for the emerging CO2 market include not only electric utilities and independent power producers, but also those on the other side of the meter—major industrial facilities and large, multi-facility, end-use customers. A growing number of Fortune 500 companies have corporate sustainability programs and goals, or environmental stewardship objectives, as part of their long-term corporate strategies. These programs seek to reduce the companies' impacts on the environment through a variety of efficiency, conservation, recycling, and other "green" activities. A key part of these programs is increased energy efficiency and the consequent reduction of greenhouse-gas emissions directly through company operations and indirectly through anticipated participation in carbon trading programs. Thus, while in the past energy efficiency efforts focused on operating cost reductions, and in some cases, public relations for shareholders, today, these sustainability strategies are aiming at real dollar impacts on the corporate bottom line.
In states like California, large customers already are part of those either required to, or allowed to, play in the emerging carbon markets along with the power industry, whereas in other states (like New England ISO states) they will be added after the market develops. Either way, smart utilities will develop strategies not only to participate in these markets directly, but to help their major end-use customers reduce their own environmental footprints and to put them in a position to gain as these new markets unfold. While some continue to be concerned about losing revenues from reduced consumption of electricity, perhaps they should be more concerned about losing customers by not getting on the band wagon.
Realizing Gains
If a strong business case exists for energy efficiency, how can utilities be assured of cost recovery, if not realization of new revenue streams? The old utility adage, "If you can't meter it, you can't sell it," applies to energy efficiency as well. Measurement of energy efficiency through monitoring and evaluation programs will be required for:
1) Securing cost recovery for public-benefits fund programs, or protecting program funds that are still operated by utilities;
2) Quantifying the energy efficiency resources as the basis for trading in the emerging carbon and other GHG emissions trading markets;
3) Documenting energy efficiency and demand reduction resources for participation in the emerging forward capacity markets; and
4) Retaining major customer end-use loads from those companies seeking to reduce their environmental footprint.
For the past two decades, monitoring and evaluation of energy efficiency programs has been dominated by the use of the "California tests" for assessing program costs and benefits. This made sense when the "value" of the energy savings and load impacts was calculated from the perspective of a utility deciding whether or when to invest in a new power plant. The value of DSM was estimated based on the "avoided cost" of not having to make the investment in new capacity. Energy savings were estimated, most often using engineering estimates of energy consumption of appliances and equipment applied to assumptions of the types of equipment being replaced, and these savings were given a value based on their contribution to avoiding that next combined-cycle plant or other peaking unit.5
In today's context, the value of a unit of energy efficiency could be counted four ways:
Public-benefits fund monitoring and verification schemes for energy efficiency program impacts have been established in some states while in others they are just now being set up. In California the monitoring and verification scheme is based on a protocol developed in 2005 that offers a way to valuate or assign value to the energy savings resulting from such programs. In other regions, such as in New England, there is an increasing call for similar standard protocols and methods for valuation of energy savings where regional trading markets are being developed.
The monitoring and verification scheme for GHG trading still is being determined, and like many things that affect the industry, most likely will be developed and tested in either California or the Northeast (in October, California signed on to participate in the RGGI). In regard to the capacity market, given the involvement of coordinated stakeholder groups like NEEP, the Northeast may solve that puzzle first. A new stakeholder group has been set up to determine exactly how the non-traditional resources will qualify for capacity credits. The earlier quoted NEEP article goes on:
"Critical to the effective participation of energy efficiency resources in the capacity market is the development of credible and sufficiently rigorous measure and verification requirements."
That work is slated to be completed before the interim capacity market opens in January 2007.
The August 2006 issue of Public Utilities Fortnightly included an article by EPRI's Clark Gellings, ("The Top 10 Utility Tech Challenges") who noted that of the top 10 challenges facing the electric utility industry today, "Increase End-Use Energy Efficiency" was number 5 and "Mitigate Environmental Impacts" was number 9. Whether or not one embraces the science of global climate change, the predictions about rising energy prices, or the appeals for a massive building program, the rising visibility of these issues all point to heightened interest in energy efficiency. This increased visibility will have significant implications for utility involvement in energy efficiency programs, and the measurement of their impact. While the opportunities are significant, they must be measurable, for as with electricity sales, if you can't measure it, you can't sell it.
Endnotes
1. The New York State Energy Research and Development Authority (NYSERDA) implements SBC programs in New York.
2. ACEEE
3. Even currently non-cost-effective energy efficiency might be considered now, since the cap and reduction goals themselves will make more types of energy efficiency cost-effective. In fact, this regulation might change the cost-effectiveness parameters for efficiency, giving it an even greater role.
4. NEEP Notes, Third Quarter 2006, www.neep.org.
5. The basis for avoided costs varied by state. In some states with no construction program planned, it was based on the average marginal cost of purchased power. In any event, few avoided cost studies survive today.
6. California Standard Practice Manual: Economic Analysis of Demand-Side Programs and Projects, October 2001.