Deck:
Dominion and AEP want to put the toothpaste back in the tube, but re-regulation could get messy.
Dominion and AEP want to put the toothpaste back in the tube, but re-regulation could get messy.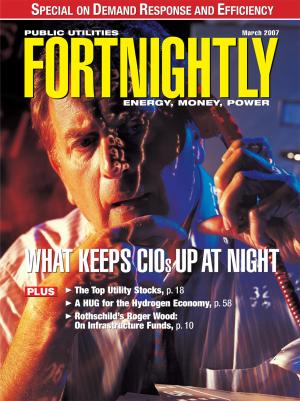 Is it possible to go back to the way things were? Nostalgia for the old regulated model seems to be waxing of late, particularly in Virginia. The 70-percent rate increases in Maryland last year at the expiration of price caps—part of the transition to electric competition—has become the calamity that some state regulators fear most. Several utilities are pushing for re-regulation:
• At press time, Dominion was pushing a far ranging re-regulation bill that, most observers believe, Virginia's governor will sign into law.
• AEP CEO Michael Morris voiced similar ideas at the Exnet Annual Utility M&A symposium in late January.
Dominion CEO Tom Farrell and AEP's Morris believe re-regulation is the only answer to attract the billions needed to build large-scale coal and nuclear plants. "We cannot put down $2 billion to $3 billion or $4 billion to $5 billion, and say, 'I hope I get a return on this investment down the road.' So, the re-regulation model makes a tremendous amount of sense for us," Morris said.
Morris added that full regulation this time around means utilities will look for "upfront assurances, rather than the more historical electric utility model where they build and hope the regulator likes it."
But according to some bankers who asked to remain anonymous, capital markets currently are lending to utilities at favorable rates for the big buildout, regulation or no.
In an interview with Public Utilities Fortnightly , Morris acknowledged that he could finance the plants without re-regulation, but said he would not get the most favorable terms in such a case. That may explain why Duke Energy has been pushing South Carolina lawmakers to allow it and other utilities to add construction costs for major plants into the ratebase as those facilities are built. The legislation is important to Duke's plans for its proposed $3 billion Cliffside coal-plant project and the $4 billion to $6 billion nuclear plant it may build in Cherokee County, S.C.
Such policies have not met without resistance. Last year, North Carolina's attorney general challenged Duke Energy's bid to raise customer rates there to pay for nuclear plants yet to be built.
It stands to reason that what regulators fear more than skyrocketing unregulated prices is skyrocketing regulated rates. And worry they should. The world has changed dramatically since the days of monopoly. Every cost input, whether it be raw materials or the price of labor, has increased dramatically. Neither regulation nor competition can hold back rising inflation.
But history does show that support for either regulation or competition seems to be moved by the basic economics of whether the industry is in a build mode, with capacity shortages, or in a no-build mode, with excess capacity. In the early 1990s, when deregulation came into fashion, the electric utility industry was coming off of a 15-year period of excess capacity, which had reached its zenith in the early 1980s, when many nuclear plants under construction were canceled. That