Deck:
Systems heavyweight broadens its industry footprint.
Author Bio:
Christian Hamaker is managing editor of Public Utilities Fortnightly.
With utilities anticipating heavy rate increases in the near future, they can ill afford to alienate their customers. At the very least, they need to equip themselves to face an upsurge in customer queries and billing questions, as ratepayers come to grips with the new reality.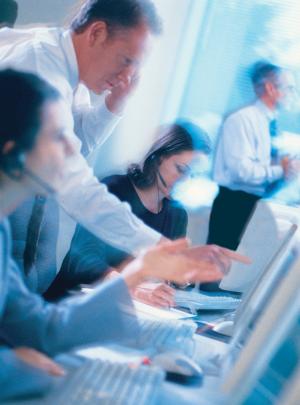 "Utilities are rethinking their customer-care strategies," says Rob Milstead, director for the energy and utilities practice of consultancy Sapient, in a recent white paper.
They are "seeking the best, fastest path to value, balancing investment costs against potential revenue gain … for both the individual customer and the entire customer base.
According to Milstead, "utilities that think strategically about how to build loyalty and maximize investment will outpace competitors who focus only on operational efficiency."
The big question, however, is whether to upgrade the old system, or to start fresh with a new one.
On one hand, the cost of replacing existing customer systems can be exorbitant—running between $30 million and $100 million, according to industry experts. That can discourage utilities from making wholesale changes in software or vendor applications.
"The bottom line is that there's only a few replacements a year with the larger utilities," notes Jon Arnold, global utilities industry director at Microsoft. "A system replacement requires a utility to justify the replacement expense, and making that business case can be very difficult.
"There's [also] a huge amount of risk. Any hiccups, and it's huge exposure and a problem with your customer base and the public utility commissions as well."
Nevertheless, it can prove just as difficult to upgrade a legacy system, as Arnold readily concedes:
"A utility certainly isn't a greenfield environment. You've got all this stuff—IBM, Oracle, Microsoft, SAP, People Soft—and the challenge, if you talk to any utility CIO, is integration."
Streamlining Silos
The race to provide utilities with customer-care systems has long been dominated by the big boys of customer relationship management, like SAP and Oracle/SPL. But muscling into the same space is the 300-pound gorilla, Microsoft. Its Microsoft Customer Care Framework (CCF) pushes the company further into utility customer service. The company is expected to announce its first utility CCF customers in July, after introducing CCF to the utility sector last year.
"In a nutshell," notes Arnold, "it doesn't replace SAP, Oracle, or homegrown CIS systems."
Rather, as he explains further, it allows a utility to modernize the call-center environment, through new business functionality, including IVR, intelligent queuing, Web 2.0 self-serve options and notifications. Arnold stresses that CCF at the same time will "help reduce call times, help reduce training, help reduce CSR turnover, and meet new business and regulatory requirements without the expense of ripping and replacing, which is also very high-risk.
"A lot of the CCF solutions don't replace what you've got. They make what you've got better."
Microsoft's CCF allows adaptability and integration that eases the flow of data, and makes life a bit easier for customer-service personnel. For example, unified agent desktop consolidates calls from billing, CRM, and order-management business systems.
CCF brings together legacy systems, enterprise applications, and custom systems, allowing customer agents to greet customers by name, and more immediately address customer needs, without asking for customer data that previously might have been entered into multiple systems.
The result: Wait times are reduced, improving the customer experience and decreasing average call-handle times.
A Package Deal
Over the years, many utilities have created a hodgepodge of their customer systems. Industry deregulation, followed by new regulations from state and local governments and a wave of mergers and acquisitions, has led to high-cost, inflexible systems, which has led to high turnover rates in call centers.
"You don't get good customer service because the systems aren't integrated," Arnold says. "You get patches, with the customer- `service representative looking at multiple systems."
The CCF makes up part of a broader set of Microsoft offerings, which have been brought together in a way that makes the company's existing technology and products more palatable to the utilities industry. It's a viable option, says Sapient's Milstead. Although the consultancy considers itself vendor agnostic, it has implemented Microsoft solutions for some clients.
"I think [Microsoft has] reached a maturity stage for their somewhat generalist application structure," Milstead says. "Over the past five years, they've been thinking about how to drive solutions into these industries. They've said, 'What if our clients don't want the blue-sky possibilities of our tools? What if they simply want a solution? We owe them a solution.'"
The answer was to package the company's existing technology and services in a way that made them a viable industry alternative.
"Microsoft has realized that it has to sound a lot more like a package, because it's competing against these other packages that have huge install bases," Milstead says. "So they've taken pieces of the application portfolio and done a fairly good job putting them together from an integration standpoint. They haven't done anything new necessarily except use the toolsets that they have."
It's a strategy that applies for companies interested in running the most efficient operation they can.
"You never hear a CEO talk about that, but that's really where the value is—figuring out process by process if you need new technology or can do a better job with what you have. There's no one answer. Some utilities have 20-year-old customer-service systems," Milstead says. "It might make sense to look at replacing it. Some customer-service systems are only 10 years old. Maybe there's stuff we can do for the next 5 to 10 years simply to tie it in better to other systems.
"It's not then about technology driving change. It's about focusing on your business processes and making the modifications to the technology that you need to make."