Deck:
Some say the five-year love affair with the industry is at an end.
Author Bio:
Jean Reaves Rollins is managing partner at C Three Group. Richard Stavros is executive editor of Public Utilities Fortnightly.
The Dow Jones Utility Index and C Three Index lost 5.84 percent and 4.63 percent, respectively, during the first six days of trading in June 2007—the steepest decline since February 2003. Surging Treasury yields primarily drove the early June losses.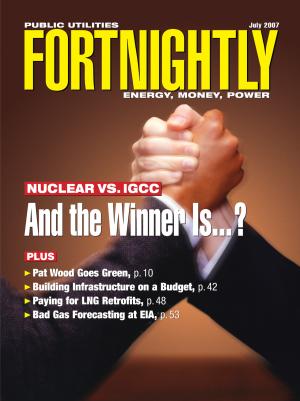 Table 1 shows there were very few winners in the first eight days of June 2007 and many losers. Generally, the gas LDC sector was affected less by the increasing Treasury yields, while larger companies with more debt exposure were hurt the most.
While eight days does not make a trend, unless the Treasury market stabilizes, it is likely that the five-year market love affair with the sector in general could be over.
The late May and early June losses came on top of May losses from a specific sub-sector—those companies with significant coal exposure. During May 2007, those companies with the largest monthly losses were dominated by companies with significant coal exposure as Table 2 indicates. However, this issue has now been over-shadowed by the impact of the recent bond-market volatility.
Decoupling continues to gain steam in the LDC universe, driven by decreasing natural-gas unit sales per customer. However, the stock market continues to highly value this sector. Seven of the top 20 annual gainers are LDCs, and The C Three Group's LDC index continues to outperform all but the Merchant Index for the past 12 months.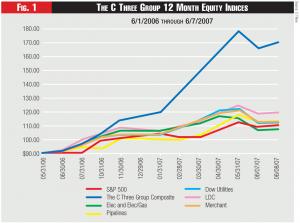 The old news is that the merchant sector remains hot. Rumors are now swirling about which utility will next go private, after Calpine rejected a privatization offer in early June.
Analysts: Down on Utilities
Is the party over? That's the tough question posed in a research note by Wachovia equity research analyst Samuel Brothwell. He says robust valuations are out of step with falling ROEs, and regulated returns are under increasing pressure.
"While 11-percent allowed ROEs were the norm for utilities in 2003, allowed returns have consistently dropped in each of the past three years. Two rate orders [a month ago] continued this trend, with Allegheny Energy receiving a 10.5-percent allowed ROE and Sierra Pacific Resources getting 10.7 percent. Meanwhile, on May 24, an ALJ in New Mexico recommended a 9.53-percent ROE in a gas rate case filed by PNM Resources, according to the report.
Furthermore, Brothwell says valuation multiples have hit historic highs. Even as allowed ROEs were declining, the P/E (price-to-earnings) multiple (on a trailing 12-month basis) on the S&P Electric Utilities Index rose above 20x in 2006, up from about 12.7x in 2003.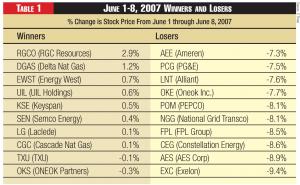 "In our view, the recent divergence in movements of these two statistics could suggest it will be difficult for utilities to continue to outperform, absent some kicker from non-regulated businesses such as generation on the electric side or upstream exposure on the gas side," Brothwell said in the report.
Brothwell believes that by doling out sub-par returns, "State regulators are sending the wrong message as utilities are also being called on to make significant capital investments to improve electric and gas infrastructure. We believe [the Federal Energy Regulatory Commission] and some states understand this, but others don't and we are concerned that political pressure is driving short-sighted ratemaking."
In fact, a month ago, Lehman Brothers analyst Dan Ford concluded in a research report that expanding capital programs and increasing cash shortfalls threaten company and shareholder returns. "With average valuations for regulated names at all-time highs as compared to the broader equity market and treasury yields, we see complications ahead," Ford said. For example, the analyst found that the industry's robust capital spending program exacerbates cash-flow issues, as capital expenditure levels look to settle above $50 billion a year, almost double the levels of 2004. Furthermore, free cash flows (FCF) appear negative by as much as $16 billion a year post- dividend, and negative $4 billion pre-dividend, in the next few years, according to the report.
"The need for external capital to fund dividends and capital programs is beginning to grow. We estimate that approximately $60 billion of external debt and equity funding will be necessary by the end of 2010," Ford said. In addition, Lehman also was concerned with the need for regulated utilities to seek more frequent rate increases to fund rate-base growth. "Historically, more trips to the regulator, coupled with rate increase requests to fund larger capital budgets, have resulted in a compression of allowed returns and significant effects from regulatory recovery lag."