Report Slams TXU LBO
Consultant Roger Gale concludes that the TXU leveraged buyout does not provide inherent or long-term advantages to the customer.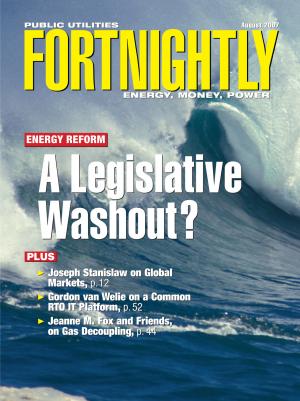 Just when everyone thought the dust had cleared on the highly contentious leveraged buyout of TXU by Kohlberg Kravis Roberts and Co. (KKR), new challenges have sprung up from the most unexpected place.
The publisher of the Dallas Morning News retained consulting firm GF Energy LLC, led by Roger W. Gale, to produce an independent assessment of the consumer impact from the proposed private-equity buyout of TXU. In late June, the newspaper ran a three-part series highlighting the report's conclusions, as well as responding to reader feedback. (The report and the news coverage of the report can be found at www.dallasnews.com/investigativereports/txu/.) This may come as a surprise to many industry watchers who believed the deal was as good as done, and therefore likely exempt from continued criticism. But given the deal's importance to the Texas economy, the newspaper felt an independent analysis of the deal was needed. The paper had conducted a similar investigation several years ago into how well Dallas city government was serving its citizens.
"That study—published in 2004—set in motion numerous and profound changes at City Hall, changes that continue to play out today," wrote Dallas Morning News Editor Bob Mong in introducing the series on TXU's LBO. Whether the GF Energy report affects the deal will depend largely on whether the regulators reviewing the buyout read the report and follow its recommendations. Many of the report's suggestions also could prove instructive when considering future LBO offers. In this case, however, GF Energy's recommendations are based on the conclusion that there "are no material advantages to the customer if the transaction proceeds."
The consulting firm believes that any benefits will have to be sought by the Public Utility Commission of Texas (PUCT) on behalf of customers. GF Energy concludes that the buyers are offering the customer what TXU would probably have offered anyway. Therefore, there is no net gain for the customer in the deal as currently described.
GF Energy's specific recommendations are that the Texas PUC should:
• Test the TXU transaction against public-interest criteria used elsewhere in the United States to determine if this transaction offers definite net benefits to customers;
• Consider negotiating commitments from the buyers that will ensure adequate oversight. These commitments may include:
• Safeguards involving transparency, shifting of profits, cross- market power mitigation, and financial stability;
• Operational and customer performance guarantees that allow the PUCT to fine the companies if their performance falls below prescribed or pledged levels, such as when there are excessive power failures;
• Assurance that the new operating companies continue for significant periods of time existing labor contracts and commitments to community-related support;
• Commitment to a specified investment budget, schedule, and plan for renewable energy sources—wind, solar, etc.— as well as to advanced coal, including integrated gasification combined-cycle (IGCC) and nuclear plants;
• An effective, customer-controlled, demand-response program for reducing electricity demand