Deck:
Lessons from the top 40 utilities.
Author Bio:
Jack Azagury is a senior executive with Accenture's Enterprise Transformation Practice, specializing in utilities.
Lessons from the top 40 utilities.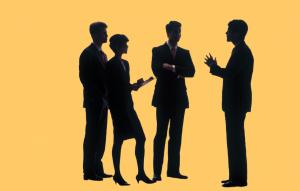 The Fortnightly 40 ranking celebrates a significant achievement for companies that have delivered superior financial performance on a number of critical balance-sheet and profit and loss (P&L) metrics over the past three years.
While the performance of the top 40 companies is commendable, our analysis of high-performance organizations reveals that less than one in 10 companies outperform their industry peer group over a period of more than 10 years. Given this finding, and the long-term nature of our industry, the question becomes not just what drives high performance in this year's list, but how to fast forward 10 years and try to predict what characteristics will drive the top 40 list in 2017, as well as what companies need to do to remain or become high performers over the next 10 years.
High Performance
In our analysis of the Fortnightly 40 , we broadened the number of financial metrics to further shine light on the attributes of high performers. We looked at items such as return on invested capital (ROIC), and a number of market metrics, including total return to shareholders (TRS), P/E and PEG (price to five-year-earnings-growth ratio). We also ran correlations and tried to distill some of the key drivers of high performance in this year's ranking.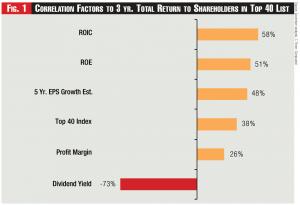 • Capital markets get it right (for the most part). Cap-ex discipline is key.
Most utilities, and most companies across industries, for that matter, focus on earnings per share (EPS) as a primary metric of business performance. The regulatory compact in most states further encourages a focus on P&L discipline ahead of capital discipline. This year's data further confirms that return on equity (ROE) and ROIC – WACC (weighted average cost of capital) ( i.e., the return on every dollar invested above a company's cost of capital) are the primary drivers of value. These metrics correlate most highly with TRS; in fact, these metrics have a correlation to TRS that is twice as high as that of profit margin, arguably the core metric for most utilities (see Figure 1) . Capital markets do seem to respond to differences in ROIC and ROE, and for all their irrational behavior, share-price performance is most highly correlated to what we believe are the right metrics (see Figure 2) .
• Dividend yield inversely correlates to shareholder returns and is an indicator of reduced growth opportunities.
Many utility CEOs and CFOs have been pondering the impact of dividend policy on the attractiveness of their stock, and whether the type of investor interested in utility stocks is biased toward high-dividend yields. The data reveals a strong negative correlation between dividend yield and TRS backed by a significant R squared, confirming that significance. Some of the correlation may be explained by the fact that yields increase as stock prices decline, but a negative correlation also exists between dividend yield and both ROE and expected five-year EPS growth rates. While high dividends often are a sign of