Deck:
Geospatial applications are laying the groundwork for the next round of infrastructure development and customer interaction.
Author Bio:
Christian Hamaker is managing editor of Public Utilities Fortnightly. Interest in geospatial information systems (GIS) is surging among utilities. The latest Geospatial Technology Report, from the Geospatial Information & Technology Association (GITA), says electric distribution companies "remain at the forefront of" geospatial information and technology, with outage analysis and trouble calls leading the way in most used applications among electric utilities.
"Utilities are looking to take institutional knowledge in the head of a designer or engineer that's been doing their network/facility layouts for the last 35 years and creating a rules- or standards-based design process," says Alan Saunders, senior industry manager, telco and utilities, at Autodesk. "In many cases, over half their asset structure can be over 50 years old and nearing the end of their useful life. They have a lot of replacement work to do, so they're going to get hit with a double whammy of having to do more work with fewer resources."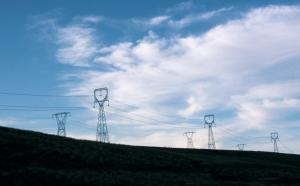 As utilities grapple with aging infrastructure and outage management, they are evaluating their GIS and considering the best way to keep up with the shifting demands of the electric-power industry.
Costs and Payoff
The amount of money spent on implementation of GIS ranges widely, from less than $150,000 in some instances to the tens of millions at some utilities. But whatever the price tag, GIS is essential to utility operations, says Edward L. Henson, IT project manager at Dominion Resources Services Inc.
"From a poles-and-pipes perspective, we have billions of dollars worth of facilities," Henson says. "Everything about our business is geographic—placing [infrastructure], inspecting it, and sending field crews out to look at these things. We need to get the right resources to the right location as quickly as possible."
GITA says that costs of GIS at utilities have been difficult to pin down over the years, because of technological obsolescence of earlier applications. With a disclaimer that "the wide range of project life spans, many of which have migrated through multiple generations of technology, will significantly skew comparisons of costs with outer project parameters," GITA says that its current data reveals that 20 percent of the survey respondents spent more than $1 million on core GIS software, while 27 percent spent less than $150,000. Costs for GIS applications are similar—24 percent of respondents have spent more than $1 million, with 58 percent spending less than $150,000. The association notes that 22 percent of the respondents to this year's survey began their projects since the year 2000, 51 percent in the 1990s, 22 percent in the 1980s, and just 4 percent in the 1970s.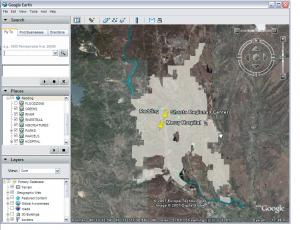 GIS expenditures are being spread across fewer companies, Henson says.
"As with a lot of software markets, in the early days there were a lot of specialized players," he says. "Now there are just two or three dominant players."
He notes that in the early days, GIS revolved around design and CAD functions, but now it is integral to planning and operations, and an important part of customer interaction with the utility.
"Customer service [departments] have some [use for GIS], but geospatial is not as important to them day-to-day. The vast majority of customer calls are handled automatically. The applications are, however, integral to outage management." Henson points to Dominion's Web site, www.dom.com/news/outage_map.jsp, where customers can see a map of outages across the utility's service territory.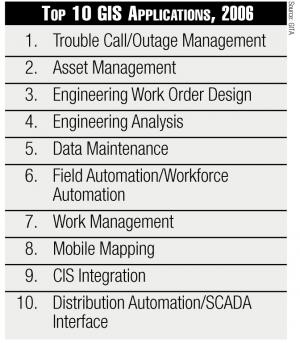 Indeed, GITA lists "Touble Call/Outage Analysis" as the number one GIS application for utilities.
Shared Data
Although GITA cites a "distinct trend toward multivendor environments" and toward multiplatform GIS implementations—approximately 70 percent of the 386 survey respondents were sharing data between various systems—the survey shows Autodesk is the preferred GIS vendor in the electric-utility segment.
The company is aiming to keep its lead with updates to two of its geospatial solutions, MapGuide Enterprise 2008 and Topobase 2008. The MapGuide Enterprise update adds Web architecture and capabilities that the previous incarnation of the product—available for more than a decade—did not have. The 2008 incarnation also incorporates a year's worth of input from the open-source community.
Autodesk designed Topobase 2008 with segment-specific modules, including water, waste water, and gas. (There is no specific module for electric utilities, but the company is working on future vertical models.) "Those modules have a specific data model appropriate for each industry," says Autodesk's Saunders. "For gas, it can manage pressure zones, gas feature classes, the valves and piping, and types of pumping stations involved. It's a set of business rules specific to the gas industry: how to create a new house connection, and what facilities and connectivity you need when putting a new meter or pipe into a building.
"Then there are style templates for how different people in a utility would need to visualize this information. So a designer might want to see a template that overlays the pipes with the street data. A maintenance or operation person might want to see a visualization of the age or condition of the pipes in a color-coded way. Those vertical modules enable a utility to roll out the solution much more quickly, make it more of an out-of-the-box solution."
Mapping It Out
One of the biggest developments in GIS applications has been the wider availability of maps and mapping technology. As late as the 1990s, most utilities used extensive paper mapping systems to visualize their service-area terrain, but that's changed.
"One of the things we've done with MapGuide Enterprise 2008 is provide direct support of Google Earth," says Liam Speden, product manager at Autodesk. "In terms of supplying information to an almost ubiquitous customer-end interface, we can push live information into Google Earth,
including asset updates and alerts." He pegs the number of Google Earth user worldwide at about 250 million.
"Google has been a great enabler for general awareness of the public as to what you can do with maps," Speden says. "We're embracing that by being able to deliver information. That can be used particularly on the external side of utilities, the customer-facing side of the utility, for delivering accurate and timely information to the public."
Autodesk worked with the open-source community to build an interface that allowed it to publish not only flat information but live information.
"You actually use MapGuide Enterprise as a live means of interacting with the data," Speden says. "The Web previously was a one-way stream of data. We're now delivering an interface that encourages participation—the ability to edit, annotate, and review information."
For instance, Speden says, utilities often bring in contract crews or maintenance crews after a storm, or surge event, and those teams need quick access to geographic infrastructure data.
"We're coming up with means to distribute the information out, and collect, where possible, that information back in," he says. "That's happening with workforce, customer billing, and back-office functions that still need a view onto that core infrastructure information. We're looking for every opportunity to be competitive."