Deck:
Will the turmoil on Wall Street spur a massive flight to utilities?
Will the turmoil on Wall Street spur a massive flight to utilities?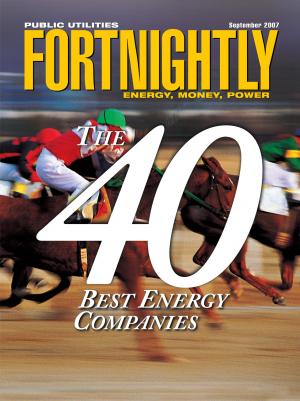 It may seem obvious today that utilities are viewed as the defensive, counter-cyclical investments most favored by investors when the economy takes a downturn. For the great majority of the U.S. utility industry's history, that is, in fact, how they were regarded.
But during the last economic downturn in the early 2000s, not as many utilities played the cherished role of "widows-and-orphans" investments.
The merchant meltdown left the debt of several utilities downgraded to junk, and their equity valuations at all time lows. Furthermore, even utilities with no merchant exposure suffered as fearful investors, thinking some utilities were on the verge of Enron-like implosion, sold off the sector.
The reason investors lost millions was their failure to understand the different risks involved in the merchant and unregulated sectors. Much like the sub-prime meltdown occurring this summer, many—fairly or unfairly—blamed the equity and bond analysts for not conveying the risks.
Yet the utilities have recovered fully since those dark days, showing double-digit increases in stock prices, while the industry's credit ratings largely have returned to investment grade.
Yet, there remains a concern that during the next economic downturn investors will pass on utilities again. The reason is that the industry's risks are still opaque to investors.
For example, Baird analyst David E. Parker, in a July/August 2007 research note, says: "In summary, upside to our previous estimates of substantial energy infrastructure is a good probability most likely fueling attractive earnings-per-share growth for the next decade or longer." But Parker warns of the unknowns:
"Rising political and regulatory scrutiny due to increasing costs could pressure returns in the wrong state jurisdictions."
Thus, Parker recommends that investors focus on utility investments with good regulators, solid business strategies, and management that can execute those strategies. And that's good advice. The industry needs more transparency and a common process to define corporate and financial performance for utilities and for future investors.
Cash No Longer King
Beginning in this issue, Public Utilities Fortnightly presents its highly anticipated independent financial ranking of the 40 best energy companies, known as the Fortnightly 40 (F40) . The ranking provides utility execs and investors with a lingua franca, or comprehensive framework, to identify the risk/reward tradeoff for specific utility investments.
This year's ranking should be of particular interest. That's because of the current interest among investors in how a specific performance metric can change or become out of step with the true risks and rewards, as was the case in the early 2000s.
A recent analysis as part of the F40 ranking found that total shareholder returns for the highest-performing utilities either were neutral or negatively correlated with free cash flows and dividends. During the merchant meltdown, many investors focused on positive free cash flows at utilities as a way to differentiate from the riskier companies. But today, free cash flow is not as important a financial metric. One analyst believes that the market indirectly still factors credit strength, although it is no longer the issue