Deck:
Fuel-supply risks stunt the growth of biomass power.
Author Bio:
Elizabeth Striano ( estriano@agreenfootprint.com), principal of A Green Footprint LLC, is a writer and consultant on sustainability and the environment.
Fuel-supply risks stunt the growth of biomass power.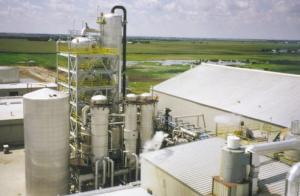 Biomass has enormous potential as a renewable source of power in the United States, and it might be poised for explosive growth.
Burning biomass fuel—either in stand-alone plants or in co-firing with other solid fuels—can help utilities meet state renewable portfolio standards (RPS), while reducing greenhouse-gas emissions. Biomass is a particularly attractive option for meeting RPS mandates, because it produces power reliably and consistently, at relatively competitive rates—7 to 9 cents a kilowatt-hour.
Whether utilities are prepared to jump into the biomass game, however, depends on how effectively they can manage fuel risks.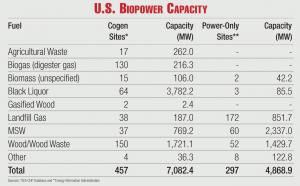 "There is no such thing as a long-term fuel contract in the biomass business," says Bill Carlson, once the operator of several biomass plants, and now an independent consultant and chairman of the USA Biomass Power Producers Alliance.
Most sources of biomass fuel will not make a commitment to deliver a certain quantity or type of fuel because fuel supply is not their core business. "They'll sign a contract that says, 'I'll sell you all I have at a certain price,'" Carlson says. "But they won't guarantee any quantity over time, because they really can't."
Success in the biomass market requires flexibility and creativity in selecting fuels, developing supplier relationships and designing plants to operate competitively over the long term.
Growth Market
U.S. utilities increasingly are seeking power supplies from all different kinds of renewable fuels. RPS and supporting policies are driving this increasing interest in many states.
"The RPS definitely is adding fuel to the fire of biomass," says Jeff Bodington, principal of San Francisco-based investment advisory firm Bodington & Co. "We see interest in biomass even in states that don't have RPS."
Biomass is the single largest source of renewable electricity after hydropower in the United States. The DOE estimates the potential biomass fuel stream totals 512 million dry tons annually, including urban wood waste; paper- and forestry-industry waste; forest residue; and agricultural waste. Biomass power plants also burn municipal solid waste, manure and waste from farm animal operations, landfill gas, and digester gas from wastewater treatment.
The majority of biomass facilities in operation today, however, use wood chips and other forest-waste residues as their primary source of fuel. And liquid fuels from agricultural crops, including ethanol and biodiesel, are growing quickly as alternative supply options.
Unfortunately, even with this seemingly ample and diverse supply, securing reliable sources of fuel poses the biggest challenge for project sponsors.
Going Upstream
As a fuel, biomass suffers from low energy density. Because of high transportation costs, the relative bulk and high-moisture content of biomass makes facility siting particularly critical. Ideally, plants are located less than 100 miles from the fuel source.
"In conjuction with that first-level analysis, you've got to do the complete fuel study because that's the deal breaker on these projects," says Kim Crossman, team leader of the EPA's Combined Heat and Power Partnership. "For a good-sized