Deck:
Alliant's 11th-hour deal to sell $783 million in transmission wires faces ex-post legal challenge
Alliant's 11th-hour deal to sell $783 million in transmission wires faces ex-post legal challenge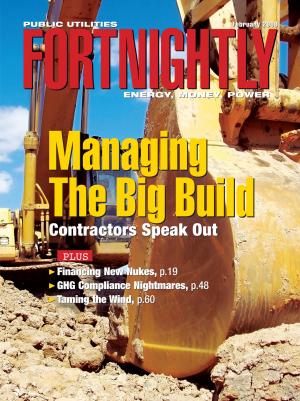 Shareholders of Alliant Energy got an early Christmas present on December 20.
Alliant subsidiary Interstate Power & Light (IP&L) completed a $783 million deal to sell 6,800 miles of electric transmission assets to an affiliate of ITC Holdings Corp. The same day, Alliant issued guidance saying its 2008 earnings likely would increase by between 3 and 13 cents a share, driven partly by proceeds from the IP&L asset sale.
But on Christmas Eve, the Grinch arrived to take back Alliant's present. Minnesota Attorney General Lori Swanson filed a petition for rehearing and reconsideration, and asked the Minnesota PUC to stay its December 18 order approving the IP&L transaction. It could result in the Alliant deal coming unwound.
Christmas Rush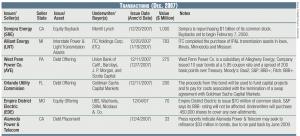 The IP&L deal represents one of the largest transmission asset sales in recent memory. In addition to nearly doubling the size of the ITC's grid, the deal was a sweet one for the sellers. It allowed IP&L to pay off its commercial paper debt and transfer a $400 million dividend to Alliant. And by closing before the end of 2007, the transaction qualified for $43.6 million in tax benefits under a 2004 tax bill, which gave sellers eight years to recognize gains on the sale of qualifying transmission assets.
The rush to finish the deal before year end, however, led to alleged short cuts that violated state law and left the decision open to challenge, according to the AG's petition. First, the PUC approved the deal in an oral vote, while Minnesota statute requires written consent. Second, a key provision affecting how IP&L's capital gains would be treated for rate-making purposes was defeated by a tie vote taken while the commission lacked a quorum. Finally, the AG charged the PUC based its decision on evidence outside the record.
Coming Unwound
For its part, IP&L argues the commission's order stands, because the oral vote merely set the date of the approval for December 18, expressly to ensure the transaction could close before year end. Further, the company said the AG's petition raised no issues that weren't considered in the PUC's deliberations, and the settlement agreement itself introduced evidence into the record.
At press time, the Minnesota PUC hadn't responded to the AG's petition for rehearing. Depending on the outcome of the conflict, it could force ITC to unwind the acquisition. Alliant stated in its response to the AG's petition, "Without those tax incentives, the transaction would not occur."