Deck:
Regulatory structures protect ratepayers in geography-spanning utility mergers.
Author Bio:
Charles E. Peterson is a financial economist with the Utah Division of Public Utilities. Email him at chpeterson@utah.gov. J. Robert Malko serves as a professor of corporate finance at the Jon M. Huntsman School of Business at Utah State University. Note: This article reflects the views of the authors and does not necessarily reflect the views of the Utah Public Service Commission or the Utah Division of Public Utilities.
Regulatory structures protect ratepayers in geography-spanning utility mergers.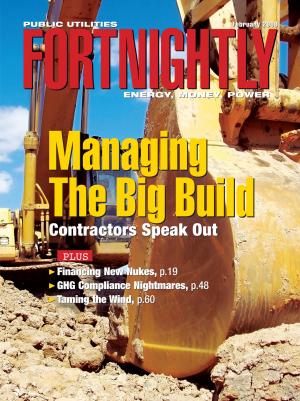 Corporate restructurings of electric utilities in the United States have become a significant and controversial issue during the past thirty years. 1 The controversy is caused by differing perspectives among electric utility executives and regulatory commissioners relating to corporate restructurings associated with mergers, diversification, and functional separation of generation, transmission, and distribution.
Electric utility executives generally view corporate restructuring as a potential source of economic value and a potential partial solution to financial problems that reflect changing business risks. On the other hand, regulatory commissioners attempt to insulate and regulate the utility component of the restructured energy business and to protect the public interest, including reliability of service at reasonable costs.
A prime example is the Utah Public Service Commission, which is applying ring-fencing conditions and tools to utility PacifiCorp. The geographic diversity of PacifiCorp poses regulatory problems to its new owner, MidAmerican Energy, which may require solutions similar to approaches that have been applied to the legal, financial, and economic issues related to ring-fencing of energy utility companies.
Restructuring Framework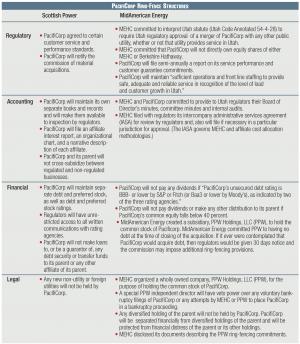 A workable framework for protecting ratepayers in electric utility corporate restructurings must address a hierarchy of significant issues from a public-policy perspective. This framework extends a hierarchy developed initially in the early 1980s in order to address and analyze electric utility diversification activities. 2
At the apex in this framework are regulatory issues of important concern to regulatory commissions regarding electric utility corporate restructurings and related effects on the broad public interest. Examples include roles and relations between federal and state regulatory agencies, and potential financial agency problems among economic stakeholders, such as managers, share owners and bondholders. Regulatory issues focus on addressing and analyzing electric utility corporate restructuring activities that affect the ability to provide adequate electricity service at reasonable prices to customers.
In this framework, four subsidiary categories of technical issues address financial, economic, accounting and legal concerns.
Financial issues concern the implications of an electric utility corporate restructuring on valuation and financing. Significant types of financial issues that emerge are changing business and financial risks, relative financial health of the restructured business, and reactions of investors to restructuring activities.
Economic issues concern the allocation of limited resources in providing electricity service in an atmosphere of electric utility corporate restructurings. Significant types of economic issues that emerge are market structure and powers; pricing policies, practices and associated customer choices; and utility management incentives.
Accounting issues primarily concern affiliate interest issues, including transfer pricing practices, and the allocation of common costs.
Legal issues relating to electric utility corporate restructuring activities concern regulatory authority over the