Deck:
January's debt-issue activity portends a rush on the markets later this year.
Something seemed rotten in December. Fortnightly's survey of utility and financial deals for that month turned up so few debt issues, we wondered if our research methods were failing. We found only one significant utility bond issue during the month; Allegheny's West Penn Power issued $275 million in 10-year notes (see "Post-Holiday Blues," February 2008). December's deathly quiet raised questions about whether we were missing most of the deals.
Those worries evaporated in January, when a huge slug of utility debt hit Wall Street. At least 13 utility bond issues went to market, totaling more than $4.7 billion—and billions more entered the pipeline.
This proved our research methods were fine; utility issuers just took an unusually long break in December. But the magnitude of January's comeback raised some interesting questions about cycles in utility debt markets—and what might be coming in 2008.
Bracing for the Big Build
Technical factors contributed to January's surge in utility bond activity. Most obviously, every Holiday season creates a backlog, as sell-side issuers wait for buy-side investors to return to the office in the New Year. Additionally, many utility CFOs turn their attention to preparing annual reports in late January and February. So if they plan to issue debt in the early part of the year, they try to do it before the reporting cycle hits. Thus February and March activity might drop significantly from January's volume.
Market conditions also played a role. Namely, interest rates have fallen recently, encouraging utilities to go to market with bonds that were sitting on the shelf. "People are taking advantage of lower Treasury rates," says Anthony Ianno, managing director of Morgan Stanley's global capital markets group. "Although credit spreads have widened, the overall cost of financing is the same as, or lower than, it was a year ago."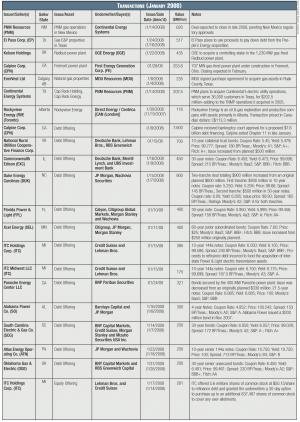 Plus, the buy side is hungry for utility and power securities, as investors seek more stable sectors in the recession-spooked market. "Clearly there's a flight to quality," Ianno says. "Good cash-flow entities, like utilities and power companies, look better than more cyclical industries."
These market factors probably encouraged utilities to go to market earlier—and bigger—than they might otherwise have done. Duke Energy Carolinas, for example, increased its planned $600 million issue to $900 million, and Xcel nearly doubled its offering, from $250 million to $400 million.
But two other factors also influenced the January surge—and may portend a frenetic year for CFOs. First, companies are facing maturing debt in the first half of 2008. "Many utilities refinanced debt in 2002 after a tough period in the market," Ianno says. "In the next six months, about $13 billion in maturities are coming up in the sector." Some of the January issues refinanced maturing debt, and more will follow in the months to come.
Second, the industry anticipates major capital expenditures in 2008, for everything from power plants to advanced-metering rollouts. To avoid a potential logjam later in the year, many companies went to market in January. "The longer issuers wait, the more concentrated the potential financial risk will be," Ianno says.
Utilities likely will continue enjoying good access to capital this year, but January's level of activity suggests issuers should watch markets closely to ensure they can sell bonds at the right time. "The overall market is skittish," Ianno says. "That could affect market access for utility and power companies, so the prudent thing is to take advantage of windows when they are open."