Deck:
California learns painful lessons from its proposal to mandate demand response.
California learns painful lessons from its proposal to mandate demand response.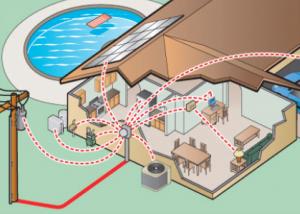 When the California Energy Commission (CEC) proposed to include programmable communicating thermostats in the state's new building codes, it expected some push-back from home builders. It didn't expect what it got: a major public outcry.
An ABC News affiliate quoted Mark Toney of the Utility Reform Network saying it was a "Big Brother thermostat program." Blogger Don Boudreaux called it a "huge leap down the road to serfdom." The American Thinker called it an "invasion of the sanctity of our homes by state power."
To find out what went wrong and what the CEC plans to do next, Public Utilities Fortnightly spoke with Jackalyne Pfannenstiel, CEC chairman, and co-author of a January 2008 Fortnightly article that examined the potential of a mandatory demand response program in California.
Fortnightly: What caused the public backlash against CEC's proposed building code amendments?
Pfannenstiel: A couple things. Fundamentally, we had not thought through clearly enough how some people would perceive what we were proposing. They were concerned that we would be mandating, through the building standards, a device that had the potential of affecting people in their homes without them being aware of it.
The original proposal was to have all new homes equipped with a programmable communicating thermostat (PCT), which would work with utility-initiated radio signals. Through the PCTs, the utilities would have been able to affect the temperature in the house a few degrees, but only if the customers had signed up for a utility program or in certain emergency situations.
Part of the problem was that the Energy Commission has the authority to put devices in the home under the building standards, but we have no jurisdiction to define what constitutes an emergency. That authority resides with others, such as the California PUC and the Independent System Operator, so we couldn't assuage customers' concerns about the utilities' use of PCTs in an emergency.
We pointed out there would be an override capability, and that the communication device would have an on-off switch, so the customer could decide whether to allow the utility to activate the radio control. But even that wasn't enough to relieve people's concerns about the presence of a device equipped with the capability to receive a radio signal.
In actuality, we had been pushing a technology before the market was ready for it. I concluded this isn't about technology, but about human beings in their homes.
Demand response is ultimately about people's choices and decisions. In our society it's not about government controlling the device in your house, it's about you choosing how you want to use your devices, including air conditioning.
The original proposal went way beyond what people were comfortable with. We need to reconsider whether this particular technology makes sense as part of the building code.
Fortnightly: Where do you go from here?
Pfannenstiel: Starting [in early March] the Energy Commission will be holding hearings—which have been long scheduled—on load-management