Deck:
Fundamental changes require bold strategies.
Author Bio:
Jack Azagury and Tim Porter are partners and Andre Begosso is a senior manager with Accenture's utilities industry group consulting practice. Email Jack at jack.azagury@accenture.com, Tim at timothy.p.porter@accenture.com and Andre at andre.p.begosso@ accenture.com. The authors acknowledge the contributions of Curtis Bech, Accenture consultant.
The regulated utility industry in the United States faces an unprecedented dilemma, caught between the conflicting demands needed to address the requirements of its shareholders, the environment and society. While environmental and societal pressures will continue to intensify, the targets remain uncertain and the methods for meeting and financing these requirements are less than clear. What is clear is the magnitude of the challenge ahead. The United States is facing a massive demand for investment in its electric system, from generation to distribution. An estimated $400 billion to $1 trillion will be needed over the next 20 years to upgrade our electrical infrastructure. The rate impact to the average retail customer would run between $75 and $200 per year, and that does not even consider any additional cost resulting from stricter environmental legislation. Rate increases of this magnitude are untenable.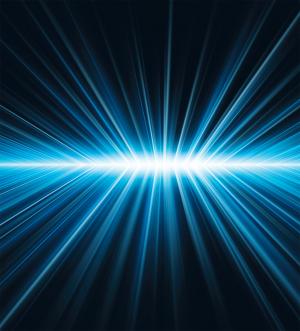 The current credit crisis also complicates the challenge of powering the future. Not only will that have an immediate impact on bad debt and revenue recovery but like many other businesses, a utility needs financing to build and upgrade its asset base. What is unique about this industry, however, is that within the current regulatory construct, the deployment of capital is the most prominent avenue for growth. The credit crisis could result in delays to any proposed infrastructure investments, thus reducing rate-base growth and, with that, earnings per-share growth.
In addition, utilities must prepare for an inevitable decline in energy sales as societal demand for energy efficiency mounts. Consumer awareness of energy consumption is increasing and empowered consumers will demand more services (from their utilities or other providers) to allow them effectively to curtail peak loads and manage consumption. As a result, the consumer will move from being a price taker to a price setter.
In light of such challenges, utilities are faced with an unprecedented and conflicting set of demands. They must be a significant part of the carbon solution, while also solving the asset infrastructure challenge economically. They must identify and steward sustainable, economically viable energy resources through the next decades, and proactively assist customers' efforts to manage their energy costs. They must renew their organizations' skills and talent base, and continue providing reasonably predictable earnings growth.
While many utilities have embarked upon efforts to define a path toward the next generation utility, these efforts often are siloed initiatives driven by the generation, transmission and distribution (T&D) or customer segments of the organization. Addressing the upcoming challenge will require a coordinated and integrated set of decisions so as not to sub-optimize the end-to-end value chain. Eight critical themes across the generation, T&D and customer elements of the value chain will shape the future of our industry.
The Generation Dilemma
With the elections behind us, the country is on a path toward a significant shift in energy and environmental policy. Even though greenhouse gas (GHG) legislation will provide much-needed certainty, the path forward remains complex. The government has to balance environmental demands while managing a significant budget deficit and an economic recession that leaves little room to increase rates. This dilemma was illustrated in the way multiple renewable portfolio standard initiatives were defeated in the ballots, including Proposition 7 in California. Clearly, companies in the industry will have fewer degrees of freedom in shaping their generation portfolios as regulation and legislation play an increasing role in mandating standards and fuel types, in some cases defying fundamental technological constraints.
In the short term, energy efficiency and conservation provide the most cost efficient and highest impact solution to addressing the environmental challenge. In the medium to long term, there will be a gradual evolution of the generation portfolio, with coal, gas, nuclear and renewables all playing a significant role in powering the nation.
• Theme 1: As renewable energy sources increase, winning utilities will need to be at the forefront of shaping the renewable generation landscape. The new administration is pledging more than $150 billion to be invested in clean technology over the next ten years. The question facing the industry is not whether this will have a significant impact, but rather how a utility should position itself to reap the benefits from one of the most promising growth drivers for the U.S. economy. Clean technologies will reshape the energy industry in the same way the Internet reshaped the IT industry. Winning utilities cannot afford to remain in the mainframe age as new entrants reap the benefit from clean tech growth.
Utilities will need to take a proactive stance toward a renewable strategy. An analysis of research and development (R&D) spending shows that while utilities represent 5.23 percent of U.S. capital spending, they only account for 0.067 percent of U.S. R&D spending. Although much of the R&D in the industry is performed by equipment manufacturers, the DOE and academic centers, utilities will have to take greater control over the evolution of technology. They will need to work with start-ups and research centers to drive and understand how to leverage new technology into their portfolios. In addition to centralized renewable sources, customer-driven distributed generation will play a core part of the country's future renewable portfolio, and will provide either a competitive threat or an opportunity for growth.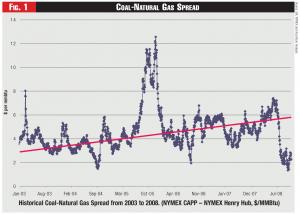 • Theme 2: Gas will be the transition fuel of choice over the next 10 years or more. While demand for power will grow at a much slower rate, the industry needs to alleviate pressure on reserve margins and baseload capacity over the next 10 to 15 years. This will be compounded as old coal and dual-fuel units continue to be retired to meet new environmental regulations. In the short to medium term, new load requirements will be filled by natural gas for three reasons. It is the only option with short enough construction lead times, allowing utilities to meet immediate power requirements and alleviate short-term tightness in reserve margins. It is needed to support renewable energy sources such as wind and solar. And natural gas is the only politically acceptable choice.
• Theme 3: While nuclear will play a greater role in our baseload portfolio, coal plants will remain critical to meeting our future energy needs and will remain a significant source of value for their owners.
Gas alone will not alleviate the baseload challenge we will face in the coming years. And even though nuclear will play an increasing role, any contribution impact will not be felt for decades. Coal plants will be an integral part of the generation solution for many years to come and remain a significant source of value for their owners. Despite increasing social and political pressures against legacy fuels and power production methods, coal is simply too cheap and readily available to ignore.
There are several reasons for this. First, starting with the first Clean Air Act in the early 1970s, the United States has grandfathered existing power plants with respect to any environmental legislation. Second, the U.S. coal generation fleet is quite young, with an average age of 35 out of a typical asset life of 50 years. Replacing these plants with more environmentally friendly technologies in a very short period, say 10 to 15 years, would be prohibitively expensive for ratepayers. Third, stripping coal out of the generation mix would push other options—nuclear and natural gas—beyond their sustainable limits. Switching completely from coal to nuclear would add 300 nuclear units to the current 104. Current projections only show plans for up to 40 new nuclear units. While this represents a major addition to our current nuclear fleet, it is a far cry from the number required to replace coal. And finally, the underlying fundamental coal to gas spread (see Figure 1) is likely to persist and possibly even increase. GHG emissions prices would need to be prohibitively high in order to reverse this fuel spread.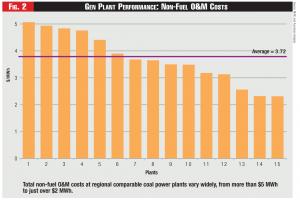 Thus, regardless of ultimate GHG emission standards, coal is unlikely to be eliminated, or significantly diminished, even in the case of a nuclear renaissance. We will, however, see acceleration in the development of advanced clean-coal technologies, including, but by no means limited to, carbon capture and sequestration (which is 20-plus years away).
• Theme 4: Given the increasing difficulty in siting and getting environmental and regulatory approvals for infrastructure investments in generation, utilities must focus on operational excellence to extend the life of assets and extract more value. Historically, our generation fleet has exhibited significant variability in performance, but there are significant opportunities to improve operating performance. Benchmarking analyses commonly show 40-percent deviation in performance around the mean for units of identical make and similar vintage (see Figure 2). In addition, and just as revealing, there will be 1 to 5 percent gaps in performance across the same unit when operated by different operators within an organization (normalized for weather and other conditions outside of the operator's control). Utilities should work toward closing these gaps by adopting lean manufacturing techniques and other operational excellence techniques as a core part of their strategy to drive revenue growth through operational improvements.
The T&D Conundrum
The challenges on the generation part of the value chain intimately are tied to those found in T&D. Utilities are struggling to determine how to upgrade the existing grid, understand the threat of demand destruction so they can dimension the system for peak demand, expand and adapt the grid to cater for distributed generation and renewables, and enable evolving customer needs and expectations.
• Theme 5: An integrated perspective on the smart grid will drive the future for T&D despite untested financial benefits and large technological uncertainty in the distribution system. The U.S. electrical grid was built during the middle of the 20th century. Now, more than 50 years later, infrastructure components are operating well beyond their designed lives. The past decades have been characterized by massive underinvestment in T&D. System upgrades are inevitable and overdue, and this is where smart technologies enter the equation. While many utilities refer to their AMI-smart meter programs as smart-grid programs, smart grid actually encompasses three major components: smart metering, smart grid and smart in-house technology.
Smart-metering technology is the starting point for any smart grid strategy. In the last few years the technology has reached a point where the business case for action is clear and supported by a broad range of benefits including improved data collection, remote connect and disconnect, better theft detection, more accurate load forecasting, improved power-quality monitoring and outage management, and superior customer service. In addition, smart meters support real-time pricing that will allow for peak load shaving and alleviate strain on the utility grid, thus improving reliability and decreasing outage frequency.
Smart-grid technologies are broad ranging and include distributed sensors, remote control devices, smart substations, power stabilization software and pattern recognition software, to name a few. The business case for smart grid technology is not yet as attractive as for smart meters due to the longer term and unproven nature of the benefits and uncertainty surrounding costs. However, numerous utilities, driven by a core belief in smart grid within the C-suite, undertake deployment pilots supported by a well founded, albeit long term, financial business case. Xcel Energy's Boulder smart grid city pilot is one of the more significant examples today. In most of these early deployments, the projected benefits are tied to automatic detection and response to network problems and faults, reduced outage frequency and duration, decreased energy loss and theft, improvements in power quality monitoring and rectification and reliability, and reduced expenditure through condition-based maintenance.
Smart in-house technology is still in the early stages of maturity and includes programmable controllable thermostats, smart appliances (e.g., PHEV controllers), communications hubs and home area networks. While we are still in early pilot stages, the benefits contemplated further reinforce those attained through smart metering by driving the next level of automated demand response.
Smart technologies will allow the customer to have a better understanding of electricity usage, which will translate into a reduction in the information asymmetry between the utility and its customers. This will lead to an estimated 10 percent reduction in consumption. Reduction in electricity requirements will ripple through transmission and distribution as well as generation. An end-to-end approach to any strategy and business case therefore is critical.
Thus, although the business case for smart grid is viable, it requires: 1) continued improvements in technology, specifically around interoperability; 2) an end-to-end perspective from generation to retail; 3) a long-term investment horizon; and most important, 4) a shift in the regulatory framework to ensure shareholders adequately are rewarded for the investment. The business case will vary dramatically from one utility to the next and the sensible way forward lies in a large-scale pilot approach where technology is deployed at a city or municipal level and tested under real-world conditions.
• Theme 6: Regardless of which smart technologies are selected, utilities proactively will need to reshape the regulatory compact. The current regulatory compact was created at the beginning of the 20th century with the goal of spurring the construction of a complete and operational electrical grid. It guarantees a rate of return for every dollar of capital investment as well as reimbursement for reasonable expenses associated with operating the infrastructure.
While the societal benefits of reduced energy consumption are clear, utilities will experience a compounding decline in power sales and revenue. Furthermore, a reduction in peak load will reduce both the wear and tear on existing equipment, as well as the need for new infrastructure. Both will reduce the need for capital investment and inhibit the utility's main avenue for growth. Under the current compact, utilities cannot satisfy their responsibility to shareholders to generate growth while simultaneously embarking on energy efficiency and demand-response programs that destroy demand. In an industry accustomed to 1 to 2 percent annual growth, the impact from energy- efficiency programs that potentially could reduce consumption from existing customers by 10 percent (albeit compensated by new customer growth) will be significant.
To many, the answer is decoupling, already enacted in many states. But decoupling alone will be insufficient as it does not completely address the threat of demand destruction and capital deferral. Along with any decoupling of rates, a provision is needed that allows the utility to recover some of the revenue it stands to lose. Utilities under such a compact would be kept financially whole while being able to aggressively promote measures that address societal demands. This regulatory compact could not last forever because the revenue requirement associated with deferred capital investments is an escalating cost the consumer should not have to bear in perpetuity. Accordingly, this regulatory compact should have a clear expiration that would provide utilities time to transform their operations. Utilities will need to be proactive in shaping this regulatory agenda. While a departure from the current, fairly safe, regulatory compact creates risks and uncertainty, a stalling or delay strategy will create significantly greater risk and be disadvantageous to shareholders.
• Theme 7: The implementation of energy efficiency and smart technologies will change the role of the customer from being a price taker to a price setter requiring very different capabilities from the utility.
Customer as Price-Setter
First, the customer will demand more accurate billing. This means eliminating estimated meter reads, increasing the consumers' trust in meter-read accuracy, and improving the accuracy of bill forecasting. Second, as consumer awareness increases and new technologies— including newer distributed generation and PHEVs—continue to mature, the customer will require power that is more reliable than what can be provided by today's grid. Specifically, this means fewer outages, more accurate outage restoration estimates, and a reduction in the cost of outages due to either more proactive identification and restoration or implementation of new battery or backup technologies. Third, customers will demand the ability to manage their energy consumption through a real-time view of energy prices. Eventually the smart grid will reach into the home and manage demand by directly controlling appliances and HVAC equipment.
So, what does an empowered customer really mean for the utility? Consumption will be driven by customers and influenced by externalities, such as their desire to reduce energy expenditures or carbon emissions (see sidebar, "Changing Customer Expectations"). Furthermore, consumption patterns no longer will be as clear as they once were and this will make load forecasting more difficult. In other words, utilities will be in yet another difficult position where they must maximize shareholder value while simultaneously accepting more risk without any corresponding financial reward.
• Theme 8: Utilities will need fundamentally to change their customer-facing capabilities if they are to become key players in the provision of green solutions to their customers. While many utilities are focused on improving customer service and JD Power scores for current basic energy services, winning utilities will need to adopt a game-changing strategy. They must not only provide great customer service on current products, but aggressively position themselves to provide a much broader set of services around energy efficiency, sustainability and demand response. This would include time-of-use tariffs, micro-generation leasing, HVAC leasing, energy audits, energy monitoring, carbon offsetting, and large scale property portfolio efficiency management, to name a few.
While research shows consumers are willing to pay for additional, environmentally focused services, and are willing to entertain offers from utilities, it also reveals that utilities face a credibility gap relative to other organizations when it comes to the environment (see Figure 3). This is compounded by the fact that the value chain for energy services is both extremely fragmented and extremely competitive, including organizations in the construction, energy provision, energy services, OEM and technology industries (e.g., Google, Microsoft, Cisco). Not only is the competition evolving but so is the target customer base. Municipalities are playing an increasingly important role and looking at their energy providers as a way to create a green proposition, often threatening municipalization. While most utilities face a significant hurdle in terms of capability building, they also are well positioned in the value chain as current owners of the customer relationship. Utilities will need to drive change along two fronts, by first building customer-service capabilities that rival those provided in other sectors, and second by proactively shaping the regulatory framework to drive a change in allowed operating scope beyond traditional services.
The Next-Gen Utility
Utilities face a shifting landscape where demand destruction and revenue loss are very real possibilities. In the face of these challenges three strategic options exist.
• Lead the way: Proactively shape a products and services portfolio, enabling greater energy efficiency and load management while influencing the regulatory compact, embracing the carbon challenge, moving toward the smart technologies and understanding the changing nature of the relationship with the customer.
• Follow the leaders: Maximize the current regulatory framework while laying the foundation for change by pursuing very limited forays into renewables and smart technologies, focusing on providing adequate service to the customer.
• Resist change: Attempt to delay the advent of new regulation, focusing on short-term value optimization with limited to no investment in long-term capabilities or technologies.
The industry faces inevitable changes. While the precise timing and form could differ, the end result is clear. Utilities using a lead-the-way strategy while exercising investment prudence will maximize shareholder value in the medium to long term. This strategy does not require being a first mover with regards to technology deployment, which doesn't map well to utility core strengths or the regulatory environment. But it does require proactively embracing the changing landscape by: 1) Restructuring the asset portfolio to meet the evolving generation stack including, but not limited to, a clear path for the deployment of renewables and an agility to respond to technological progress; 2) Recasting the T&D network to make it intelligent, two way, and able to foster real time demand management at scale, including customer premise energy network management; 3) Reinventing the customer value proposition and experience to drive demand management at scale, with customer tailored mix of commodity and energy utilization service; and 4) Proactively shaping the legislative and regulatory compacts, including changes in operating scope that move beyond the meter, as well as changes in earning structure beyond decoupling.
Piecemeal efforts will not produce the necessary outcomes. Bold leaders will drive their organizations to adopt a highly integrated, effective, efficient and extended operating model while delivering results along the way to earn regulators' trust and support. This transformation and degree of turmoil is akin to that experienced within the telecom industry over the last 15 years, which has led to a complete redefinition of the winners and losers.
Crystallizing a dramatically different future vision and shaping and executing a roadmap thereto will define the legacy of this generation of industry leaders. While the challenge ahead is more significant and fraught with more uncertainty than previously faced in the history of the industry, it is surmountable. It all starts with that very first critical decision to lead, follow, or be left behind.