Deck:
Troubled markets drive defensive tactics.
Troubled markets drive defensive tactics.
The credit crisis has separated the U.S. utility market into two distinct groups: Companies that enjoy financial liquidity, and those that are fighting for their lives.
The most striking example of the latter group is Constellation Energy, whose multi-billion dollar liquidity woes drove it to the brink of bankruptcy in September 2008, and ultimately forced it to sell nearly half of its prized nuclear assets to France's EDF Group for $4.5 billion.
"Liquidity is of utmost focus," said Constellation CFO Jonathan Thayer in a December analyst call. "We meet on it daily at a senior management level."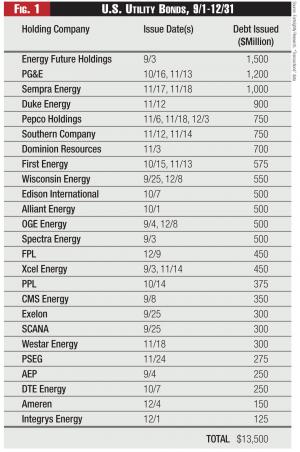 Across the industry, companies are slashing spending and deferring projects, in hopes of preserving cash and maintaining their all-important investment-grade credit ratings. Companies that planned ahead, and took steps to prepare for a possible market downturn before it occurred, now are reaping the benefits of their shrewd risk-management strategies.
To learn how some of these companies are weathering the market storm, Fortnightly interviewed senior finance executives at four major U.S. power and gas companies—Duke Energy, Exelon Corp., Sempra Energy and Xcel Energy.
Duke: Shoring Up
Fortnightly: How has the credit crunch affected Duke Energy's risk outlook and market risk-management strategy? How are you positioning the company for financial stability in the current troubled market?
Stephen De May, Vice President and Treasurer, Duke Energy:  We enjoy being in an industry that's had continued access to the capital markets during the financial crisis. I won't say that access has been completely available in the industry, from the top to the bottom, but single-A rated utility companies like ourselves have enjoyed ongoing access. I will tell you, however, it has come at much greater cost to the company and with much less liquidity. We used to be able to access capital on our schedule and get very competitive pricing. Now the markets are extremely volatile, and at any given day or month, we may have very limited access to capital. It may have nothing to do with the fundamentals of our industry, but with the psyche of the market. People are reluctant to place money in any credit-based facility.
Duke has multi-year credit facilities that we draw from. Our draw in September 2008 was the draw heard around the world, because we were the first company that wasn't in a liquidity squeeze to draw from a credit facility. We did it because we didn't know which banks would be failing—Lehman was one of our creditors. And we didn't know what would happen to access to the market. We did it to shore up our credit strategy, and to address the risk of liquidity drying up in the market.
In terms of longer-term capital needs, we've gone to the market with large-size issues, and in some cases sooner than we would have done in perfectly clear markets, in order to put more cash on the balance sheet and seize opportunities to finance. Because we don't know if the markets