Deck:
Troubled markets drive defensive tactics.
The credit crisis has separated the U.S. utility market into two distinct groups: Companies that enjoy financial liquidity, and those that are fighting for their lives.
The most striking example of the latter group is Constellation Energy, whose multi-billion dollar liquidity woes drove it to the brink of bankruptcy in September 2008, and ultimately forced it to sell nearly half of its prized nuclear assets to France's EDF Group for $4.5 billion.
"Liquidity is of utmost focus," said Constellation CFO Jonathan Thayer in a December analyst call. "We meet on it daily at a senior management level."
Across the industry, companies are slashing spending and deferring projects, in hopes of preserving cash and maintaining their all-important investment-grade credit ratings. Companies that planned ahead, and took steps to prepare for a possible market downturn before it occurred, now are reaping the benefits of their shrewd risk-management strategies.
To learn how some of these companies are weathering the market storm, Fortnightly interviewed senior finance executives at four major U.S. power and gas companies—Duke Energy, Exelon Corp., Sempra Energy and Xcel Energy.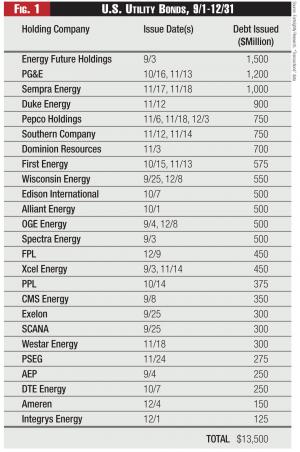 Duke: Shoring Up
Fortnightly: How has the credit crunch affected Duke Energy's risk outlook and market risk-management strategy? How are you positioning the company for financial stability in the current troubled market?
Stephen De May, Vice President and Treasurer, Duke Energy: We enjoy being in an industry that's had continued access to the capital markets during the financial crisis. I won't say that access has been completely available in the industry, from the top to the bottom, but single-A rated utility companies like ourselves have enjoyed ongoing access. I will tell you, however, it has come at much greater cost to the company and with much less liquidity. We used to be able to access capital on our schedule and get very competitive pricing. Now the markets are extremely volatile, and at any given day or month, we may have very limited access to capital. It may have nothing to do with the fundamentals of our industry, but with the psyche of the market. People are reluctant to place money in any credit-based facility.
Duke has multi-year credit facilities that we draw from. Our draw in September 2008 was the draw heard around the world, because we were the first company that wasn't in a liquidity squeeze to draw from a credit facility. We did it because we didn't know which banks would be failing—Lehman was one of our creditors. And we didn't know what would happen to access to the market. We did it to shore up our credit strategy, and to address the risk of liquidity drying up in the market.
In terms of longer-term capital needs, we've gone to the market with large-size issues, and in some cases sooner than we would have done in perfectly clear markets, in order to put more cash on the balance sheet and seize opportunities to finance. Because we don't know if the markets will be there when we really need the capital, we're pre-funding and shoring up our credit strategy. Also, in November we rolled out a business plan that minimizes reliance on access to new capital in 2009.
Fortnightly: How has counterparty credit risk changed for Duke's business?
George V. Brown, General Manager of Global Risk Management and Insurance, Duke Energy: There has been some increase in problem credits. Some of the customers in our service territory have experienced financial difficulties, and we have protections in place in our tariffs that enable us to ask for security from customers in this situation. We've been doing that in our service territories.
In the wholesale markets, we clear most of our transactions through an exchange clearinghouse, and that reduces counterparty credit risk. A lot of people are trying to do more of that these days. But there are parts of the business where that kind of clearing just isn't available. For example, we buy a lot of coal, and we have to deal with coal companies through bilateral transactions. Those companies have felt some of the pain, but they experienced very high prices at some points and so most of them aren't in terrible shape. They'll be able to weather the storm if it doesn't go on for too long. They've contracted for their product sales and they can contain their operating costs.
We're paying attention to our customer base, staying ahead of the headlines, and where we need to do so we're asking customers to provide security against receivables.
We don't have a lot of market risk. We don't have a lot of exposure to spot-market volatility, so we're not subject to the whims of short-term prices. We do have some off-system sales and wholesale trades that move with the price of power. That's down a bit from where it was in 2008, but it doesn't look like it will be a big fall. The entire energy complex has been coming down. Since we operate in a margin business, it hasn't had a huge impact on us at this point.
Fortnightly: How has the Wall Street meltdown affected your access to risk-management services from financial firms?
De May: There has been a reduction in liquidity generally, but it hasn't really affected us. We did have some transactions with Lehman. But because we don't do much trading and we don't have a proprietary trading business, it hasn't been a big deal for us. We tend to sell to other utilities or into RTOs.
Fortnightly: How do you anticipate the economic downturn will affect demand for energy commodities? How is this affecting your hedging activity and supply plans?
Brown: We anticipate with the downturn there will be reduced demand in the short term. We'll experience some problems with collections, but I don't know that it will have a big impact.
Utilities have a very long-term horizon, and at this point we don't see a material change in long-term residential demand growth for the company. There could be other changes that have a material impact on our resource needs, such as if energy efficiency becomes a big force in the market, that could have an impact in the long term. Short term, we don't anticipate changing the resource mix. However we did announce that we will defer some expansion on the generation side. [Editor's Note: In a recent analyst call, Duke CEO James Rogers said the company expects to spend at least $200 million less on capital expenditures in 2009 than it did in 2008. The company "re-prioritized" routine capital projects in its retail business, and delayed the start of construction on its Buck gas-fired combined-cycle power plant.]
Fortnightly: How have falling commodity prices affected your financial risk-management strategy?
Brown: They've impacted the value of our hedges, which means they went from being in the money to barely in the money, or maybe out of the money. This won't impact the bottom line much. The only place I can think of where it will affect the bottom line is in the international market, where we have an investment in methanol production as a derivative of crude oil. Returns are down for that product, but we don't hedge that. For the most part ours is a spread-driven business. The difference between the price of power and the price of coal is the key thing.
Fortnightly: What do you see as the most important political and regulatory risks facing Duke Energy? How are you positioning to address them?
De May: At the macro level, President Obama's energy policy could have a very material impact on our business, especially with carbon regulation, because we have a significant carbon footprint. At the micro level, we have a large capital spending program. The ability to recover those costs is a key part of our business plan. As the economy changes, upward or downward, it affects the risk of our company's ability to recover costs in a timely and fair way.
Exelon: Road to Recovery
Fortnightly: How has the credit crunch affected Exelon's risk outlook and market risk-management strategy? How are you positioning the company for financial stability in the current troubled market?
Kenneth W. Cornew, Senior Vice President, Exelon Corp., and President, Exelon Power Team: We've been marketing power and managing a portfolio of physical and nuclear assets for many years. It's always been our approach to manage earnings certainty in a certain context, meaning we like to ensure certainty and cash flow in a two- to three-year time frame in order to invest in our nuclear plants properly so they're reliable, and pay a dividend or other value-return element to our shareholders, to maintain an adequate credit rating that allows us to get our product into the market effectively. That hasn't changed. What we've seen in this market with the credit crunch is exactly what we've prepared for. Unlike several other entities you've seen, we considered several scenarios with regard to liquidity and capital adequacy, and several years ago we put in place facilities that secured capital, and maintained it through 2012.
We focus on our value, which is our low-cost nuclear generation portfolio. There's a lot of value to that. It's derived from fundamentals in the industry and commodity prices for gas or coal, whatever's on the margin. Focusing on protecting that value, and ensuring reliability in T&D, allows us to provide certainty in earnings.
That's not to say there isn't a new credit environment, and a changing economic environment. It's very volatile and in some measure distressed.
We continue to evaluate the value of what we have and how to assure certainty around that value. We manage commodity prices, the value of the fleet, and obviously electricity fundamentals, which are changing. If you talk to any CRO or leader of a marketing entity or utility executive, they'd give you a different scenario of risk from two years ago or even seven months ago when natural gas prices were above $10 in forward curves. You get new information and change the future outlook.
We're the lowest-cost generator in the stack, so it runs first. If we run it well and keep it on line, which we do well, it will provide value in many scenarios. It's not the same concept for natural gas and some coal plants, and clearly peaking or older steam generation plants.
We're looking at an environment where liquidity isn't the same as it was. Fewer entities in the market are trading commodity products as aggressively as they were. The further out you look in time, the more clearly visible that becomes.
We've gone through these cycles. We've seen trading entities trying to add value as intermediary or some other kind of marketers. We've gone through these cycles before and the market model for electricity is alive and well.
Fortnightly: How has the Wall Street meltdown affected market liquidity, counterparty credit risks, and access to risk-management services from financial firms?
Cornew: Liquidity isn't like it was nine or 12 months ago, but we can still actively participate in the business. Counterparty entities still are out there and are willing to engage. It's somewhat like what we saw post Enron, but I think not even quite that drastic.
We're clearly seeing some pullback from [financial company counterparties]. We're seeing entities that are either not there, or are there at a different level, or are getting in or out of certain elements of our business. Certainly some financial entities have had their issues, and commodity trading gets downsized in their platform. Other entities are entering, especially foreign banks. We're definitely seeing the players are changing.
Our credit requirements always have been very stringent, and they considered the tail risks. We've managed our credit exposure well, and it's well diversified on a counterparty basis. With some entities we're seeing that as their credit outlook changes we have to modify and change with it. But it's not a big impediment for us at this point. In this market Exelon is a sought-after counterparty. Other folks are looking to us.
Fortnightly: How do you anticipate the economic downturn will affect demand for energy commodities? How is this affecting your hedging activity and supply plans?
Cornew: There's obviously an impact on demand in the near term, but in the long term we see demand behaving somewhat consistently.
In the short run we're seeing lower demand than expected, meaning it's not growing like we expected it to. We're seeing some reduction in demand in the industrial and small commercial sectors, and the residential sector isn't growing as you'd expect. There are many outlooks for demand, depending on how long you expect the recession to last. Some say it will be flat for two to three years, and others say a little shorter or a little longer.
We're concerned about demand not just for electricity, but also natural gas, because natural gas sets marginal prices for power in many of the regions we serve. With demand for natural gas, you also have to think about the supply side. Six or seven months ago, when we were seeing demand increasing and when gas prices were high enough to attract LNG [liquefied natural gas] into the United States, there was a lot of discussion about building more power plants. We've been looking at building more power plants in the eastern United States and potentially in Texas. We're seeing a substantial slowdown in that kind of activity. I'm sure the credit crunch and the economy's impact on demand are making many entities take a hard look at whether and when they will invest in new generating capacity. The same thing is true on the natural-gas supply side. We saw supply responding very significantly to high prices, with more drilling in shale areas of the United States. With a drop off in demand for natural gas, you'll also see supply responses.
What does it mean for our resource plan? We own PECO and Commonwealth Edison, and they have resource needs going forward. Whether they require new generation is only a question of time. In an economic downturn, you're probably pushing out the time when you are building new resources, but you still need the existing resources.
As a low-cost nuclear generator, we can compete readily in that environment. I've seen natural gas prices at $2 and $3 dollars, and now it's at $7. For a nuclear operator there's a lot of opportunity in that environment.
Fortnightly: How does Exelon's proposed acquisition of NRG Energy fit into your financial risk-management strategy?
Cornew: We believe there's value in operating synergies, in combining generation assets and in diversifying your generation assets. We believe we can add value to the NRG assets with our [risk-management] discipline and marketing capability. We've always been interested in growth, and growing our generation fleet in a smart and risk-managed way.
Exelon's balance sheet, and what it means in a capital-constrained environment, is very powerful, in terms of what it means for building infrastructure and acquiring assets that are viable and will help our business grow and work in the future. That's the model we bring to the market, and we're bringing that value to NRG.
Fortnightly: What do you see as the most important political and regulatory risks facing Exelon? How are you positioning to address them?
Cornew: Generally the thing to think about in our industry, and for the good of the market and how it works going forward, is to continue the transition to a competitive model in the electric markets. The deregulation model proved itself, and the regulated model proved inefficient.
The competitive model is working in many parts of the country. There are well-run RTOs in many regions, and power is exchanged and efficiently optimized, especially in spot markets. It's a big focus for us to continue advocating a competitive model, at both state and federal levels.
At the federal level the question is more about wholesale RTOs, and in the states the question is about retail access and giving customers access to the best prices and service they can get. It's an objective to keep moving toward, and we are advocating that.
Clearly environmental policy at federal and state levels will be important elements impacting our business. President Obama recently talked about building out the infrastructure for smart grid, introducing electric-vehicle infrastructure, and building out the environmental element on the generation side. All those policies are very important to us. We believe clean energy makes sense and has to be done as economically as possible, and nuclear fits very well into that model.
At the state level, some states have competitive procurement processes for customers, and some aren't there. Pennsylvania is in its transition mode and moving toward having competitive procurement for its customers in the 2010 and 2011 period. We're very focused on that environment.
Fortnightly: What about rate cases? Is that kind of regulatory risk changing for Exelon, particularly in Illinois and Pennsylvania?
Cornew: Our rate-case situation has improved. In Philadelphia with PECO, we don't see any real reason to believe there's concern about that. We believe in a model where distribution companies get a fair return. We're not quite there in Illinois, but we see a path to get there. That has to occur in a fair and reasonable way, and in recent months we've seen some positive movement. In earnings releases, we've called that the road to recovery.
Sempra: Liquid Position
Fortnightly: How has the credit crunch affected Sempra's risk outlook and market risk-management strategy? How is Sempra positioning itself for financial stability in the current troubled market?
Mark Snell, Executive Vice President and CFO, Sempra Energy: As we talk about risk, consistently over time, we've tried to manage our exposure on a long-term basis. As an example, when we decided to get into the LNG business, we did a lot of market research and concluded that, because of its low carbon footprint compared to other fossil fuels and a whole host of reasons, natural gas would be a fuel of choice in the future, especially for electricity generation. We thought there would be an opportunity to import LNG into the West Coast and the Gulf of Mexico [so we built import terminals and regasification facilities there]. When we did that, we signed long-term, 20-year contracts with very good credits—namely BP, Shell and Eni—and hedged our positions in these large infrastructure facilities to make sure we get paid over time. We guaranteed our returns, not unlike what we'd get in the regulated utility business.
When you're dealing in long-term assets, you have to think about how those assets will survive in various economic cycles. There will be times when they'll be very much in demand and will do very well, and other times they won't get used as much. We don't like to take that risk. We like to lay it off on other counterparties or at least share the risk. About 75 percent of our LNG capacity is hedged for about 20 years. That puts us in a very good position to participate in upside if it happens to be there.
We issued debt offerings in November for Southern California Gas and at the parent company level. [Editor's Note: In mid-November 2008, SoCal Gas issued $250 million in 5-year notes with a 5.5 percent coupon rate. At the same time, the Sempra Energy holding company issued $750 million in 5- and 10-year notes with 8.9 percent and 9.8 percent coupon rates, respectively.] We didn't have to do it when we did, but my theory is that in a choppy market, you take what you can get, when you can get it.
On the regulated utility side, the good news is that if there's a segment that's been able to issue bonds at reasonable prices it's been the A-rated utilities. SoCal Gas issued bonds at terms that weren't terribly different from what we did a year or year and a half ago. So from a utility development standpoint, the access to capital and ability to execute on the building plan won't be terribly affected by the credit crunch.
On the non-utility side, obviously capital costs are higher and the ability to borrow is more limited. That will affect plans for many companies. Most of what we're doing we financed a good while back, and fortunately we're in a very liquid position. We won't have to access capital through 2009 and most of 2010. As a company we continue to make investments. We have adequate funding for our ongoing capital program, which totals about $2 billion a year. Our timing has been fortuitous. We'll finish up our current capital program over the next two years, and the next round won't start until 2011. By then I'd assume the capital markets will be operating on a more normal basis.
Fortnightly: What does the economic downturn mean for Sempra's trading and hedging positions? To what degree will falling demand affect your resource requirements?
Snell: On the non-regulated side, we are a marketer of products. We're in the oil, gas and metals businesses. We don't have production, and our income isn't dependent on the price of oil. We're not so enamored with high commodity prices, but rather just continuing to move volume. So we continue to do pretty well. In fact, where there are some worries in the commodity business—namely price spikes can cause you to use a lot of capital in the trading business—we took steps before the last rise in commodity prices to sell half of our trading business to Royal Bank of Scotland. By teaming with a large financial institution that can provide capital, Sempra reduced its balance sheet exposure to those kinds of fluctuations. We created a marketing and trading arm with a fixed amount of capital, and that has no other calls on our capital. It's more like a bond kind of return for Sempra. That took a lot of the volatility out of the trading scheme.
On the regulated side, we don't have any throughput risk. As demand goes down, that's perceived by regulators in California as a good thing, and generally speaking it doesn't affect utility returns. That also means that when demand goes up, utility returns don't increase. Prices pass straight through to the customer.
Because of the way the rate structure works, we don't have any shareholder incentive to hedge. But on the gas side, because we're such a big player in the market, we have the opportunity to put in hedges and lower our customers' cost. We've been doing that successfully over the years, and as a result we've been able to save our customers millions of dollars. As it currently stands we don't have any huge out-of-market hedges in place. On occasion we'll do that when we have clear signals of where we think prices will go, and we do that to benefit our customers.
When you have price volatility it's very unsettling to customers, for people and manufacturers, because they can't predict what their pricing is going to be. That's one reason we're actively in the commodity trading business. We offer customers the ability to fix their gas or electricity prices if they choose to do so. That kind of service is more popular during a rising market, but it's valuable whenever prices are volatile.
Fortnightly: What do you see as the most important political risks affecting Sempra in the coming months and years?
Snell: The greatest impact on Sempra is a positive one, and that is pressure to reduce greenhouse gas (GHG) emissions.
We won't see the kind of cap-and-trade system that a lot of people thought we would. We'll see something more like what California has done, more like a carbon tax. You won't get credit for all the emissions you currently have. There will be strict targets for reducing GHGs.
With the Obama administration's emphasis on reducing GHGs, and because of the lack of technologies around the whole clean-coal idea, which hasn't proven out yet, and the length of time it will take, if ever, to get new nuclear plants permitted and sited, you'll see more natural gas plants used to supplement renewable energy portfolios.
The other side is you have a large amount of displacement going on in the natural gas industry. A lot of conventional gas fields in steep decline are being replaced by shale plays and new unconventional gas plays that are coming onto the market. Bringing that gas to market requires new investment in infrastructure, and that's why we're investing in pipelines, storage and LNG.
Fortnightly: What about rate cases? Do you see any of that regulatory risk on the horizon in California?
Snell: We just got through our rate case, so we're moving forward now. [Editor's Note: Last summer the California PUC approved a rate increase for SDG&E customers averaging 7 percent, which is expected to raise the company's revenue by $265 million through 2011. CPUC also reduced SoCalGas's revenue by $28 million, or about 1.7 percent.] We don't have a lot of regulatory risk exposure right now. We like the regulatory compact that we have in California. We have a good rate of return on invested capital, and California has taken a leadership position in rewarding companies for investing in new infrastructure.
Xcel: Stress Testing
Fortnightly: How has the credit crunch affected Xcel Energy's risk outlook and strategy? How are you positioning the company for financial stability in the current troubled market?
Jack Dybalski, Chief Risk Officer, Xcel Energy: With the credit crunch, financial liquidity certainly becomes a significant issue. Our treasury department has done an excellent job ensuring we have sufficient liquidity and credit lines available to run our business. All these things merge together. We saw almost unprecedented high commodity prices through the third quarter of last year, before they started tumbling down. For the utility business that takes a lot of cash. We have to go to the [capital] markets, and get open credit for that.
We asked ourselves what would happen if that credit were to go away, or prices were to increase. It takes increasing levels of cash to meet our energy-supply needs. We don't get our cash from customers until two months after the fact. Our finance department did a great job, did a stress test of our liquidity needs, and as a result we raised debt and equity in the markets. [Editor's Note: Xcel raised $313 million in equity during the week of Sept. 15, 2008, and raised another $450 million in bond issues during September and November.] As a result, we have the cash necessary to acquire commodities. With tremendous fluctuation in commodity prices, we think now we've got adequate liquidity to handle extreme conditions.
Fortnightly: How has the Wall Street meltdown affected market liquidity, counterparty credit risks, and access to risk-management services from financial firms?
Dybalski: You make your own luck on some of these things. We have pretty much avoided all but the most trivial negative credit-related impacts to our business. There was a time when we absolutely refused to take on new commodity transaction exposures to our business, because we couldn't tell how deep the web was wound. Things started to unwind at the beginning of the third quarter. We started to see financial institutions have trouble, so we started to slow down the business we did with them. By the fourth quarter we stopped doing business with financial institutions. Some received support from the government and had their ratings affirmed, and we've gotten more comfortable. A lot of the problems seemed to wash themselves out over time, so we're taking more transaction exposure. It's not just trading. We do have a small energy-trading business, but we acquire tremendous amounts of energy, and perform various types of hedging for fuels and purchased electricity.
For pure trading, it means very little to us except we are very conscious about the creditworthiness of the companies we do business with.
Fortnightly: How do you anticipate the economic downturn will affect demand for energy commodities? How is this affecting your hedging activity and supply plans?
Dybalski: That's a tricky one. Year on year, we're actually seeing net growth. But when I look at individual locations and customer sectors, year on year we can see there has been some conservation and pullback. We've seen conservation in the residential sector in certain locations—unprecedented levels of conservation. For years and years, with people buying new gadgets, such as big-screen TVs, use per customer has grown steadily. Now, for the first time consistently for six to eight months residential use per customer has been declining. It's hard to tell whether this is because of declining income or the effect of acquiring efficient appliances and compact fluorescent light bulbs. It's happened so suddenly, it's hard to know what's behind it.
Our income has been affected. We operate in regions where we service the energy exploration and production sector. With commodity prices in 2008 as high as they were, we saw tremendous growth, counter to the rest of the economy. Some of that growth has continued. Projects that were put in place through the end of last year still show growth in consumption of electricity. But I expect that with the decline in commodity prices, some of that will taper off.
From a hedging perspective, particularly on the natural gas side, we've had hedging programs ongoing for some time, approved by various regulatory bodies. We don't expect that to change much. Consumers will benefit from locking in lower prices as we go through the year.
We've had some discretion in locking in prices for fleet fuel—gasoline and diesel. We didn't hit the absolute low price, but what we've done will prove beneficial to our cost structure.
We have to be cognizant that demand will be lower. We can't assume the same growth rates next year and acquire fuel for the same level of demand. As we acquire contracts for different things, we make sure we have enough cushion and optionality to accommodate changes in demand.
Longer term it becomes a significant issue for us, in terms of development and acquisition of new facilities.
The volatility in the economy makes projecting what will happen six to 12 years from now more difficult. Building a power plant has a multi-year lead time. What we do in the resource-planning group is look at different areas of the economy, try to understand the drivers as best we can and understand the scenarios. Our resource planning group takes that and develops options in resource acquisition, planning what steps we'll take to accommodate load, higher or lower than what we're projecting. Having those options in our planning process allows us to make sure we're not trapped and acquiring too much or too little of the supply resource.
Fortnightly: What do you see as the most important political and regulatory risks facing Xcel? How are you positioning to address them?
Dybalski: I think the biggest risks we see for regulation are related to climate change and overall energy policy. This is true at the federal and state levels. We've expected this for some time, so for instance we've taken steps to add considerable amounts of wind generation to our mix.
The risk isn't necessarily the need to reduce CO2 and things like that, but the way it's done and the potential that regulations could change. We could go down one direction—for example to meet a renewable portfolio standard that calls for X percent of wind generation—and three or four years into it the regulations could change out from under us. That potentially changes what investments we have to make, and that could change the whole cost structure, which would affect our customers.
From a financial hedging perspective, that would be difficult to manage. Realistically, the volumes and costs are too large. You can trade CO2 credits and those kinds of things, but [financial hedging isn't possible] for the magnitude of political risks that we're talking about. It goes to the regulatory and political arena to manage these risks.
We have a vice president of environmental policy whose role is to work with regulatory bodies, legislators and political parties to ensure we have a seat at the table, and policies are developed that we understand. We're pretty certain there's going to be regulation and limits on CO2. That's fine, we can deal with that once we know what those regulations are and we know they're unlikely to have material changes through time.