Deck:
Utilities explore the potential of zero-energy homes.
Like much of California's Central Valley, Sacramento has a Mediterranean climate, with cool, wet winters and summers that are hot, dry and clear. It makes an ideal place for solar-integrated homes; to wit, the sun reliably shines hardest on the peak load days, when extra power generation is most needed.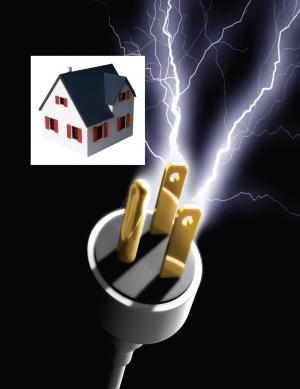 A moderately-sized new home built to code in the California capitol draws about 4.5 kW at a summer peak. But at Premier Gardens, a 95-house subdivision, that number has been shaved to just 1.5 kW.
Built to energy-efficiency standards that far exceed the state's stringent building code and outfitted with photovoltaic roofs, Premier Gardens is on the green-building vanguard. And yet the houses actually could be better. Built in 2003, the homes don't have smart meters. That means no net metering or smart-home efficiency savings.
"We went from 4.5 kW to 1.5 kW without smart meters," says the U.S. Department of Energy's Lew Pratch. "A smart house would take the home's demand down from 1.5 kW to being maybe a net producer."
Pratch is project manager for the Zero Energy Home program, a DOE effort to build affordable, energy-neutral houses in all the nation's major climates by 2020. The Premier Gardens development shows just how close that goal is to reality.
Zero-energy homes (ZEH) promise revolutionary environmental benefits, and customers appreciate the energy cost savings. The technology needed for a zero-energy house exists today, and it's becoming more cost effective all the time—particularly as utilities build out smart-metering infrastructure to take advantage of the potential of distributed resources. But the most compelling aspect of ultra-efficient homes is the energy they save utilities—especially peak generation. If builders adopt ZEH technologies and home designs on a widespread basis, they'll significantly reduce peak load on the grid, smoothing or eliminating the most costly spikes of the year.
"There's no doubt energy efficiency is the cheapest alternative to new generation supply," says Roger Duncan, general manager of Austin Energy in Texas.
There are other benefits too, but realizing them requires utilities to harmonize their approach to efficiency programs, and fundamentally transform their relationship with customers. Innovative utilities—both public and private—are showing the way by partnering with builders, consultants and the government to develop ZEH across the country. So far, the results are encouraging.
SMUD Smarts
The Premier Gardens project is just one of many for the Sacramento Municipal Utility District (SMUD). The publicly-owned utility has a long track record of efficiency efforts.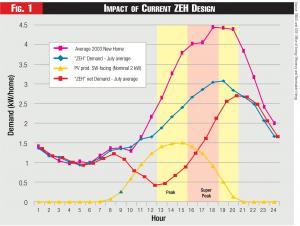 "We've been involved in solar applications for 23 years and have been doing energy efficiency in new-construction homes for about two decades as well," says Wade Hughes, SMUD's SolarSmart project manager. "We started combining those two things in 1999."
The program is essentially a partnership with builders. The utility provides engineering research plus rebates and incentives for energy upgrades and solar installation. Also, it promotes the homes directly to its 560,000 residential customers—the kind of advertising money can't buy. For their part, home builders pony up the $9,000 to $10,000 required to upgrade each house. That's a substantial premium in today's depressed housing market, but the benefits are so great that participation remains strong.
SolarSmart homes sell markedly faster than the standard houses, and appreciate in value more rapidly. Their appeal is widespread. The owner demographic is ethnically diverse, and skews toward middle-income families buying their first home, or those upgrading for the first time. Aside from their surprisingly nocuous PV shingles, houses in SolarSmart communities look just like any other new homes—and that's part of the point.
"One of the objectives of this program was to make these homes available on a wide scale," Hughes says. "We have homes available as small as 1,100 square feet and as large as 5,700 square feet. We have infill stuff downtown, and houses that are more rural. So we really do have a diverse community of home owners and home builders as well."
To date, SMUD has built 487 homes—370 under the SolarSmart smart program and 117 under previous zero-energy home initiatives. In 2007, SMUD set a market-penetration goal of 10 percent to 20 percent within 10 years. In 2008, SolarSmart homes exceeded 30 percent of the new home market.
That such gains occurred in the anemic 2008 new-home market may indicate a new direction for builders when the economy bounces back. In fact, the deep recession may accelerate the trend toward more efficient homes.
"In California, home building is way down—probably less than 10 percent of what it was a couple of years ago," says the DOE's Pratch. "But many builders feel that due to the recent spike in gasoline prices, homeowners are more concerned with efficiency and lower utility bills. They will probably do a lot more with high-efficiency homes when the market picks up."
Hughes says SMUD now envisions a future in which the vast majority of new homes in Sacramento would be built SolarSmart. That would have a significant impact on the utility's generation profile.
The SolarSmart project helps SMUD meet its aggressive board directives on solar and efficiency leadership. It also helps fulfill renewable-portfolio standards. But the bottom line is peak-load management.
"The driving force behind that is the fact that the majority of the energy generated and saved by these homes is generated and saved during peak hours," says Hughes. "If you projected this model out to all new construction you would see a big benefit for us in terms of peak." Over the long term, if 20 percent of all single-family homes in SMUD's territory achieved the kinds of performance demonstrated in the SolarSmart and ZEH programs, the utility would cut more than 100 MW off its summer peak demand.
Such peak-shaving potential is attractive to all types of utilities, including investor-owned utilities seeking to meet compliance requirements or defer peak-serving capacity additions.
"Everything we have achieved can be duplicated in the private utility world, but it does have a lot to do with the disposition of the organization," Hughes says. "We all have environmental regulations. Every utility has a renewable portfolio goal. This is a pretty cost effective way of utilizing a customer investment to help us attain those goals. In California, all investor-owned utilities have programs like ours. They haven't quite achieved the market penetration we have, but they're coming along."
Tucson Saves
Tucson Electric Power has pursued similar goals since the advent of its Guarantee Home Program in 1999, but along a slightly different trajectory. Owned by UniSource Energy, TEP initially saw the program as a way to increase electric sales in the winter.
"When the program began, part of the idea was to create heating load," says TEP spokesman Joe Salkowski. "We had a restriction in the program that precluded the use of a gas furnace. The concept was to make more efficient use of our generating resources, which peak in the summer here. We have to build resources to meet our summer peak."
Like the SMUD initiative, Guarantee Home provides incentives to improve insulation, HVAC and other energy efficiency solutions in new homes. The utility works with builders to certify higher standards. The builders in turn sell homes that qualify for discounted electric rates and a pre-set cap on total heating and cooling costs.
As the program evolved, TEP found the efficiency gains were more significant than winter market share, so TEP dropped the gas heat restriction to stimulate more participation.
"Over time we've become more and more focused on energy efficiency. We didn't want that restriction to get in the way of adoption of this program," Salkowski says. "By creating energy-efficient homes that reduce consumption during peak load hours, we reduced our need to invest in generation. It helps shave our load."
More than half the new homes in TEP's service area now participate in the program, and the investments are starting to pay dividends.
"Through the end of 2008, we've shaved about 21 MW off our peak load, thanks to the program," Salkowski says. "We also calculate that, over the length of the program, we've saved 82,760 MWh, as well as 4,165,643 therms of natural gas."
Austin's Prosumers
Offsetting generation construction also is a principal goal for the efficiency program at municipal utility, Austin Energy.
"In today's environment where carbon is such an issue, there's a business case to be made for avoiding the capital cost of building new generation, particularly peaking generation," says Duncan. "We actually took a coal plant out of our long-range generation plan and replaced it with energy efficiency."
Austin Energy's residential and commercial efficiency programs go all the way back to 1982, and include renovations as well as new construction. Today, 85 local companies provide energy assessments to Austin customers and certify improvements to insulation, ductwork and all types of solar technology.
Over the last four years the programs reduced peak demand by an average of 59 MW and saved 45,700 participating customers an average of 103 million kWh. That translates into an average of $9.8 million in savings per year on electric bills by those customers.
That savings leads to a secondary motivation for the utility—strengthening its relationships with customers.
"Our customer rebates and incentive programs create more contact with our customers than any of our other programs do," Duncan says. "We're starting to use the term 'prosumer,' rather than customer."
Prosumer is a term introduced by Alvin and Heidi Toffler in their book, Revolutionary Wealth, and refers to the idea that people are starting to produce more of what they consume.
"Toffler didn't apply it to the energy sector, but if you put solar photovoltaics on your rooftops there are certain times of the day where you become the producer and the utility becomes the customer," he says. Likewise, as metering systems become more intelligent, they'll allow homeowners and utilities to engage in transactions that value energy services in more complex ways. "So the relationship changes from that of a utility and its customer to a more complex relationship of prosumers—of producers and consumers. We'll be more dependent on each other to meet our needs, rather than us just selling a commodity to a customer."
That's revolutionary thinking in what can be a hidebound industry. But as environmental and cost factors drive growth in sustainable development, and metering systems become smarter and more flexible, utilities will pursue efficiency as a strategic priority. When that happens, such revolutionary thinking will become the rule rather than the exception.