Deck:
Utilities explore the potential of zero-energy homes.
Utilities explore the potential of zero-energy homes.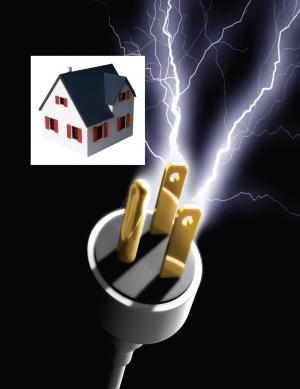 Like much of California's Central Valley, Sacramento has a Mediterranean climate, with cool, wet winters and summers that are hot, dry and clear. It makes an ideal place for solar-integrated homes; to wit, the sun reliably shines hardest on the peak load days, when extra power generation is most needed.
A moderately-sized new home built to code in the California capitol draws about 4.5 kW at a summer peak. But at Premier Gardens, a 95-house subdivision, that number has been shaved to just 1.5 kW.
Built to energy-efficiency standards that far exceed the state's stringent building code and outfitted with photovoltaic roofs, Premier Gardens is on the green-building vanguard. And yet the houses actually could be better. Built in 2003, the homes don't have smart meters. That means no net metering or smart-home efficiency savings.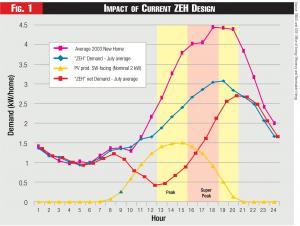 "We went from 4.5 kW to 1.5 kW without smart meters," says the U.S. Department of Energy's Lew Pratch. "A smart house would take the home's demand down from 1.5 kW to being maybe a net producer."
Pratch is project manager for the Zero Energy Home program, a DOE effort to build affordable, energy-neutral houses in all the nation's major climates by 2020. The Premier Gardens development shows just how close that goal is to reality.
Zero-energy homes (ZEH) promise revolutionary environmental benefits, and customers appreciate the energy cost savings. The technology needed for a zero-energy house exists today, and it's becoming more cost effective all the time—particularly as utilities build out smart-metering infrastructure to take advantage of the potential of distributed resources. But the most compelling aspect of ultra-efficient homes is the energy they save utilities—especially peak generation. If builders adopt ZEH technologies and home designs on a widespread basis, they'll significantly reduce peak load on the grid, smoothing or eliminating the most costly spikes of the year.
"There's no doubt energy efficiency is the cheapest alternative to new generation supply," says Roger Duncan, general manager of Austin Energy in Texas.
There are other benefits too, but realizing them requires utilities to harmonize their approach to efficiency programs, and fundamentally transform their relationship with customers. Innovative utilities—both public and private—are showing the way by partnering with builders, consultants and the government to develop ZEH across the country. So far, the results are encouraging.
SMUD Smarts
The Premier Gardens project is just one of many for the Sacramento Municipal Utility District (SMUD). The publicly-owned utility has a long track record of efficiency efforts.
"We've been involved in solar applications for 23 years and have been doing energy efficiency in new-construction homes for about two decades as well," says Wade Hughes, SMUD's SolarSmart project manager. "We started combining those two things in 1999."
The program is essentially a partnership with builders. The utility provides engineering research plus rebates and incentives for energy upgrades and solar installation. Also, it promotes the homes directly to its 560,000 residential customers—the kind of advertising money can't buy. For their part, home builders pony up the $9,000 to $10,000 required to upgrade each house.