Deck:
NARUC decries conditions on states for federal grants.
Author Bio:
Lori A. Burkhart is Fortnightly's managing editor.
NARUC decries conditions on states for federal grants.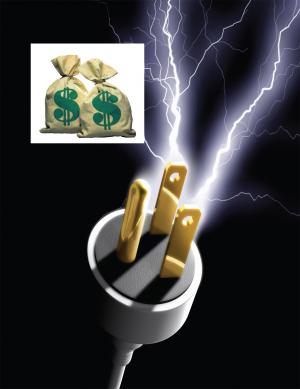 President Barack Obama on February 17 signed into law the American Recovery and Reinvestment Act of 2009, also known simply as the Stimulus Bill, which contained provisions allowing for investments approaching $100 billion in green energy alone. For example, some $11 billion overall will be spent on the smart grid and advanced electric meters, while $6.3 billion is slated for state and local governments to make investments in energy efficiency and $3.1 billion will go for energy efficiency and conservation block grants to states.
These grants are needed because many state governments are facing budget shortfalls and so they may lack sufficient financial resources to take advantage of the full potential of energy-efficiency programs available for implementation. The Stimulus Bill aims to help states promote clean-energy development and efficiency programs while creating jobs in the sector.
Specifically, Section 7006 of the bill establishes $3.1 billion in state grants under the Energy Policy and Conservation Act (EPCA) for energy efficiency and conservation. The Department of Energy, however, had its authority to give such grants conditioned upon obtaining written assurances that the governor of the state will implement certain regulatory and ratemaking policies (see sidebar "Stimulus: Strings Attached") . State regulators consider such conditions an unwarranted intrusion into the ratemaking process, and also an unnecessary impediment to implementation of green programs in general.
The National Association of Regulatory Utility Commissioners (NARUC) responded to early versions of the bill, decrying the retail rate conditions placed upon state access to energy-efficiency grants. The draft bill imposed requirements that states implement rate decoupling as a condition to receiving grants. That decoupling requirement was removed in the final version of the bill. But NARUC President Frederick F. Butler—who serves as a commissioner on the New Jersey Board of Public Utilities—issued a statement of caution about the bill's language. "These ambiguous conditions will create confusion and legal uncertainty and will likely delay or preclude the release of these critical funds."
Fortnightly asked Butler to elaborate on those remarks.
Fortnightly: What's your overall perspective on the energy provisions in The American Recovery and Reinvestment Act of 2009—commonly called the Stimulus Bill?
Butler: Overall, while we are glad to see so much attention and money given to energy-efficiency and smart-grid issues, we have real concerns about the way the bill allocates funds to the state energy program account.
The final product imposes conditions that might be "less bad" than initial drafts, but they still interfere with the state regulatory process by requiring governors to gain assurances from their regulators about actions they have to take.
This point is important because our members are statutorily required to consider how retail electricity policies and practices will impact end-use consumers. Remember, states have been the ones pursuing innovative rate structures, renewable portfolio standards, integrated-resource planning, and reducing greenhouse gases for years—well before the federal government starting looking into these issues.
Our concern is that the stimulus package doesn't recognize the progress states have made in