Author Bio:
Scott M. Gawlicki  is a  Fortnightly contributing editor and energy industry writer. Email him at: s.gawlicki@excite.com.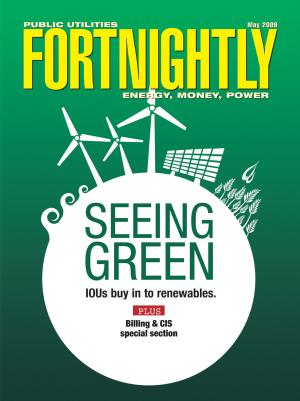 Advanced metering infrastructure (AMI) allows utilities to take a large step forward in the way they interact with customers—at least in theory. In practice, few utilities actually have closed the loop and combined smart meters with smart rates—and a smart billing and customer information system (CIS). The biggest example so far is north of the border in Ontario, Canada.
During the past three years, Ontario has instituted a full-scope AMI program that will bring smart metering and time-of-use (TOU) rates to 90 licensed distribution companies (LDCs) and, cumulatively, some 4.5 million residential and 500,000 commercial and industrial businesses by the end of 2010.
Most important, several small LDCs already are billing TOU rates to residential customers via their existing CIS. By the end of this year, roughly 55,000 residential customers will be receiving electricity bills based on Ontario's TOU rates (see Figure 1) .
Indeed, the Ottawa program already is addressing CIS-related issues facing U.S. electric utilities looking to implement an AMI and smart-grid program, including:
• How to set up the meter data management system (MDM) most experts say will be needed to collect and process the smart-meter data;
• How to incorporate the technical standards needed to ensure the smart meters can send TOU data to the MDM; and
• How to process and move the TOU data from the MDM into an existing CIS.
Experts agree that in many cases a utility will need MDM to gather the AMI-use data, place it in a batch format and deliver it to the utility's CIS. That's what Ontario has done. Ontario law requires each LDC to provide TOU billing. Many are still in the process of installing smart meters throughout their service territories, which range in size from 3,000 to 1.2 million meters.
However, instead of each LDC implementing its own MDM, the government created a single MDM to gather and integrate TOU data from all 90 LDCs in the province. Development of the MDM was overseen by Ontario's Independent Electricity System Operator (IESO), which chose IBM Canada to build and operate the MDM system in 2006. The system was designed around an eMeter EnergyIP platform and is now a central hub for all 90 LDCs in the province
Key to the MDM design is its customized gateway software, which: 1) supports the data delivery formats of six metering technologies and the central MDM system; and 2) also provides a single set of uniform interfaces for providing TOU billing quantities and synchronizing customer data to each LDC's CIS.
How it works
Simply put, the MDM places the data in off- mid- or on-peak rate buckets. The buckets are then delivered to each LDC's CIS, which calculates the charge for each rate period and ultimately spits out a monthly invoice that includes a breakout of the TOU charges.
Not surprisingly, a project of this magnitude has generated plenty of challenges, both for the Independent Electricity System Operator (IESO) in Ontario and the