Deck:
Utilities and financiers want ratepayers to fund the next wave of power plants. Will higher electric rates spoil the party?
Author Bio:
Richard Stavros is Fortnightly's Executive Editor.
You've heard the story. The local utility ought to be investing billions in new power plants, but the company CEO wants a guarantee from regulators for upfront costs and future operating expenses before laying down dollar one on the project.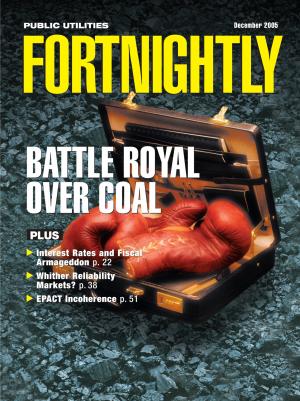 What to do?
Utility CEOs attending the Edison Electric Institute's 40th Financial Conference last month in Hollywood, Fla., were shuffling to the old rate base song-and-dance. But this time, they were working out a few new moves.
Just listen to AEP CEO Michael Morris, calling again for the "regulatory compact." Or Progress Energy CEO Robert B. McGehee, who says that regulation today means brushing up on political skills. And Allan J. Fohrer, CEO of Southern California Edison, who still worries about after-the-fact prudence reviews.
Fear of being underappreciated affects every close relationship. Nearly every utility CEO who took the podium for his own presentation displayed a clear affection for the regulator—plus a warning for any who might dare neglect that relationship. One executive from Exelon recounted various ups and downs with the Illinois Commerce Commission. It seems that ComEd was planning to buy energy using a "reverse auction." A research analyst at a prominent investment bank was not amused, later calling Exelon a "work-out story."
This re-emergence of the regulator in all sorts of utility development plans promises a return to a set of dynamics not seen for a decade or more. Whereas it was the investor community that carried the risk for the most recent (and speculative) boom in power-plant construction, the financiers and now the utility executives clearly aren't willing to take the same risk again. They want "a sure thing," as one executive put it. That means ratepayers will be carrying most of the risk.
While most expect that competitive markets eventually will lead to new plant construction, many financiers now say they won't back the projects without long-term contracts. Yet even that strategy carries uncertainty. For example, even as utility executives and their financiers take comfort in rate base regulation, the billions needed to finance the next development boom would certainly raise electric rates to a point beyond political feasibility.
What else can utilities do?
Alternatives to Rate Base
Without a regulated rate base or a long-term contract, there are few options to get plants built. Even with today's competitive markets, which often feature a separate payment for capacity value, on top of the basic energy price, many merchant developers still are loath to take the same risks they did just a few years ago. They probably would have a difficult time building "on spec."
In addition, utility executives increasingly are concerned that efforts in the Energy Policy Act of 2005 to promote energy infrastructure are being misinterpreted by state and federal regulators. Specifically, many worry that the repeal of the Public Utility Holding Company Act (PUHCA) will be replaced by more restrictive regulation both at the state and federal level, further stifling investment. Even one of the architects of the legislation, Congressman Joe Barton, recently warned the Federal Energy Regulatory Commission (FERC) about going beyond the intentions of Congress:
"I take particular exception," he wrote, "to the view that [the] PUHCA Repeal Subtitle is merely a congressional punch list with tight deadlines that make it difficult for the commission to engage in a 'comprehensive review' needed for rethinking and recreating regulatory infrastructure in fundamental ways."
Instead, Barton saw repeal as an instruction to FERC to back away:
The fact of "tight deadlines," he continued, showed that Congress saw "no need, or authority, for the commission to engage in a wholesale re-regulation in the wake of PUHCA repeal.
"Now is not the time," he concluded, "to revive PUHCA by recreating obsolete regulatory infrastructure."
Other efforts to promote investment continue to be a matter of heated debate, like the different ICAP and LICAP models that are being bandied about the industry to promote infrastructure development in competitive markets (see "PJM's New Game").
On Time and Under Budget?
In a world where rate base rules the roost, questions again are being voiced about how the industry will avoid the cost overruns, overbuilding, and inefficient operations that dogged the last great expansion of power-plant capacity, which lasted at least through the mid- to late 1970s.
The answers by utility execs at the conference were not always reassuring. Some admitted that many companies had lost project-development skills after going so long without building. Southern California Edison's Fohrer said that his utility would be expanding its skill set over the next few years.
"We're focusing on skills that we didn't have before. … We're looking at $2 billion budget with projects of $700 million. … We have to rebuild project management skills." Fohrer said the utility had been engaging in only million- dollar projects previously.
In fact, many of the CEOs who chaired panels during the conference expressed the need for expansion in power project or construction skills. Others were extremely optimistic that they would be able to build effectively. TXU CEO John Wilder boasted that his company's management expertise on planned coal plants would mean returns of 15 percent, whereas other competitors operating within ERCOT (the Electric Reliability Council of Texas) might earn only 5 percent. Wilder saw some opportunities in the "merchant" coal space throughout the country, but he may have been the only executive who uttered the word "merchant" the entire week of the conference.
How to Spend Billions
Will power-plant development be money well spent? Fohrer said his company would spend $2 billion per year for five years on transmission, distribution, and generation. The CEO of AES said he would spend $700 million on maintaining his capital investment, $150 million on environmental compliance, and possibly more than $1 billion on new capital projects. Progress Energy claimed $1.5 billion in future capital expenditures over five years. And Cinergy's CEO said he'd spend $5.4 billion over five years (50 percent of that on maintaining the capital infrastructure.)
Those sums might not look like much to the seasoned executive, but Richard Rudden, managing director, R.J. Rudden Associates, a Black & Veatch company, provided a whopping number for transmission and capital development over 10 years: as much as $300 billion industry-wide. He said that could mean a 40 percent cumulative increase in retail electric rates, and he warned that regulators might go back to conducting prudence reviews.
That would be a cold splash of water on the warming relationship between regulators and utilities. But in the end, no matter how it plays out, both will have to face the music.