Deck:
Getting realistic about energy efficiency.
Author Bio:
Sartaz Ahmed is principal at Booz & Co. (N.A.). Contact her at sartaz.ahmed@booz.com. Andrew Clyde, Jim Hendrickson and Joe Vandenberg are vice presidents at Booz & Co. (N.A.). The authors acknowledge contributions by consultants Eric Adamson and Bryan Bennet.
Getting realistic about energy efficiency.
Energy efficiency has emerged as a prominent component of our nation's energy agenda. This, however, is nothing new. Efficiency always has been perceived as a panacea, particularly during times of rising electricity prices, electricity supply shortages, or transmission constraints. It remains the ultimate low-cost solution that benefits all stakeholders from the federal government to the individual and everyone in between. At the individual level, energy efficiency helps consumers lower their energy bills. It allows utilities to both manage capacity additions during supply shortages and maintain grid stability during transmission constraints. Finally, governments at all levels—federal, state, and local—rely on this low-cost solution to improve supply security and to garner support during times of electricity price escalation. Today, faced with an additional and unique challenge of reducing greenhouse-gas (GHG) emissions on a global level, energy efficiency once more is emerging as an apparent silver bullet solution.
Studies over the past several years have analyzed various measures to reduce GHG emissions—from transportation to power generation to industrial production—and each cite energy efficiency as the cure-all solution. Many have claimed it not only to be the low-cost, or no-cost, solution, but the no-lose investment that will provide the nation with substantial net savings in the process. According to one report issued earlier this year, efficiency can provide $1.2 trillion in energy savings from only $520 billion in upfront investment by 2020, reducing demand by 23 percent. With these numbers, who wouldn't want to retrofit an entire house (or business) today?
Unfortunately, experience shows that energy efficiency is far from a simple solution, and that many top-down abatement projections are wildly unrealistic. Energy efficiency can, and will, play a critical role in addressing our nation's energy problems, but the tone must be both pragmatic about the savings opportunities that can be achieved and clear about the paths that will enable the realization of these savings in a cost-effective manner. Therefore, a practical approach is necessary that goes beyond what's theoretically or technically possible, to what is realistic and can be planned for, given the suite of barriers that exist today. Many of the studies that have been conducted to date fall short on these two aspects, and consequently present overly optimistic and misleading scenarios.
Barriers to Savings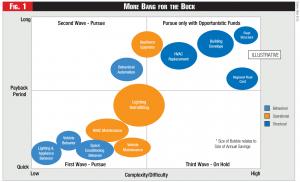 Barriers to energy efficiency adoption can be broken down into two distinct categories: Marketplace barriers affecting efficiency measures within the commercial, industrial, and residential communities; and program and policy barriers affecting development of a coordinated and coherent set of programs and policies to address these constraints and accelerate adoption.