New Opportunities: MidAmerican Energy Holdings announced the appointment of Michael Dunn as president of PacifiCorp Energy. He was president of MidAmerican subsidiary, Kern River Gas Transmission.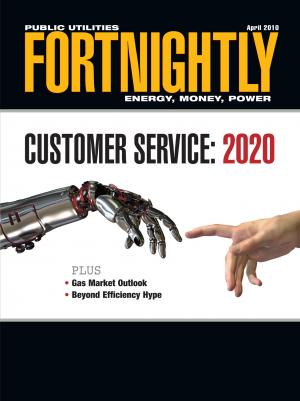 NiSource Inc. announced that Jimmy D. Staton, executive v.p. and group CEO of NiSource's gas distribution business, also will assume the added responsibility of leading the NiSource Indiana utilities, including Northern Indiana Public Service.
Vectren chose Carl L. Chapman to serve as CEO. He was president and COO and succeeds the retiring Niel C. Ellerbrook.
AmerenUE promoted David N. Wakeman to v.p., energy delivery from manager of distribution operating.
FirstEnergy named Charles E. Jones its senior v.p. and president, FirstEnergy Utilities, from senior v.p., energy delivery and customer service. He succeeds the retired Richard R. Rigg.
Constellation Energy named Michael D. Smith as senior v.p. of retail green initiatives for Constellation NewEnergy. He was v.p. and director of Constellation's international energy police office in London.
NV Energy announced that E. Kevin Bethel, current chief accounting officer and controller, will serve as interim CFO until a permanent successor is named due to the resignation of William D. Rogers as CFO and treasurer.
People's Natural Gas named Morgan K. O'Brien as CEO. He was CEO of Duquesne Light Holdings. Kenneth M. Johnston is named v.p. of operations of the company, which was Dominion Peoples Gas until an ownership change on February 1.
The Empire District Electric Co. promoted Brad Beecher to executive v.p. and COO-electric from v.p. and COO.
The National Association of Regulatory Utility Commissioners named Orjiakor Isiogu as co-chair of the NARUC-FERC smart-grid collaborative. He is chairman of the Michigan Public Service Commission. He replaces outgoing co-chair and former NARUC president Frederick Butler of New Jersey. FERC Chairman Jon Wellinghoff is co-chair.
Spectra Energy appointed Steven Baker, former v.p. of subsidiary Union Gas, to v.p. and treasurer, Spectra Energy. Allen Capps, v.p. and treasurer, Spectra Energy, will assume Baker's role of v.p., business development storage and transmission at Union Gas.
Electric Power Generation Association hired Jacob G. Smeltz as v.p., legislative and regulatory affairs. He was minority executive director of the Consumer Affairs Committee of the Pennsylvania House of Representatives.
The Electric Power Supply Association elected Clarence (Joe) Hopf Jr. as chairman for 2010. Hopf is president of PSEG Energy Resources & Trade. Jack A. Fusco, president and CEO of Calpine, is first vice chairman; Ronald L. Litzinger, president and CEO of Edison Mission Group is second vice chairman; Zin Smati, president and CEO of GDF Suez Energy NA is secretary; and John O'Neal, senior v.p. and CCO of Mirant is treasurer.
Boards of Directors: Allete announced that Don Shippar, chairman and CEO retired. He will continue as chairman of Allete's board of directors. He is replaced by Alan Hodnik, formerly president.
Chesapeake Utilities appointed John R. Schimkaitis as vice chairman of the board. He continues in his role as CEO. Also appointed to the board is Michael P. McMasters, who will continue as company COO and is promoted to president.
Pacific Gas and Electric elected Christopher P. Johns to its board. He currently serves as president.
Northeast Utilities elected Dennis R. Wraase as a trustee on its board. He was chairman and CEO of Pepco Holdings, Inc.
We welcome submissions to People, especially those accompanied by a high-resolution color photograph. E-mail to: people@pur.com.