Deck:
Integrating renewables in New York.
Author Bio:
Rana Mukerji is senior vice president – market structures, with the New York Independent System Operator (NYISO).
Wind energy provides many benefits, such as a low energy costs and a near-zero carbon footprint, but it also brings new challenges, a consequence of wind's intermittent nature. These challenges must be overcome by ISO/RTOs and other entities responsible for the reliable and efficient operation of the power grid.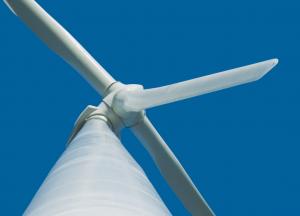 The New York Independent System Operator (NYISO) administers the wholesale electricity market for New York State. The NYISO runs a day-ahead and a real-time market for electricity. The day-ahead market provides generators with a financially binding schedule of operation. As anticipated load, available generation, and system conditions changes from the time the day-ahead market is settled, the NYISO also operates a real-time market that's intended to efficiently and economically balance system changes.
In addition, the NYISO schedules transmission service for direct transactions between buyers and sellers—i.e., bilateral transactions. While the cost of energy in a bilateral transaction is negotiated outside the NYISO's marketplace, a bid-based system is used to make transmission service available. Roughly 95 percent of energy is scheduled in the day-ahead market, while the remaining 5 percent is accounted for in the real-time market. About half of the energy settled in the day-ahead market is scheduled through bilateral contracts.
The NYISO administers competitive markets for key ancillary services that are required to support the power system. The two most important ancillary services are reserves and regulation. The NYISO aims to minimize the cost of serving electricity by electricity by optimizing energy, reserves, and regulation in its security constrained economic dispatch algorithm.
Reserves are resources available to provide fast ramping power in the event of a unit or line trip. Reserve resources can either be spinning (on-line with additional ramping ability) or non-spinning (off-line, but able to start and synchronize quickly). The NYISO maintains varying levels of reserves in different parts of the state. Regulation providers keep load and generation in constant balance. NYISO performs a system-wide re-dispatch every five minutes to balance generation with short-term predicted system changes, and relies on regulating resources to quickly adjust their output and consumption, and continuously balance conditions within those five-minute dispatches. Resources selected to be regulation providers must be capable of simultaneously providing the service in both the upward and downward directions. Regulation resources are a key component of integrating large amounts of intermittent resources such as wind without compromising system reliability.
Growth of Renewable Resources
Climate change concerns coupled with high oil prices are driving renewable energy legislation and incentives for renewable energy resources. Renewable portfolio standards (RPS) are being adopted and give incentives for energy production from renewable resources such as hydro, wind, solar, geothermal and biomass technologies. Globally, $162 billion was invested in new sustainable energy in 2009. This investment helped increase the amount of renewable energy to 245 GW (without hydro), which is equivalent to 7 percent of installed generation capacity.1
In New York the predominant renewable resources are hydro and wind. Wind power, in terms of both capacity and generation, has surged in New York. In recent years, more than 1,300 MW of wind capacity has been added to the grid (see Figure 1). The continued growth of wind as a generation resource in New York is expected for the foreseeable future due to a variety of factors, including the state's RPS and New York's participation in the Regional Greenhouse Gas Initiative (RGGI).
In September 2004, the New York State Public Service Commission (PSC) issued its "Order Approving Renewable Portfolio Standard Policy." That order identified the commission's renewable energy policy and provided definitions and targets for carrying it out. The policy calls for an increase in renewable energy, including wind resources, used in the state from the then-current level of about 19 percent to 25 percent by the year 2013.
Concurrent with this order, the NYISO and the New York State Energy Research and Development Authority (NYSERDA) commissioned a joint study to evaluate the reliability impacts of increased wind generation. In 2010, NYISO staff performed its own assessment of reliability impacts of wind generation up to 8,000 MW and published a study report in September 2010.2 The current state of the NYISO interconnection queue supports the conclusion that wind power capacity will continue to grow in New York. More than 8,000 MW of wind capacity is proposed or already online, which represents about 38 percent of the capacity in the queue. One of the NYISO study's findings was that accommodating the 8,000 MW of wind would increase the regulation requirements from today's 275 MW peak requirement to a level of 425 MW—a significant increase.
The advent in New York State of market-based rates for energy and ancillary services, coupled with the ever-increasing investment in wind resources to meet the NYS RPS, is driving new research and investment in the energy storage field (see sidebar "Creating a Market For Storage"). These technology investments are targeting the increased regulation needs to reliably balance the intermittent nature of the renewable resources.
Wind resources have clustered in northern and western areas of New York State (see Figure 2), which can lead to transmission system constraints at times of high wind production and low loads or other operational limitations such as equipment outages. Dispatching other resources around wind plant output alone might not be adequate to efficiently manage the expected levels of wind generation in New York.
Wind on Dispatch
In June 2008, the NYISO implemented a centralized wind forecasting system to forecast the amount of energy expected to be produced by each wind plant for use in the NYISO's day-ahead and real-time security constrained economic dispatch systems. Wind plants are also required to collect data on wind speed and direction and transmit that data to the NYISO's forecast vendor as well as to make payments to maintain the forecasting system. The NYISO uses the wind data to create wind power output forecasts and includes those into its day-ahead and real-time economic dispatch processes.
Accurate wind power forecasts in the day-ahead unit commitment process minimize the potential to over- or under-commit other generation resources to meet forecast load when wind generation—which isn't required to offer into the day-ahead market—injects megawatts in the real-time market. After the day-ahead commitment, updated wind forecasts, which are provided in 15-minute intervals, are evaluated in the NYISO real-time commitment and dispatch processes. The wind forecast allows the NYISO to produce more efficient commitment decisions in real-time and allows more efficient transaction scheduling with neighboring control areas.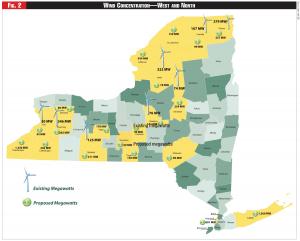 To enhance the NYISO's operational control of New York wind resources in order to increase the ability to reliably and efficiently operate the New York transmission system—and to accommodate increased levels of wind powered resources—the NYISO in 2009 implemented the capability to direct wind resources to reduce their output when necessary and economically appropriate. The integration of increased levels of wind will be facilitated by using the NYISO's market software to evaluate the economic offers submitted by all generation resources, including wind plants, to determine the most cost-effective way to address reliability issues (see Figure 3). Integration of wind plants into NYISO's real-time dispatch tools serves several objectives, including:
• Minimizing less-efficient manual out-of-market intervention by system operators or wind plant operators to address system reliability issues;
• Allowing wind resources to indicate their economic willingness to generate, identifying the most efficient resources to address constraints and incorporate energy reduction instructions into the market-clearing price;
• Evaluating the operation of wind plants on a five-minute basis to minimize the period and amount of generation curtailments; and
• Enhancing the reliability of the transmission grid and increasing the utilization of the transmission system.
Before the implementation of this feature, wind plants were subject to more negative pricing intervals. Negative prices mean generation has to pay the grid operator for every megawatt it generates. Such pricing patterns occur when wind generation is bottled due to transmission limitations. The negative prices drive wind plants off line, which can also cause reliability problems. Allowing wind plants to be dispatched downwards allows them to ride through congested intervals without pushing the entire plant off-line.
Broader Regional Markets
The intermittency of wind generation can be accommodated more effectively when the balancing area is large. This means that regional coordination is essential as we increase the proportion of wind and other intermittent sources of renewable power. The NYISO is working with its neighbors to implement an initiative called "Broader Regional Markets" that allows this to happen.
The broader regional initiative involves more frequent interchanges with neighboring control areas (currently interchanges are done hourly), coordinated congestion management (where transmission limitations are alleviated by re-dispatching generation on a regional basis), consistent pricing at power interchange points, and charging congestion costs to transactions that cause congestion.
NYISO will be implementing its first Broader Regional Market rule this summer. In this implementation, NYISO will increase the frequency of interchanges with Hydro Quebec from one every hour to once every 15 minutes. This will be increased to once every five minutes by 2012. This increased frequency of transactions will allow NYISO to utilize the immense hydro storage capacity of Quebec to balance the intermittency of wind. Hydro Quebec also will benefit from the ability to buy renewable energy at low prices and conserve hydro resources, which then can be offered at times of greater need. NYISO will also be implementing more frequent scheduling with ISO New England and PJM. That will allow wind energy to be more effectively integrated regionally.
New York has developed new market mechanisms intended to effectively incorporate large amounts of renewable energy in the future. New York is positioned to effectively accommodate up to six times the current levels of intermittent energy without impacting system reliability. This will help drive new investment in renewable energy in New York, as well as significant consumer benefits.
Endnotes:
1. United Nations Environment Programme – Global Trends in Sustainable Energy Investment 2010.
2. Growing Wind: Final Report of the NYISO 2010 Wind Generation Study, September 2010.