Deck:
Unlocking value in the evolving energy marketplace.
Author Bio:
Greg Guthridge (gregory.s.guthridge@accenture.com) is the global senior executive lead for Accenture retail and business services for utilities. Michael Britt (michael.britt@accenture.com) is an Accenture utilities strategy senior manager. The authors acknowledge the contributions of Tim Porter, Michael Dary and Shan Parmar.
Energy providers are awash in change. As the industry continues responding to concerns over climate change, the safety and security of supply, and volatile energy prices, disruptive technologies are supporting the development of new value-added products and services—and creating opportunities and challenges for utilities and energy providers. From electric vehicles and distributed generation to home area networks, advances in the cost and availability of these technologies are accelerating consumer interest and adoption.
The evolving energy marketplace includes in-home consumer products and technologies and demand-side management programs, as well as related support services. As value-added products and services proliferate, so will utilities' competition from traditional and non-traditional players. Indeed, the introduction of the beyond-the-meter marketplace will challenge utilities to rethink their customer relationships beyond business-as-usual activities.1 In other words, it has become more important than ever for utilities and energy providers to develop a deeper understanding of consumer needs and preferences and to effectively address them.
Building on Understanding Consumer Preferences in Energy Efficiency, a research report published in 2010,2 Accenture recently conducted a second large-scale study. In Revealing the Values of the New Energy Consumer, Accenture surveyed more than 10,000 residential consumers across 18 geographies. Combined with industry analysis, the study's findings yield insights about how energy providers should focus and where they should invest as the market evolves beyond the meter.
Evolving Energy Market
In non-competitive and competitive markets alike, utilities face the realities of an evolving energy marketplace. In non-competitive markets, non-traditional players, such as retailers and other home service providers, are entering the beyond-the-meter market with products and services designed to complement regulated utilities' commodity services. Home energy management services are just one example. Meanwhile, in competitive markets, energy providers must improve customer retention and stickiness in commodity sales and also must compete against other energy providers and diverse new entrants, such as product retailers and telecommunications companies, around value-added products and services. Accenture's study confirms that these non-traditional competitors might pose a threat and that energy consumers are consumers first; they will seek out the providers that offer the most value. In Accenture's survey, nearly three-quarters of consumers (73 percent) indicated that they would consider buying electricity, energy efficiency products, and related services from providers other than their electricity suppliers. More than half (59 percent) would consider buying from retailers, 49 percent from cable or phone companies, and 45 percent from online sites, such as Amazon and Google. These findings underscore the potential for other companies to enter the market and insert themselves between a utility and its consumers.
The research also suggests that utilities and energy providers have valuable opportunities to further strengthen customer relationships. Most consumers say they would still go to their utilities or energy providers to buy electricity and choose an electricity pricing program or to obtain personalized information about their electricity usage (73 percent and 67 percent, respectively) (see Figure 1). Further, the study's findings indicate that energy providers can build on the relatively high level of trust consumers have in them compared to alternative suppliers. Twenty-eight percent of respondents trust their utilities to provide them with information about how to take actions to optimize their energy consumption. Online sites are close behind (22 percent), while retailers are currently the least trusted (14 percent).

Of course, every geography and regulatory framework presents a distinct reality. The level of competition each utility or energy provider will face—and how much time it has to prepare—varies. However, utilities and energy providers are wise not to take a wait-and-see approach. On the contrary, they have an important opportunity to help shape and participate in the evolving energy marketplace. But to do so, they should consider reshaping their customer operations—with a clear focus on innovation, product development, customer centricity, and diverse partnerships.
To that end, utilities and energy providers are advised to focus on three core areas that are fraught with change and opportunity: advancing customer and operational data analytics, building an effective innovation engine, and developing a new approach to defining and serving the energy consumer.
Information: The New Currency
Smart technology and channel proliferation will generate vast quantities of data that utilities can use to understand—in real time—consumer response to sales and marketing initiatives and demand-response programs. Just how much data will be produced is anyone's guess. However, it will certainly be enough to help utilities deepen consumer knowledge through a detailed view of consumers' values, expectations, and past interactions.
Accenture's research confirms that energy consumers have a diverse set of preferences. When asked to trade off attributes of energy management programs, energy consumers can be segmented into six distinct and actionable global segments (see Figure 2). That diversity drives the need for differentiated propositions and experiences.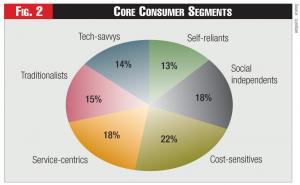 In the evolving energy marketplace, how well an energy provider understands consumers and applies that insight across its business will be the difference between leading or falling behind. After all, competitors—within and outside the energy industry—will also be gathering and analyzing customer information. Utilities and energy providers need to leverage their short-term advantages—i.e., the vast customer and meter data they already possess, and their incumbent positions as their customers' energy providers, before this data is used against them by current or future competitors. Leading energy providers will compound that advantage by augmenting traditional customer insight and segmentation capabilities based on consumer needs, values, and behaviors with new types of customer data from bi-directional channels, such as smart meters and social media sites. By tapping into the full potential of customer insight, utilities and energy providers can further strengthen consumer relationships and deliver differentiated products and services—both of which are critical to protecting existing business and rising to new competitive challenges.
As utilities increase their reach in the beyond-the-meter market, they might also choose, or need, to use consumer data in other ways, such as sharing data with third parties. The research shows that consumers might not be opposed to having their usage data shared with third-parties—as long as it enables their utilities to deliver greater value. Indeed, when data is shared only for purposes of improving beyond-the-meter programs, nearly two-thirds of consumers (63 percent) aren't opposed to having their data shared. To encourage consumers to opt in, energy providers must first build consumer trust. They must also clearly explain and alleviate concerns related to the level of utility control implicit in any program offer.
Despite its importance, customer information is only one of the keys to success. In the evolving energy marketplace, energy providers will also need next-generation operational analytics. These analytics will define new measures of performance beyond the traditional mission of delivering a commodity in the most efficient, cost-effective manner possible. Utilities will also need to define and manage new metrics, such as cost-to-adopt—a measurement of how much an energy provider must spend to persuade a consumer to purchase or sign up for a beyond-the-meter product and service.
Innovation in Customer Operations
With some of the brightest engineering minds in the world, utilities have long excelled at innovation. Until now, however, many have focused those capabilities on solving complex supply and distribution problems. In the evolving energy marketplace, one of the key opportunities is directing innovation toward fresh customer objectives and outcomes—for example, building innovative products and services or strengthening consumer relationships.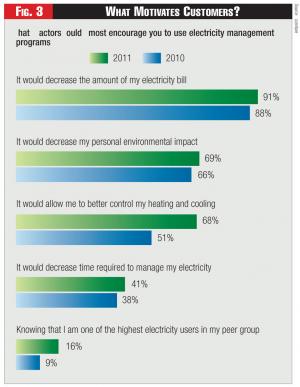 Research findings support the need for a new approach to innovation. Survey responses indicate that when it comes to energy management programs, price isn't consumers' only consideration. While 91 percent of consumers consider the decrease to their electricity bill a key driver of program adoption, a majority of consumers indicate that a reduction in personal environmental impact and an increase in personal control of home temperature would also encourage them to sign up for an electricity management program (see Figure 3).
Program elements, such as loyalty rewards, provision of in-home installation services, types of in-home displays, and convenience, are but a few of the other factors providers should consider when building value added products and services. Further, when prices are tested through a conjoint analysis—in which consumers are forced to trade off between programs with different elements—an interesting result emerges. Twenty-nine percent of all energy consumers would be willing to adopt an energy management program (that includes a specific mix of program elements), despite an increase to their electricity bill of 5 percent. Furthermore, a majority of consumers (57 percent) would adopt an energy management program even if it didn't reduce their electricity bills. Lastly, the findings reveal that beyond a 5 percent reduction on the electricity bill, there's limited elasticity in the increase in adoption (see Figure 4).
Thus, providers seeking to win in the evolving energy marketplace need to think beyond price and understand the values of the energy consumer. Providers can create an innovation engine for continually developing and delivering differentiated energy products and services. Those differentiated offerings, in turn, will help in achieving desired adoption levels.
A strong commitment to innovation will be critical for any utility that decides to pursue opportunities in the evolving energy marketplace. To capture a share, utilities and energy providers will need to develop a sophisticated set of product, service, and pricing portfolio capabilities to address a range of consumer needs. They will need to be fast to market—but without sacrificing the tailored features that consumers value.
Redefining 'Consumer'
Today, it's relatively simple for a utility or energy provider to define a retail consumer as the bill payer attached to a fixed premise. But as electric vehicles, prepaid energy cards, solar panels, and other new technologies take hold, there will be nothing simple about defining energy consumers. Some of an energy provider's consumers will be on the move, consuming energy services in various places and in varying quantities. Others might not be paying the bill but will still play a critical role in how energy services are selected and used.
Energy providers must begin to think of energy consumers as much more than the bill payers of today. Lifestyle implications and choices, family values and entertainment, convenience, simplicity, and technological innovations are areas in which different consumers see opportunities for new energy products and services.
Accenture's findings illustrate the need for utilities and energy providers to prepare for new consumers and new service channels—and to build the capabilities necessary for differentiated products and services. In the latest survey, 60 percent of respondents indicated they would be interested in technology for completely automating the management of their electricity. More than one-third would like the ability to monitor and manage usage through personal electronics (36 percent) or to customize their online energy portal or in-home display (35 percent).
Additionally, consumers expect electricity consumption to be a family matter. Eighty-nine percent say it's important or very important for energy management programs to be easy to use for the whole family (see Figure 5). When asked what features they would seek, 20 percent said they would be interested in energy management programs that included family activities and games about electricity usage.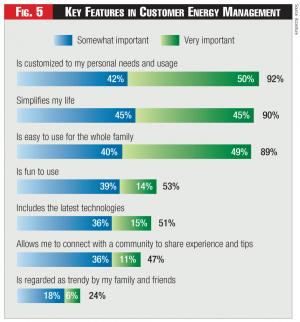 Interestingly, the research suggests that the complex nature of beyond-the-meter products and services might not be suited for traditional channels, such as the call center. When buying energy efficient products, 52 percent of survey respondents indicated that they would like to make purchases with a staff member in a store location. Only 29 percent would be happy purchasing online without interacting with staff. Similarly, when purchasing a convenience-oriented energy management program, 63 percent of consumers would want to buy from a staff member either in store or at home.
Remodeling the Business
Utilities and energy providers will need to re-examine—and, in all likelihood, redefine—their business models, operating models, and partner relationships to build the agility and flexibility required to address dynamic consumer needs and to strengthen existing and new consumer relationships. As utilities respond to the opportunities and challenges of the evolving energy marketplace, a number of dynamic business models (see Figure 6) are emerging around the globe:
• Standard provider: Any energy provider that opts not to move beyond the meter and instead continues its focus on differentiating within the meter, providing cost-effective, efficient, and reliable energy to as many consumers as possible.
• Marketplace advisor: Any energy provider that maintains primary ownership of consumer relationships and continues providing core energy services while working aggressively to build its reputation as a trusted advisor.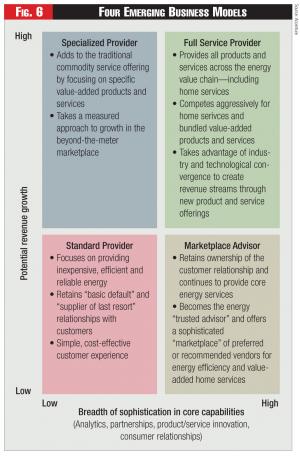 • Specialized provider: Any energy provider that complements its traditional commodity offering with specific value-added products and services, such as targeted offerings around electric vehicles or home area networks.
• Full-service provider: Any energy provider that offers a wide range of products and services, including home services and other beyond-the-meter offerings. Thanks to industry and technology convergence, a full-service provider may also venture into new categories of home services, including bundled services similar to current offerings from other home service providers—for example, telecommunications, home security, and cable companies.
Analysis of these trends suggests that utilities will ultimately choose a hybrid approach—combining two or more business models for different consumer segments or geographies. Some might choose to enter the beyond-the-meter market by offering value-added products and services across the offering spectrum. Others will opt to focus on commodity sales and asset management—allowing other providers to fill beyond-the-meter demand. Particularly in regulated markets with specific conservation targets, utilities might choose to assume an advisory role and connect consumers to other providers offering energy efficiency and conservation products and services.
Across the board, utilities and energy providers are likely to benefit from creating a partnership ecosystem to help engage consumers, build trust, and drive growth in the beyond-the-meter market. Extending beyond outsourcing, operational, and customer-facing partnerships, utilities and energy providers are beginning to collaborate with cities and municipalities, governments, and other stakeholders to drive the development of large-scale projects, such as intelligent cities.
In the meantime, a set of decision criteria provides guidance for utilities and energy providers in assessing potential business models. Broadly speaking, the criteria fall into four categories:
• Regulatory or market climate: The critical driver for any new business model is how and where an energy provider can capture new value. Assess the regulatory and market environment, including competitive threats, to build a beyond-the-meter business case in a given service territory. Also consider size; some utilities might lack the scale needed to build a meaningful market for beyond-the-market products and services.
• Technology: Consider the maturity of energy-related technologies—as well as target consumers' willingness and ability to adopt them.
• Consumers: Evaluate the state of consumer relationships and the strength of the utility brand. Assess whether, and to what extent, consumers are open to purchasing non-traditional services from their utility or energy provider.
• Internal capabilities: Identify the internal capabilities that are required to deliver on new types of products and services, and then determine which capabilities already exist—and how quickly and effectively the organization can fill in the gaps.
However a utility or energy provider organizes its approach to consumers, it must choose its business models wisely. That combination of business models will become the lens through which any energy provider views, assesses, and acts on each opportunity as it becomes an active player in the evolving energy marketplace.
Beyond the Meter
There's no question that utilities and energy providers face major changes. Those changes include new, more sophisticated energy consumers, increasingly diverse consumer interactions, as well as looming challenges from non-traditional competitors—organizations with the data analytics expertise, customer service experience, and operational agility needed to successfully enter the utility market.
Irrespective of the specific set opportunities and challenges facing any particular utility, careful evaluation of its desired position in the beyond-the-meter market is paramount. In evaluating the current state of operations and selecting a future business model, a utility will likely need to challenge the organization's traditional mindset and path. As part of the planning process, leaders need to be prepared to respond to key questions around the organization's ability to address existing market and regulatory constraints and create new opportunities, as well as the current customer-facing organization's ability to support new strategic aspirations. In determining the answers to these questions for the evolving energy marketplace, a utility must maintain focus and commitment to the critical outcomes that drive its business: cost effectiveness and operational excellence, revenue management, customer value and satisfaction, and demand management. The weighting of those outcomes may vary among providers, but each outcome plays a foundational role in re-evaluating traditional operating models and determining—and then building—the new capabilities that will be required to achieve the desired outcomes.
In the end, the energy providers that succeed will be the ones that understand energy consumers' values, develop tailored products and services delivered through the appropriate business model, meet energy consumers in new places, and have disciplined analytics that enable agile business decisions.
Endnotes:
1. "Retail Resurgence," Public Utilities Fortnightly, September 2010.
2. "The Case for Customer Centricity," Public Utilities Fortnightly, November 2010.