Deck:
Distributed solar might be a game changer, but at what cost?
My friend Reggie recently asked me for advice about installing photovoltaic (PV) panels on the roof of his boathouse on the river. It has no electricity now, but he wants just enough PV to power a few lights, an automatic garage door opener, and the occasional power tool. I told Reggie the same thing I tell everybody who asks me about rooftop solar: it's exciting but still expensive. Then Reggie explained why I was wrong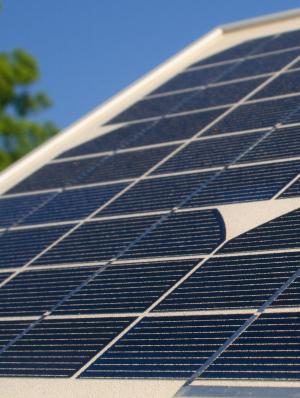 I told Reggie the same thing I tell everybody who asks me about rooftop solar—namely, PV has very exciting potential for the future, but it isn't the most economical way to spend his energy dollar today. And that's especially true for an off-grid system that gets little use. If he wants solar panels to support his green ideals, that's fine. But he shouldn't expect them to pay for themselves.
As it happens, Reggie is a green-minded person—with disposable cash—so my speech about economics didn't deter him. And he explained that he'd already researched prices, and learned that our local Home Depot was offering to finance, install, and warrant rooftop solar systems manufactured by BP Solar at surprisingly low prices. What's more, if he takes advantage of various incentive programs—including low-interest green loans, the state's net-metering law, and a solar rebate offered by the local utility (Minnesota Power)—he can install a grid-tied rooftop solar system that should pay for itself in about 10 years. After that he should be in the black.
I congratulated Reggie on his research. Yet I couldn't resist pointing out that while solar might be affordable for him, that's only because the rest of us are helping to pay for it. Minnesota Power must maintain the grid 24 hours a day to support and integrate Reggie's PV generation, but for every hour his panels will be generating power, his net-metered bill will subtract his share of the costs—leaving the rest of us to pick up the tab. And while the utility will finance the solar rebate programs to meet its obligations under the state's renewable portfolio standard, it rolls those costs into everyone's bills.
Going Postal
I was thinking about these facts as I was writing the CEO Forum for this issue ("Facing the Future"). In an interview for that article, NRG Energy's David Crane talked about the "Post-Officization" of rate-regulated utilities in a world where rooftop solar [a wholesale technology] competes against retail power prices. Crane made a compelling point, but I wonder: can we—society—accept an outcome that makes the utility grid uneconomic? While people like my friend Reggie are living the green life and showing off their solar panels, will the rest of us be content to pay ever-higher utility bills?
In the short term, I think the answer is yes. Today the costs of net metering and RPS compliance remain modest, so PV investments make sense as part of a long-term R&D effort. As solar gets cheaper, it will contribute more to the important goal of diversifying America's power portfolio with domestic, sustainable resources. That's an effort worth subsidizing.
While my friend is living the green life and showing off his solar panels, will the rest of us be content to pay ever-higher utility bills?
Whether subsidy levels are appropriate is another question, of course. In "Energy Subsidy Myths and Realities," analysts Roger Bezdek and Robert Wendling attempt to penetrate the maze of government incentives, subsidies, and programs that contain the full scope of government investments in energy. Whether those programs are designed to harmonize with policy goals is a debatable question. And it might be a moot point, given the amorphous nature of U.S. energy policy. However, in the grand scheme of things, accelerating the development of PV could make a dramatic difference—ultimately for the better, we hope. And so, I told Reggie that I'm OK with paying for part of his PV panels, because they serve my long-term interests as a ratepayer and a citizen.
But then I also told him he could take that money and spend it more productively on other things that serve the same goals. For example, he could replace all his old light bulbs, appliances, and windows with more efficient models. That investment would pay for itself faster than PV panels, I'd bet. Or better yet, he could have his SUV crushed into scrap, and replace it with a used Honda Civic. That would save a lot more energy and pollution, not to mention gas money.
Reggie didn't like hearing these things, of course. None of them are nearly as cool as putting PV panels on his boathouse. But I figured that if his goal is to save the planet, he'd like to have the facts before he pulls out his checkbook.
Note from the Editor: Presenting the New Fortnightly.com
If you're among the thousands of readers who use Fortnightly.com, then you'll notice some differences the next time you visit the site. We at Public Utilities Reports have spent the last several months working with a top-flight development group called Unleashed Technologies to create an entirely new online platform for Fortnightly.com. Additionally, we've converted our archive of articles into keyword-tagged, search-friendly XML text. What does this mean to you? It means Fortnightly's content is now more accessible and useful than ever before. (Read: No more PDFs!)
This conversion, combined with the new platform, allows us to provide a range of new features intended to help you mine our content archive—and to mine it for you:
• Topic Tabs: Fortnightly articles now are organized by topics and sub-topics, as well as by monthly issue.
• Smart Suggestions: "If you like this article, then you might like these other articles on related subjects."
• Smart Bulletins: Select your favorite topics to receive periodic notices of new content on Fortnightly.com that's important to you.
• Keyword Navigator: Quickly view our entire archive of content on specific subjects using Keyword Navigator tools.
Also, as part of the new Fortnightly.com architecture, we're setting up individual login accounts for all readers. If you're a current subscriber, then your account has already been established. The first time you login with the new system, it will request your subscriber ID number, which is printed above your name on the mailing label of your most recent issue. (If you don't have a current subscription, you can start one for immediate access. Trial subscriptions are free.) Once you're logged in as a subscriber, you'll have access to the full archive of Fortnightly content, and all the new features of Fortnightly.com.
Additionally, because many of our readers have shared the former generic monthly login information with colleagues around the office, we're changing the terms of our subscriptions to accommodate this practice of sharing a subscription. Starting immediately, every paid subscription to Fortnightly will provide access to Fortnightly.com for up to four (4) users. In other words, you can share your Fortnightly subscription with your three favorite colleagues.
It's our goal to make Fortnightly.com your indispensable source of information and analysis, with powerful tools and features that make it as useful and valuable as possible. We welcome your feedback and suggestions, so please let us know what you think by emailing pur@pur.com. Thanks for your patience during our transition.