Deck:
Why Idaho is fed up with renewables.
Author Bio:
Bruce W. Radford is publisher of Public Utilities Fortnightly.
Dear Wind: We Need to Talk.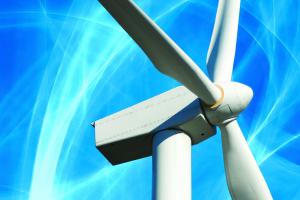 The ad was hard to miss. It ran right across the top of Idaho Power's web site in late July. And if you clicked, you would have seen the rest of the message, including this:
"The huge influx of industrial wind projects forced onto our system is raising customer rates and threatening the reliability of our electrical grid. Federal law requires us to buy energy from renewable energy projects, but we don't think Idahoans should be required to pay inflated rates for electricity that is often not needed at all.
"That's why we asked the Idaho Public Utilities Commission to change the way prices are set for these projects. We invite you to be heard on this important issue."
Elsewhere on its web site, Idaho Power touted its brand-new, 300-MW Langley Gulch combined-cycle gas turbine generator—placed online June 29—and its key role in helping the utility meet an all-time record utility demand of 3,245 MW, recorded July 12, between 3 and 4 p.m., when wind generation on the Idaho Power system had contributed only 14 MWs.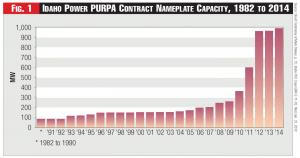 As the company put it, the record-setting demand showed both the importance of its new Langley Gulch Power Plant and "the drawback of wind generation." (See, Idaho Power's "About Us" page, which at this writing began with the line, "When the Heat is on, Langley Comes Through.")
As journalist Rocky Barker reported last month from Boise, Idaho Power had taken its ad campaign and run with it on Facebook and websites like Fox News and the Drudge Report. (See, The Idaho Statesman, "Idaho Power takes on wind with Internet Ads," July 15, 2012.)
Meanwhile, according to Barker, Idaho's Snake River Alliance had dared organize a demonstration at the utility's stockholders meeting in May to protest the company's reliance on coal-fired power, only to find itself booted from Idaho Power's Integrated Resource Plan Advisory Council, with its director, Liz Woodruff, denied any opportunity to meet with top utility executives.
The alliance, as Barker wrote in his Statesman piece, was "born in battles over nuclear waste," and had become the state's "most prominent advocate for conservation and renewable energy."
Yet now the IRPAC, which meets monthly with public input on how Idaho Power should plan for the future energy needs, will just have to carry on with one less voice. When last we checked, Idaho hadn't yet adopted a renewable portfolio standard.
Light Loading
Standing at the center of this maelstrom is the Idaho PUC, which opened a new case last year to review how the state's utilities purchase electricity from qualifying facilities (QF) certified under the Public Utility Regulatory Policies Act of 1978 (PURPA). That review will run the gamut from the terms of contracts to the method used for calculating avoided costs—i.e., the savings that utilities realize in buying QF power, and which determine the purchase price that utilities must pay to QFs. (See, Notice of Review, Order 32352, Idaho PUC Case No. GNR-E-11-03, Sept. 1, 2011.)
In March the PUC denied a motion in the case filed by Idaho Power asking the state commission temporarily to suspend the utility's federal obligation to buy from QFs while it reviews the state's PURPA policies. (Idaho PUC Order 32498, March 22, 2012.) But the PUC at the same time threw a lifeline to the utility: it ruled that the static "surrogate avoided resource" (SAR) method previously approved by the commission and by Idaho Power to calculate avoided-cost rates, whereby regulators set avoided costs based upon the cost and performance characteristics of a hypothetical proxy unit, such as a gas-fired turbine, was no longer just and reasonable. That ruling opens the way for Idaho Power to seek authority to adopt the more dynamic integrated resource planning (IRP) method, which reflects temporal and locational factors, such as when and where QF power is delivered, what types of generators are displaced, and whether intermittent QF power has real capacity value.
An IRP avoided-cost method would be expected to yield much lower avoided cost rates for QF sales than those obtained under the SAR method, as has been shown in the Idaho PUC case by the January direct testimony of Mark Stokes, Idaho Power's manager of power supply planning, and Karl Bokenkamp, the utility's director of operations strategy.
Meanwhile, the Idaho proceeding has taken on national significance as a test case on whether a utility can get out from under its obligation to buy QF wind. The evidence for that lies in a petition filed six weeks ago at the Federal Energy Regulatory Commission by Idaho Wind Partners, a developer of PURPA-qualified wind facilities in Idaho, seeking to derail the Idaho juggernaut. (See, Petition for Declaratory Order, FERC Docket EL12-74, filed June 15, 2012.)
Wind Partners, a participant also in the Idaho PUC case, has asked the FERC to jump in and give "guidance" to the state commission on the proper interpretation of an obscure FERC regulation known as "section 304(f)," or the "light loading" rule, which affords utilities one of their three recognized exemptions from buying QF power. The other two exemptions are a utility system emergency or proof made under the 2005 EPAct law that QFs can gain access to competitive markets as an alternative outlet for sales to the host utility.
Section 304(f) exempts utilities from buying under PURPA if the QF power ends up costing the utility more than it saves. That could occur because of the havoc created if QF power is delivered during lightly loaded off-peak hours—especially QF wind power, which is flooding across Idaho in a torrent (see Figure 1).
Idaho's wind-fired PURPA boom is forcing coal-fired plants off line—plants that Idaho Power most certainly will need to have running just a few hours later, when customer demand returns, but now won't have available when needed because coal, once backed off, could take days to ramp back up.
As FERC had explained in Order 69, such a situation—with coal ramped down to free up load for QFs, but unable later to ramp back up—would mean that "rather than avoiding costs as a result of the purchase from a QF, the purchasing electric utility would incur greater costs than it would have had it not purchased energy or capacity from the QF."
That's tantamount to a negative avoided cost, which was what FERC was trying to avoid when it created the sec. 304(f) light-loading exemption in order to avoid what it called "the anomalous result of forcing a QF to pay an electric utility for purchasing its output."
This sort of situation can be illustrated further in the testimony presented on January 31 in the state PUC case by Idaho Power's director of load serving operations, Tessia Park.
Park noted how Idaho Power had historically relied on its low-cost hydro system for load following: "to meet the broad fluctuations in system load that can occur during a single day. For example, on a given October day, the company's load might be 1,250 MW at 6 a.m., grow to 1,600 MW by 10 a.m., drop to 1,400 MW by 3 p.m., and drop again to 1,300 MW by 11 p.m."
But as Park explained, the addition of large amounts of intermittent generation on the system during light-load hours "forces the company to use the flexibility of the hydro system that is normally used to meet load swings and [instead] to meet system balancing needs of the wind generators. Thus, the company is forced to use baseload generation resources (thermal gas and coal) to integrate the intermittent QF generation"—i.e., to ramp down and make room for the QF wind.
Park continues:
"The company is now in the position where, at certain times of the year, it has to back down baseload generation in order to integrate PURPA generation, which is predominantly intermittent in nature. When baseload generation is backed down, it can become difficult to ramp up.
"Coal plants cannot be simply shut off. Once fired, it takes a coal plant several days to heat up in order to reach generation levels... Over the last couple of years, the company has seen market prices at the Mid-Columbia trading hub actually go negative… If the company were to sell the energy produced by its coal plants into the market, it would be doing so at a loss."
A Thin Guise
As a solution, Idaho Power has introduced a new proposed tariff into the state PUC case, a tariff it identifies as "Schedule 74," which allows the company to be relieved of its obligation to buy energy from PURPA generators during low-loading periods, when the company is operating only baseload resources, with nothing else to help accommodate unscheduled QF energy.
And at press time, the Idaho PUC was set to hold hearings August 7 through 9 on a wide range of issues governing the state's overall PURPA policy, including Idaho Power's bid to be relieved of its QF purchase obligation.
Idaho Wind Partners insists, however, that 304(f)—FERC's light-loading exception—doesn't apply if the QF has signed a purchased power contract with the utility that fixes the avoided cost rate payable to the QF in advance of power delivery, because contract negotiations should already have taken such factors into account in setting the rate. FERC said as much way back in 1980, in Order 69, when it explained it didn't intend for sec. 304(f) to override "contractual or other legally enforceable obligations" incurred by the electric utility to purchase power from a QF. (See, FERC Docket RM79-55, 45 Fed. Reg. 12214),
And FERC repeated that idea less than a year ago, in a case involving Entergy, when it said utilities couldn't exempt themselves from buying PURPA power simply because the QF is intermittent—solar- or wind-powered—and thus sells only unscheduled, non-firm energy. (Docket ER05-1065-011, Dec. 15, 2011, 137 FERC ¶61,199.)
FERC had added in its Entergy ruling that the sec. 304(f) exemption shouldn't become a catchall that allows utilities to escape from badly negotiated deals: "Section 304(f) … cannot be relied upon to curtail purchases of unscheduled QF energy for general economic reasons."
This FERC precedent leads Idaho Wind Partners General Manager Richard Guy to insist that his fixed rate contracts with Idaho Power insulate his QF plants against any attempt by Idaho Power to say "no" to PURPA under the light-loading exemption:
"I am not a lawyer, but I am familiar with Rule 304(f) and associated FERC orders, and I do not believe this rule applies to QFs with fixed-rate contracts." (Testimony of Richard Guy, p. 4, Idaho PUC Docket GNRE-11-03, filed May 29, 2012.)
Importantly, however, the Idaho PUC staff disagrees, suggesting how the case might turn out, and just how important it might become around the country in steering state policy on PURPA and wind-powered QFs. In his rebuttal testimony presented on June 29 in the state case, PUC engineering supervisor Rick Sterling stated:
"I have been the person responsible for computing Idaho's published avoided cost rates for the past 18 years… Based on my extensive experience … Idaho's published avoided cost rates do not already reflect … the specific low-loading scenarios when 304(f) is clearly intended to apply."
Earlier, in his direct testimony, Sterling had endorsed Idaho Power's argument: that the operational disruption imposed by massive volumes of wind-fired QFs on traditional utility-owned fossil and hydro resources clearly justified curtailments of PURPA power for a company like Idaho Power, which must deal with intermittent QF energy that approaches 50 percent of its entire load requirement.
"Because this is a part of FERC rules," said Sterling, "I think Idaho Power has always had that authority whether or not it is expressly spelled out in a contract or tariff."
Back in the FERC case, Idaho Power argues that even if a QF contract contains a fixed avoided cost rate, that fact shouldn't bar the utility from exercising its light-loading option under sec. 304(f) to escape its QF purchase obligation.
"At a minimum," notes the utility, "there is a factual dispute as to whether the fixed-rate contracts with Idaho Power already account for the light loading conditions." (See, Protest of Idaho Power, p. 8, FERC Docket EL-74, filed July 16, 2012.)
The utility then argues that since a factual issue is in dispute in the Idaho PUC case, the Idaho commission should be given first crack at a decision, and that until the state commission has ruled, FERC therefore has no business acting on the petition by the Wind Partners. Though that petition asks FERC only to issue guidance to the state, Idaho Power says wind developers can't use that "thin guise" to pursue what is in reality a bid to force FERC to "enforce" PURPA against a state bent on eviscerating the law.
Texas Next?
While the Idaho Wind Partners might need to wait for the state commission to act before FERC would consider an enforcement action against Idaho, Exelon might not need to wait so long in pursuing its own similar request on behalf of its own wind-powered QFs, against an adverse ruling issued recently by the Texas Public Utility Commission.
The Exelon case arises largely because the Xcel subsidiary Southwestern Public Service Co., operating in the Southwest Power Pool, failed several years ago in its bid to gain release from mandatory QF purchases under PURPA sec. 210(m), added under EPAct 2005, which applies if QFs enjoy sufficient market access to support sales to non-interconnected third-party buyers.
FERC in that case ruled that the SPS grid network still suffered too much congestion for QFs within its service territory to enjoy a meaningful opportunity to reach outside markets as an alternative for selling their output. (See, Docket QM07-5, Jan. 22, 2008, 122 FERC ¶61,048; rehearing denied July 21, 2008.)
After that, however, the Texas PUC came to the aid of SPS by approving QF purchase exemptions for the utility that appear to be virtually equivalent to what SPS had asked for at FERC, but never obtained.
First, the Texas PUC granted the SPS the right effectively to curtail QF purchases either in the case of "operational circumstances" related to transmission congestion, or if firm transmission service for delivery of the QF output to utility load would be impossible without additional grid upgrades. Second, the Texas commission also ruled that SPS could calculate avoided cost rates based on the locational imbalance price in the Southwest Power Pool's Energy Imbalance Service (EIS), as determined at the node specific to the selling QF. (See, Order on Rehearing, Tex. PUC Docket 37361, SOAH Docket 473-10-0470, issued Oct. 6, 2010.)
Exelon has since challenged that order by bringing a complaint to FERC, asking FERC to enforce PURPA against the Texas PUC, arguing in effect that the state commission was simply attempting to grant SPS the sort of blanket exemption from its QF purchase obligation that it had failed to win at FERC.
In that case Exelon challenges all three aspects of the Texas ruling. First Exelon argues that grid congestion doesn't rise to the level of a system emergency that marks one of PURPA's three recognized grounds for exemption. Second, it notes that a QF can't be made to pay upgrades to facilitate delivery of its output to the host utility's load, but only to the QF's point of grid interconnection. Third, it asserts because the Southwest Power Pool's "Day One" EIS market is in truth a market for sale of an ancillary service—imbalance service—and not energy, any calculation of avoided cost rates based on the locational imbalance price would effectively deny to the QF its PURPA-guaranteed right to sell its energy output to its host utility. (See, Petition for Enforcement and Declaratory Order, FERC Docket EL12-80, filed June 29, 2012.)
Yet these moves by Idaho and Texas to redefine PURPA's QF purchase obligation might prove prescient in the long run.
Testifying for Idaho Power in January in the state PUC case, economist William Hieronymus noted that EPAct 2005's QF exemption for utilities in regions with organized power markets has now "eliminated PURPA obligations for utilities serving more than half of the country."
And he adds that massive QF development in Idaho "strongly indicates that IPC's avoided cost rates are too high and need reforming."
In particular, Hieronymus observes that state PUC rules to implement the PURPA scheme were developed and issued primarily in the early 1980s: "An era," he says, "when many state commissions were distrustful of utilities' resource decisions as a result of overbuilding and cost overruns."
Hieronymus explains that FERC had tried to counter that pro-QF bias in 1988, when it issued rulemaking proposals aimed at reforming the calculation of avoided costs, including a proposed rule (Docket RM88-05) for utilities to submit bids for QF power, to create a sort of market-determined avoided-cost rate.
Was that bidding idea too radical for the times? "Yes, it was," Hieronymus answers. But today, he notes, the new wave of non-dispatchable, intermittent QF resources is so profoundly different from QF projects developed during the 1980s that the methods used in many states for estimating avoided costs "are now categorically inappropriate."