Generation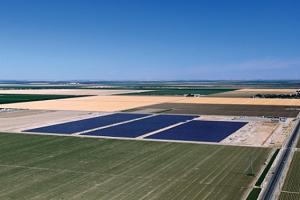 Siemens produced the first batch of its new 75-meter B75 Quantum rotor blades. They'll be installed on the second prototype of Siemens' 6-MW offshore wind turbine, which is expected to be erected in the second half of 2012 at Denmark's Østerild Test Station. Siemens says the blade's airfoil design and manufacturing technology results in lower weight and better performance across a range of wind speeds.
Xcel Energy awarded Outland Energy Services a long-term contract to provide operations and maintenance services at three Xcel Energy wind farms totaling 328 MW until 2017. In Minnesota, Outland will provide services for the 201-MW Nobles wind farm in Nobles County and the 100.5 MW Grand Meadow wind farm in Mower County. Both sites use GE 1.5 MW turbines. In Colorado, Outland will provide services for the 26.5 MW Ponnequin site, which uses both Vestas 660-kW and NEG-Micon 750-kW turbines.
Duke Energy Renewables and Sumitomo Corp. of America completed building the 131-MW Cimarron II wind project and began commercial operations in Gray County, Kansas. Kansas City Power & Light contracted to purchase all of the project's electricity and associated renewable energy credits (RECs) under a 20-year agreement.
CPS Energy and SunEdison dedicated the William R. Sinkin Centennial 1 and 2 solar farms, which total 19.8 MW of capacity. The projects comprise more than 83,000 photovoltaic (PV) panels with solar tracking technology. SunEdison began building the Centennial sites in November 2011. CPS Energy will purchase all of the electric output under a 25-year agreement. 
Georgia Power and Atlanta-based Solar Design & Development (SD&D) developed and installed a series of solar facilities in Georgia totaling 19 MW. The project reportedly is the first utility-scale solar development under Georgia Power's 50-MW large-scale solar initiative approved last year by the Georgia Public Service Commission. The utility contracted to purchase the project's output for 20 years. 
Energy Developments Ltd. , GreenPower EMC , and Veolia ES Solid Waste completed the expansion of EDL's landfill gas-to-electricity plant at Veolia's Taylor County Landfill in Mauk, Ga. Green Power EMC contracted to purchase the output under a 15-year agreement. An existing landfill gas-to-electricity facility at the site was expanded from 4 MW to 8 MW.
Emerson supplied utility-scale power inverters for two solar energy projects owned by GCL Solar Energy, about 60 miles southeast of Fresno, Calif. A 20-MW facility is expected to be completed in October 2012, with a 50-MW facility scheduled for startup by the end of the year. Quanta Services is building the projects under a contract with GCL.
Sunora Energy Solutions opened its new headquarters and manufacturing facilities in Phoenix, Ariz. The 58,000 square-foot facility houses fabrication facilities, construction operations, support services, and corporate offices. Sunora says it plans to build additional facilities at other locations in North America.
Toshiba, the Shaw Group , and Exelon are developing a 25-MW gas-fired power plant that will incorporate NET Power's CO2 capture process. NET Power will be responsible for overall project development and systems engineering; Toshiba will design, test, and manufacture a combustor and turbine; Shaw will provide engineering, procurement, and construction services;