Deck:
Conversation with a Prime Mover: Tom Fanning, Chairman and CEO of Southern Company
To hear the full interview and more about Fanning leading cybersecurity efforts for the industry and his chairmanship at EEI, visit the podcast Leadership Lyceum: A CEO's Virtual Mentor at Apple iTunes, or: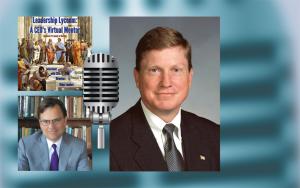 Listen to part 1
Listen to part 2
If you have heard the name Southern Company or Tom Fanning a lot recently, you might casually dismiss it as a plain old, run-of-the-mill Baader-Meinhof Phenomenon. If you haven't heard of this type of cognitive bias before, I expect you will hear it a lot from now on.
On the other hand, it may be because Tom Fanning and Southern Company have been busy. Tom has been very active in industry leadership. He is serving as EEI chairman this year and is chairman of the Electricity Sub-Sector Coordinating Council, the principal liaison between the electric sector and the federal government for coordinating efforts against cyber threats and physical terrorism. Moreover, Southern Company, under Tom's leadership, is taking positions across a curiously wide spectrum of the nation's energy value chain.
Our series Executive Profiles and Perspectives will focus on corporate and industry strategy and trends from the direct vantage point of key industry leaders. I joined Tom Fanning in his office in Atlanta for this conversation on August 10, 2016. Our discussion revealed his rationale for Southern's investment activities and his vision and leadership in actuating it.
Southern Company has been building and buying in key areas including nuclear, renewables, natural gas, clean coal, and energy efficiency. If Southern's sweeping strategic activity raises questions in the observance, Tom's answers will both illuminate Southern's vision and illustrate the characteristics of his leadership.
Tom operates as a leader very much in accord with the ideals of the business that he presides over – always on, available, and operating at a high capacity factor. Many of the readership knows Tom Fanning as an active public speaker. To hear him from the podium is to sense him intellectually. To sit with him in conversation is to sense his qualities viscerally.
He possesses the leadership traits of a prime mover. In the Ayn Rand and Edwin Locke sense of the term, he demonstrates an unquenchably active mind, a resolute passion for work, a love of ability in others, and an independent vision with brimming self-confidence.
We sorted through what Tom calls his all of the above approach by addressing Southern's areas of investment one by one.
Nuclear
Tom's nuclear strategy is dependent upon, and a direct function of, national energy policy. "We believe that there are lots of objective functions we are going to have to hit," Tom explains.
"I always say clean, safe, reliable, affordable. One of the objective functions that goes in line with the 'clean' aspect is nuclear. We have a policy with carbon, at least in this administration, where they want to be low-carbon to no-carbon by 2050. Okay. So you tell me the rules, I'll tell you the best way to get there. We have been working on our own plan to do that. We think we are doing that in an exceptional way by building new nuclear. Vogtle 3 and 4 is going to be one of the successful mega projects in modern American industrial history."
Tom is taking Southern beyond the development of nuclear capacity. The company is going further by investing research and development dollars in next-generation nuclear. Indeed, Southern recently received a multi-year, forty-million-dollar Energy Department grant for exploration and development of molten chloride fast reactors.
"We are advancing the study of what might be the nuclear option in the future," Fanning notes.
Tom summarizes, "That is our nuclear branch. In my view, because it is large central station power, base load, no carbon, it must be one of the dominant solutions."
Renewables
Southern Company has one of the largest voluntary solar portfolios of any investor-owned utility in the U.S. As of early July, Southern owned more than sixteen hundred megawatts of solar generating capacity at twenty-six facilities across six states.
"We have been one of the biggest owners of solar generation in America," notes Fanning.
"I am a believer in that technology and its relevance to the southeast. We are now moving to more and more wind."
As Tom explained, he just announced on his latest earnings call an increase in renewables investment at Southern Power to $4.5 billion for 2016, up from $2.4 billion forecasted earlier this year. He calls it "aggressive growth and a pivot towards more wind."
Natural Gas
According to Tom, although renewables are one of the company's dominant solutions, its intermittency issues require that Southern deploy more combustion turbines.
"We are limited in the amount of new base load we could build," explains Fanning.
"Nuclear is such a limited set and coal is so challenged here in the United States, that the old workhorses of base load generation are becoming less important. Now natural gas will step into that void," posits Fanning.
"You will have combined cycle units providing base load support, what once had been nuclear and coal. For all those reasons, we believe that natural gas is going to remain another dominant solution for at least the next, you tell me, thirty-five years."
"So, combined cycle combustion turbines, to support renewables – bam," Fanning exclaims.
"Natural gas must be a really important player in the future. We have had energy policy in the past set on scarcity, and now we can set energy policy based on abundance, [as a result of] the miracle that is fracking and directional drilling.
"We have made a big bet in natural gas infrastructure. We bought the nation's largest LDC – AGL Resources – now called Southern Company Gas. We just announced our venture with Kinder Morgan for fifty percent of Southern Natural Gas pipeline system, the most important interstate pipeline in the southeast. And there is more to come there."
Clean Coal
Tom's bold independent vision has led Southern to act as an industry vanguard for new technologies.
"It is clear that coal is in an enormous transition here in the United States," notes Fanning.
"The plant we are building at Kemper County; twenty-first century coal is the way we describe it. Our technology, that we developed along with Kellogg Brown and Root, will be able to consume coal and produce less carbon than even natural gas. It is sixty-five percent carbon dioxide removal. While I don't know how many more of these [plants] will be built in the United States, there is a lot of demand in Eastern Europe and Asia. We have signed agreements in Serbia, Romania, Poland, South Korea and China in which this technology hopefully will be built. We've got to get Kemper up and running. We are right on the doorstep of doing that."
"We also run the nation's, and now the world's, carbon capture research center at Wilsonville, Alabama. We also have the only live production of pre- and post-combustion carbon capture. Pre-combustion at Kemper County. Post-combustion at Plant Barry. We are doing a ton of work trying to figure out ways to use coal responsibly and that is not just a Southern Company issue. It is not only a domestic issue. This is an international issue. There is nobody doing more than we are around the world."
Energy Efficiency
Recently, Fanning has been getting his own house in order with respect to energy efficiency technologies. 
"The cleanest kilowatt hour is the one you don't consume," reminds Fanning.
"We have been a leader in the United States in exploring strategic relationships with people like Tesla. Not only for the automotive side but also the battery storage side. In fact, now I have Tesla Powerwall technology in my house. It was put up yesterday. I have solar panels on my roof. They were installed a week ago."
"We are deploying ten thousand Nest thermostats. We are giving them away, if you go on time-of-use pricing with Georgia Power."
But the adaptive thermostat is not Southern's view of the end game for the technology. Their view goes farther.
"With the advent of smart chip technology, and the smart home, we really believe that something like the Nest thermostat will become the adaptive server for the internet of things inside your house," Fanning explains.
"We are also working with systems people, like Google and others, to tie it all together. We think instead of a smart meter being the hub, which I have always been on record against, we believe a smart thermostat evolving into a smart server is really the way this will occur."
Constraints on the Future
Southern Company is playing offense on many fronts and that brings to mind resource and financial constraints.
"Here is the blessing of Southern Company. We have the scale and we have the technical depth through our research, through the kind of people we have," Tom assures.
"We have the quality of regulation. We are an integrated, regulated utility in the southeast, and therefore I think it is a much more constructive business model on behalf of the customers and us. That is why we are the only company in America that is all of the above. We can, in fact, plan an optimal portfolio. If you are in a so-called organized market, you don't have that ability. We have scale, financial integrity, technical depth, regulatory regimes that are supportive to be able to do these things."
"Now, what are the constraints? Our financial capacity is pretty large. The constraints themselves are not very big, because we are so big. We can make lots of bets. We've done these [acquisitions], and maintained a posture of a financial integrity that is fantastic. In fact, if you look in the market, I think the past two years, Southern Company has had, I think among the S&P 500, the lowest beta, the lowest systematic risk measure of any stock in the S&P 500, and that is because investors believe we can execute our business in a highly-sustainable, predictable way. We have been able to grow our dividends. We have been one of the few companies in America never to have reduced our dividend. We have increased it now fourteen years in a row. In fact, what I said upon the acquisition of AGL Resources, with the profile that [the acquisition] gives us, I think we can increase the rate of growth of our dividend. This notion of financial constraints, while I suppose there is a theoretical limit, I don't see it right now. We can do everything we want to do."
"One of the tenets of chaos theory says that the variance in nature is typically bigger than what you quantitatively measure, and I kind of believe that. When you think about all of the change in front of us, I think the way to play that change is not to make enormous static bets, determinate bets, but rather make bets that are either options within themselves or reasonably-sized bets. The AGL acquisition creates other options. And that is the way we are pursuing it. The greater the volatility, the greater the uncertainty, the greater the value your options have. That is just straight finance theory, and that is the way we are playing it."
So as we march forward at perhaps one of the most interesting times in the history of our industry, look for Tom Fanning to continue to lead Southern Company's offensive strategy on many fronts. He is employing attributes that are the hallmark of generalship that wins battles: initiative, tenacity, cleverness, celerity, and audacity.
Tom's oft-mentioned epigram encapsulates his and Southern's inexorable advance. "You can't keep the waves off the beach." 
 
To hear the full interview and more about Fanning leading cybersecurity efforts for the industry and his chairmanship at EEI, visit the podcast Leadership Lyceum: A CEO's Virtual Mentor at iTunes or:
Listen to part 1
Listen to part 2