Deck:
Conversation with a Prime Mover: Tom Fanning, Chairman and CEO of Southern Company
Conversation with a Prime Mover: Tom Fanning, Chairman and CEO of Southern Company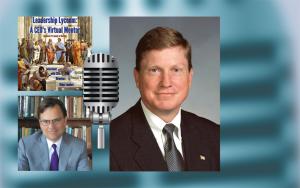 To hear the full interview and more about Fanning leading cybersecurity efforts for the industry and his chairmanship at EEI, visit the podcast  Leadership Lyceum: A CEO's Virtual Mentor  at Apple iTunes, or:
Listen to part 1
Listen to part 2
If you have heard the name Southern Company or Tom Fanning a lot recently, you might casually dismiss it as a plain old, run-of-the-mill Baader-Meinhof Phenomenon. If you haven't heard of this type of cognitive bias before, I expect you will hear it a lot from now on.
On the other hand, it may be because Tom Fanning and Southern Company have been busy. Tom has been very active in industry leadership. He is serving as EEI chairman this year and is chairman of the Electricity Sub-Sector Coordinating Council, the principal liaison between the electric sector and the federal government for coordinating efforts against cyber threats and physical terrorism. Moreover, Southern Company, under Tom's leadership, is taking positions across a curiously wide spectrum of the nation's energy value chain.
Our series Executive Profiles and Perspectives will focus on corporate and industry strategy and trends from the direct vantage point of key industry leaders. I joined Tom Fanning in his office in Atlanta for this conversation on August 10, 2016. Our discussion revealed his rationale for Southern's investment activities and his vision and leadership in actuating it.
Southern Company has been building and buying in key areas including nuclear, renewables, natural gas, clean coal, and energy efficiency. If Southern's sweeping strategic activity raises questions in the observance, Tom's answers will both illuminate Southern's vision and illustrate the characteristics of his leadership.
Tom operates as a leader very much in accord with the ideals of the business that he presides over – always on, available, and operating at a high capacity factor. Many of the readership knows Tom Fanning as an active public speaker. To hear him from the podium is to sense him intellectually. To sit with him in conversation is to sense his qualities viscerally.
He possesses the leadership traits of a prime mover. In the Ayn Rand and Edwin Locke sense of the term, he demonstrates an unquenchably active mind, a resolute passion for work, a love of ability in others, and an independent vision with brimming self-confidence.
We sorted through what Tom calls his all of the above approach by addressing Southern's areas of investment one by one.
Nuclear
Tom's nuclear strategy is dependent upon, and a direct function of, national energy policy. "We believe that there are lots of objective functions we are going to have