PUF's Pat McMurray and Steve Mitnick captured some of the passion and "energy" of Exelon's Innovation Expo in these nine brief videos. Two show excerpts of panel discussions, and seven show enthusiastic employees contesting for innovation prizes.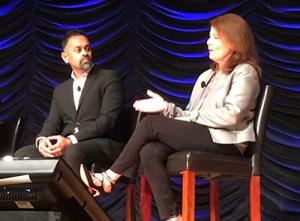 See Facebook photos here. PUF also interviewed senior vice presidents Chris Gould (also the company's chief innovation officer) and Maggie FitzPatrick. 
Doug LeMoine, Apple Design Evangelist for Apple Development, in a discussion entitled Customer Centricity with panelists from Exelon, GE, and Northwestern University. Duration: 35 seconds.
"Nikki Neutron" visits schools on behalf of PECO Energy, helping students in grades K-5 learn how to stop energy from being wasted. She explains the concept of energy efficiency. Duration: 09 seconds.
Maggie FitzPatrick, Exelon SVP - Corporate Affairs, Philanthropy and Customer Engage­ment, in a discussion entitled Customer Centricity with panelists from Apple, GE, and Northwestern University. Duration: 48 seconds.
The Constellation underwater drone eliminates the need for a human inspector in a storage tank. It can also be dropped into water outside a nuclear plant to inspect exterior walls. Duration: 26 seconds.
BGE's Captain Mercaptan gives students a safety message about being alert to the smell of natural gas. He visits schools to explain what steps to take if students smell that odor. Duration: 33 seconds.
Ospreys in the Chesapeake Bay area have caused more than 100 power outages in the last ten years. BGE workers place deterrents on the utility poles after removing the nests to a safer location. Duration: 33 seconds.
A virtual reality program being drafted at ComEd supplements the curriculum for new utility trainees. It shows scenarios they could encounter in the field. Duration: 29 seconds.
Bright lights connected to a battery on this PECO harness can be seen for a mile in every direction. Demonstration of the harness, front and back. Duration: 19 seconds.
You navigate this Constellation website with voice commands. It sells electricity directly to consumers. It's especially useful for the visually impaired. Duration: 36 seconds.