Deck:
A diverse group navigating a dynamic time of change
Author Bio:
Steve Mitnick is Editor-in-Chief of Public Utilities Fortnightly and author of the book "Lines Down: How We Pay, Use, Value Grid Electricity Amid the Storm."
Public utility commissions around the country must identify collaborative strategies to meet complex challenges in a rapidly changing regulatory landscape. The Illinois Commerce Commission (ICC) is a diverse group of people navigating a dynamic time of change as Illinois builds its energy future.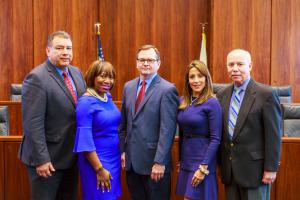 Illinois is in the enviable position of having a strong foundation on which to build. In addition to the state's diverse set of power generation sources that provide a reliable energy supply, Illinois is the nation's top producer of nuclear energy, has the second-largest proven coal reserves, and the sixth largest installed wind capacity in the United States. 
Thanks to a healthy energy supply and a competitive, deregulated utility industry, Illinois has relatively low electricity prices and leads the nation in smart grid infrastructure and technology. The state's clean energy sector has ninety-seven thousand jobs and is growing at nine percent a year. 
Under the leadership of Chairman Brien Sheahan and one of the country's most diverse groups of commissioners and staff, the ICC has positioned itself to lead the charge to the future head on. Appointed commissioners include three of five Hispanic commissioners in the nation, two women, one African-American and, most recently, the first Latina.
Among other initiatives, the agency established an Office of Diversity and Community Affairs to challenge the Commission and its stakeholders to improve employment and supplier diversity and community outreach.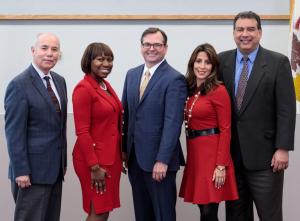 The agency also initiated NextGrid, its Utility of the Future study, an eighteen-month consumer-focused study exploring methods to leverage Illinois' restructured energy market, investment in smart grid technology, and the significant expansion of renewables and energy efficiency resulting from the recently passed Future Energy Jobs Act. It also established the Office of Cybersecurity and Risk Management, engaging regulated utilities in an exchange of ideas to protect the grid and to examine policy. 
Finally, the agency initiated a multi-year strategic planning initiative to align the agency with a constantly evolving utility landscape, which includes advancements in technology.
PUF's Steve Mit­nick recently visited the ICC's Chicago office.
Highlights of the interviews are here: Chairman Brien Sheahan, Commissioner Sherina Maye Edwards, Commissioner John Rosales, Acting Commissioner Sadzi Oliva and Executive Director Cholly Smith.