In these short videos, Ricardo da Silva, Emilie Bolduc and Kenneth Carnes speak about the technology and applications of the state-of-the-art NYPA Integrated Smart Operations Center at the iSOC opening on December 11 in White Plains.
Ricardo da Silva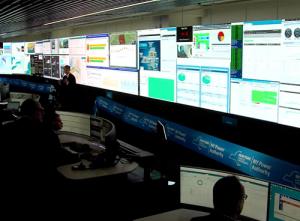 My name is Ricardo da Silva. I'm the Vice President of Strategic Operations. It's a pleasure for me to be here with you today, and to show you how the information displayed on this video wall is the embodiment of what you have heard described throughout this afternoon.
By leveraging technology through these applications, NYPA's taking a role in managing our assets on the generation side, on the transmission side, more effectively. What that does in turn, is it allows us to reduce our operating costs, which ultimately, we pass on as energy savings to our customers.
I'll just walk you through a couple of different examples of how we're doing that.
Right here in the left-hand corner of the screen is an application called UltraMap. [It's] monitoring a vital transmission circuit that connects Westchester County to Long Island. It's monitoring vessel traffic in real-time, and alerting ships of their proximity to the submarine cable to avoid damage from anchor drops that have occurred in the past. The reason we do that is to avoid millions of dollars in repair costs, that could otherwise result from such damage.
Another example, different application, is mPrest on the top section of the screen. [It] is an application that we are using to monitor the health of large power transformers across our fleet statewide.
As I walk my way towards the center of the room, I'll just point out a couple of different screens that are based on GE software applications, and the GE Predix App Engine. That coupled with OSI PI, we're gaining some very valuable insights into the operation and into the health of our hydro and fossil facilities across the state.
Through data analytics, through greater data transparency, we're improving reliability, improving plant performance, and managing our assets more effectively. In a relatively short amount of time, what we've observed is approximately three million dollars in cost avoidance. And we expect that value to increase over time.
Even with our newest set of assets, the New York State Canal System, we're also beginning to apply data analytics as you can see from this display that's monitoring water levels across that system.
One other point is that both this room, as well as the rooms immediately behind you, are equipped to serve as a Power Authority's Emergency Operation Center when the need arises.
Between the information along this video wall, it's providing data transparency, data analytics, and enhancing the situation awareness that our executive teams can use to make the best decisions.
Emilie Bolduc
Hello, I'm Emilie Bolduc. I am the Vice President of the New York Energy Manager, which you see on the center screens here. The New York Energy Manager is a digital service for our customers. We are empowering our customers to use their energy data and analytics, to manage their energy in a whole new way. 
We have, as Gil mentioned, over eleven thousand buildings online. Which means we are tracking, gathering, and monitoring the energy data for eleven thousand of our customer's facilities. That includes at the building level.
As well as we're rolling out a new deep sub-metering initiative. Which means we're gathering energy data from the most energy consuming equipment within our customer's facilities. 
We use this energy data to start identifying trends. And then opportunities to help our customers reduce their energy and costs. We're not just helping optimize and advance our customer's energy efficiency, but most importantly their productivity.
Kenneth Carnes
Hello, my name is KC Carnes, Chief Information Security Officer. We have combined cyber, physical and network monitoring in the ISOC. What we're doing different is tightly coupling that with the operations and the customer perspectives. That allows us broad situational awareness and capability to respond quickly. With the Emergency Operations Center behind us, we can bring these teams together and make sure that we quickly combine for any threats, events or anything happening to NYPA's asset systems or our customer's infrastructure. 
Outside of that you can assume that much of our data is sanitized today for security reasons. But I can assure you that during normal operations this facility will be the hub of intelligence gathering and information sharing for NYPA across all of our assets.
And to further push the vision of our future, and to bring more and more critical information into this facility, we will be leveraging the Network Communications Backbone Project. Where we will bring more and more critical information from smart generation and transmission resources into this facility for more and more security protection, to protect those critical energy resources that NYPA provides to all of New York.