Deck:
Utility Regulation and Policy Wait For No Man.
Author Bio:
Steve Mitnick is Editor-in-Chief of Public Utilities Fortnightly and author of the book "Lines Down: How We Pay, Use, Value Grid Electricity Amid the Storm."
People want to visit Washington D.C. in the spring. After the winter vortices, and before the summer swelter. Think cherry blossoms. But not NARUC. Utility regulation and policy waits for no man.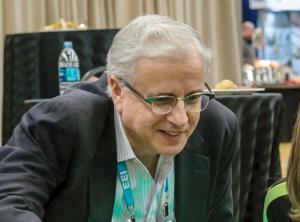 Frigid temps outside? No problem. All the more reason to stay inside and discuss and debate — in the well-heated confines of the hotel — resilience, cybersecurity, pipeline permitting, distributed gen, rate of return, capacity markets, etcetera, etcetera.
The NARUC Winter Meeting is typically held in mid-February. Is that because these days fall between Thomas Edison's birthday, on February 11, and Wendell Willkie's birthday, on February 18?
Don't know who Thomas Edison is? Ah, it's probably time to put down this magazine. Need to choose another way to pass the time.
If you don't know who Wendell Willkie is, well, listen up. Willkie was the most prominent leader of the electric utility industry in the nineteen thirties. When he spoke, everyone paid attention, including the national press, and including POTUS Franklin Roosevelt.
With his fame, pro-business stances, and progressive social beliefs, Willkie contested Roosevelt in 1940, as the Republican nominee. Then, during World War Two, Willkie heroically led Roosevelt's effort to deepen the critically-important wartime alliance with the Soviets. Then, Willkie fought racism quite publicly, and anti-Semitism too.
Pretty good for a guy who probably attended NARUC meetings for years. And who probably read Public Utilities Fortnightly for years too.
Along with its exquisite timing, the NARUC Winter Meeting is a must-attend for all those who find chewing over net metering a fulfilling meal. At the last gathering, the 2017 Winter Meeting, 1,675 of us showed. A huge turnout.
Forty-two from NARUC attended. Naturally, NARUC was out in force. Other organizations that sent large contingents — topping twenty — were FERC, with thirty-two attendees, the Pennsylvania Public Utility Commission, with twenty-eight, the District of Columbia Public Service Commission, with twenty-six, and the Edison Electric Institute, with twenty-two.
Yay Pennsylvania Public Utility Commission! The Keystone State's PUC is the subject of the cover article of this issue of PUF. Check out the interviews there of all five Commissioners and five members of Staff.
Many other organizations were well-represented at last year's Winter Meeting. There were twenty from Duke Energy, nineteen from the Maryland Public Service Commission, and sixteen each from PJM, MISO and Exelon. Not to forget the three of us from PUF.
Of the 1,675 in attendance, thirty-three had the title of Chair, and two more the title of Vice Chair. And ninety-six had the title of Commissioner.
The two most common titles at the conference were Director and Vice President. A hundred and ninety-two were Directors. A hundred and eighty-nine were Vice Presidents.
There were also ninety-three Presidents, seventy-one Executive Directors, and sixty-seven Senior Vice Presidents. Impressive!
One of our favorite counts is that of the first names of attendees. Ok, so we spend way too much time on this kind of thing. Some people like college football, others cooking, others playing smartphone games. We're crazy about utility regulation and policy.
The most common first name at last year's Winter Meeting was Dave (or David). Fifty-one of the attendees had this name. Slightly behind in the running was John – not including Jack or Jonathan – with forty-nine. And Mike (or Michael) with forty-five. So, if you bumped into someone there, and couldn't recall their name, and couldn't see their name tag, you could have tried Dave, John or Mike and had a shot.
Which always raises the question, what about the first names of the very many women in attendance? Evidently, women's first names are more varied. The most common were Kathy (or Katherine) with fifteen, Mary (and related) with fourteen, and Karen with twelve.
My own name did fairly well in the contest. Thirty at the Winter Meeting were named Steve (or Steven or Stephen). Perhaps people with my name tend to take to utility regulation and policy.
Winter Meetings start on a Sunday with the convening of the Staff Subcommittees. True, it's Sunday. But the discussions and debates hosted by the Staff Subcommittee on Electricity, on Gas, on Energy Resources and the Environment, and so on are as substantive as it gets on our most challenging regulatory and policy issues. Go there on Sunday. You'll see. I promise you'll become a fan like me.
This year's Winter Meeting actually starts on Sunday, February 11. A tremendous way to celebrate Thomas Edison's birthday.