Deck:
Personalizing Customers' Energy Services
Author Bio:
Since April 2014, Sue Kelly has been president and CEO of the American Public Power Association — the voice of not-for-profit, community-owned utilities that power 2,000 towns and cities nationwide. Earlier, she was the senior vice president, policy analysis and general counsel. Under Kelly's leadership, the association has advocated on wholesale electric market issues, worked to strengthen cybersecurity awareness and resources for utilities and raised the profile of public power in Washington, D.C.
Public Utilities Fortnightly asked me to opine on where I think the electric utility industry will be in three to five years. From a federal policy perspective, it is hard to predict where the electricity industry will be.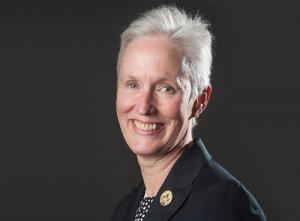 There have been a lot of personnel and policy changes in the federal agencies and departments whose activities affect public power utilities. Anyone who watches the news knows that it is a very volatile and unsettled environment in Washington right now. The midterm elections later this year add more uncertainty.
As for three to five years out, who can say? We had a substantial change in energy and environmental policy direction in the wake of the 2016 election and might — or might not — have another in 2020.
Such volatility is far from ideal when utilities are pondering decisions such as building new and/or retiring existing generation facilities — decisions that will play out over many years. 
Our job as an association is to be fiercely bipartisan when it comes to energy and environmental policy advocacy.
Of course, we must deal with the prevailing political winds, but our mission is to stay our policy course and pursue our issues. We did that in 2017, working hard to ensure that tax-exempt financing was kept largely intact in the tax bill.
Currently, we are advocating against the sale of the transmission assets of the federal power marketing administrations and the Tennessee Valley Authority. The sale of these assets is a misguided idea that many administrations, both Democratic and Republican, have raised over the years.
Interestingly, the lack of political consensus in Washington is causing more state and local governments to step up and set energy and environmental policies that reflect the values and needs of their own states and communities.
They are not waiting to see what happens in Washington. In some cases, these state and local policies are going in a different direction than the decisions being made in Washington.
As an association of electric utilities that are themselves units of state and local government, we're strong believers in local decision-making and authority. For public power utilities and the retail customers they serve, more state and local control is preferable. Keeping decision-making closer to the people who will be most affected by those decisions makes sense to us, all other things being equal.
What does concern me is that federal energy policy, especially policies being developed at the Federal Energy Regulatory Commission, seems to be intruding more and more on state and local decision making.
State regulatory commissions and state and locally governed distribution utilities should have the ability to develop the resource portfolios, products, and services that are best for their states and communities, using all available resources and tools, including traditional and non-traditional generation sources, demand response, distributed generation, and energy efficiency.
However, at least in regions served by FERC-regulated centralized markets, decisions on how or even if a load serving entity can use these tools are being taken out of our hands.
Specifically, two recent FERC orders - one addressing energy efficiency resources and the other addressing energy storage resources - threaten state and local jurisdiction and could prevent states and load serving entities from making their own choices regarding energy efficiency and energy storage. We are quite concerned by this federal jurisdictional creep into what are quintessentially retail activities and functions.
This jurisdictional creep is troubling because frankly, the real action is increasingly at the retail level. Technology changes are rolling forward regardless of what is going on in Washington. In the long run, these technological advances will be a bigger deal for our industry than federal energy policy.
Thanks to new technologies, retail customers are or will soon be able to take energy decisions into their own hands. They can already shift and reduce their electric usage if they care enough to figure out how to do it.
More customers will be doing this soon with less effort required on their part. This will completely change how utilities interact with their customers. They will demand more from us and look elsewhere to get the products and services they want if we cannot make it happen for them.
Increasingly, customers of all sizes and stripes are interested in the environmental attributes of the power they consume. What we've seen among our utility members is that their size is not necessarily a proxy for these advances. Nor is location determinative.
While states such as New York and California may be taking deliberate policy steps to increase the use of renewable energy and reduce their greenhouse gas emissions, they are far from alone. Public power communities such as Kansas City, Kansas, are already seeing days when forty-five percent of their energy supply is renewable, because of the wind power resources available in the Southwest Power Pool region.
How are public power utilities dealing with these changes? In the public power world, our job is not to tell our customers what to do. After all, they own us, not the other way around.
Changing customer expectations means public power utilities must be ready to provide options for the customers that want them, while making sure that those options do not come at the expense of other customers.
This isn't just about giving customers the ability to view their energy use in real-time or to preview and pay their electric bill through their smart devices — if that is what they want to do. Giving customers these options is important, but we want public power utilities to aim higher: we want them to become their retail customers' trusted energy advisors.
Getting there means our utilities should be out in their communities engaging with their customers and listening to learn what service options they want. This is a role that should be particularly well-suited to public power communities — and many have already embraced it.
As one example, Moorhead Public Service in Minnesota developed a number of projects after gathering community feedback. Nearly twenty years ago, the public power utility built two wind turbines in the community and offered customers the option to contribute a small fee to support the operation of the turbines.
More than eight hundred customers signed up, and the project reached payback four years ahead of schedule. In 2014, the utility decided to develop a community solar garden after a customer survey showed strong interest.
Subscriptions to the garden filled quickly, and the utility added two new phases of the project in 2016 and 2017, plus three solar photovoltaic arrays in other community locations. Anyone who is interested can track the daily, weekly, monthly, and yearly output of each array on Moorhead's website.
Many other public power utilities have taken similar steps or have developed utility-scale solar options. In fact, seven of the top ten utilities recognized by the Smart Electric Power Alliance for annual solar watts per customer in 2017 are public power utilities. Three of the top ten utilities recognized for energy storage watts per customer in 2017 are public power utilities.
In 2016, the top spot in SEPA's storage ranking went to Sterling Municipal Light Department in Massachusetts. Sterling was recently recognized by Governor Charlie Baker as the first utility in Massachusetts to install utility-scale storage for the 3.9 megawatt-hour storage system. The system quickly proved its value to the community, helping the utility to shave demand charges by seventeen thousand dollars in one of its first months in operation.
I just returned from our annual Engineering and Operations Technical Conference in Raleigh, N.C., where we had over five hundred attendees, all there to learn new ideas to take home and methods to improve their operations. I sat in on a panel on electric vehicles.
There were two presenters, one from Austin Energy in Texas, and one from Elk River Municipal Utilities in Minnesota. Given Austin's reputation as a green and progressive city and public power utility, I was not surprised to hear how they are in the forefront of EV charging infrastructure and rate design.
But I was excited to see the work being done in Elk River — another example of a smaller public power utility trying out new technologies and customer services. We see more and more public power utilities, large and small, undertaking such innovative projects with the support of their local communities.
We are also facing some out of the box issues at the retail level. Strange to say in this era of flat or declining loads, but we have some public power utilities that are suddenly faced with very high demands for their power.
Cryptocurrency miners are being drawn to public power utilities in the Pacific Northwest, which features some of the lowest electricity rates in the country, thanks to hydropower. But some public power utilities in Oregon and Washington are implementing or considering moratoriums in response to very large service requests from such prospective customers.
They are concerned about these entities overloading local distribution circuits without substantial upgrades or placing financial hardships on other customers if they build new facilities to accommodate the miners but then the load disappears.
We have also seen a recent uptick in discussions about the privatization of public power utilities. Of course, it is the right of every governmental entity that owns an electric utility to sell it, if that is in the best interest of the community.
But we firmly believe that in almost all cases, such a discussion, if it includes a fair valuation of the utility's facilities and a full assessment of the benefits public ownership of the electric utility brings to a community, will ultimately lead to a decision not to sell.
A well-run public power utility can be a great asset to the community, a key driver for economic development, and a platform for the community to live out its values. That is one reason why we continue to field inquiries about municipalization from local governments that do not own their electric utility.
Our Association has a role in helping our utility members prepare for these changes. While all these policy and technology changes are swirling, we at the Association continue to serve as the national community for our members.
We act as a platform for them to exchange ideas and learn from each other - to help each other assess how a new technology or business practice would work for their utility and community. We've developed reports and guidebooks on community solar, storage, distributed generation, electric vehicles, DERs, you name it.
We run a member-funded research and development program to help interested members test out new technologies and business practices and share their results. We run a suite of subject matter conferences and listservs and provide online and on-site education as well. Our goal is to provide our member utilities the knowledge and tools they need to become their retail customers' trusted energy advisors.
Ultimately, we believe that the future of the electric utility industry is about helping personalize our retail customers' energy services. To prepare for that future, power utilities need to figure out what their communities want, and then work on how to give it to them.