Back to Brooklyn. PUF's Steve Mitnick, who began with an electrical engineering degree from Brooklyn Tech High School, returned a couple of weeks ago, to near the Brooklyn Bridge, to observe the first Energy Hackathon of the American Association of Blacks in Energy.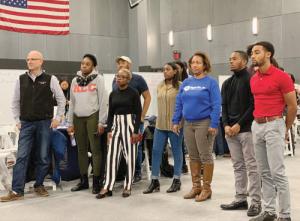 National Grid headquarters in Brooklyn hosted the Friday evening session and across the street the New York University Tandon School of Engineering hosted the Saturday session. Ambitious students from NYU and other regional colleges came to compete, each on one of the teams, to innovate solutions for emergency recovery, energy storage in cities, energy efficiency in low-income communities, etc.
Opening the Friday evening session was National Grid president and chief operating officer for transmission, generation and energy procurement, Rudy Wynter. Check out the passion of our industry's up-and-coming.