Deck:
A DistribuTECH Discussion
Author Bio:
Steve Mitnick is the Editor-in-Chief of Public Utilities Fortnightly and the president of Lines Up, Inc.
Lead image: Rod West, utility group president of host utility Entergy addressing DistribuTECH attendees.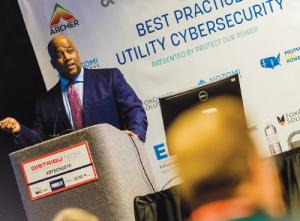 It seemed like everybody was at DistribuTECH 2019. No wonder. Early February and New Orleans was already steamy, a nice departure from the snow and cold elsewhere. 
Did you catch the Innovative and Emerging Technologies Knowledge Hub session on February 6 called Innovation in Action: Unfolding Opportunities? PUF Editor-in-Chief Steve Mitnick was on that panel along with Shay Bahramirad, vice president for engineering and smart grid at ComEd (and a Fortnightly Top Innovator 2018), and Ram Sastry, vice president for enterprise innovation and resiliency at AEP. Moderating was Miki Deric, North America transmission and distribution lead at Accenture.
With technology built into every asset, operation and interaction, utilities are transforming their businesses into intelligent enterprises. This session focused on key factors driving the need for transformation in both business models and grid capabilities. And how to create a culture which builds a process to enable innovative thinking as well as to evaluate and execute on those new ideas. As well as how to manage through the transition without disrupting day-to-day operations, while building new capabilities and meeting increasing stakeholder requirements.