Author Bio:
Steve Mitnick is President of Lines Up, Inc., Editor-in-Chief of Public Utilities Fortnightly, and author of "Lines Down: How We Pay, Use, Value Grid Electricity Amid the Storm."
Have you ever visited Half Moon Bay?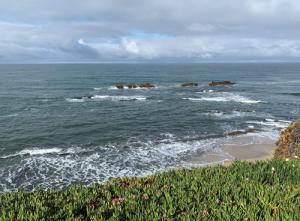 It's a surprisingly short drive from San Francisco's airport, though via winding hilly roads. And when you arrive, you're in quite another world. On the Pacific, it's a fantasy for surfers, birders, and for anyone really who would enjoy the most glorious views.
And for three days, for anyone who would enjoy stunning looks at the future of the energy and utilities industries. The PUF team was on-hand at this invite-only meeting of some of the leading thinkers and doers in these industries internationally, hosted by Accenture. How many different languages and styles of dress were represented, I kept wondering.
The discussions were cool as were the high-tech demos of some of the latest applications in artificial intelligence, robotics, drones, etc. We learned so much about what's beyond the horizon. And then stole away for a few minutes to see the beautiful ocean horizon.
Between sessions, we talked with three of the most impactful thinkers and doers. Anne Pramaggiore, the inspiring CEO of Exelon Utilities. Brett Carter, the charismatic Chief Customer and Innovation Officer of Xcel Energy. And our host, Miki Deric, who leads transmission and distribution at Accenture, North America, and who is helping to drive our industries' future about as much as anyone. Read on.
Half Moon Bay conversations: